Whitefield's Community Store : RE-STORE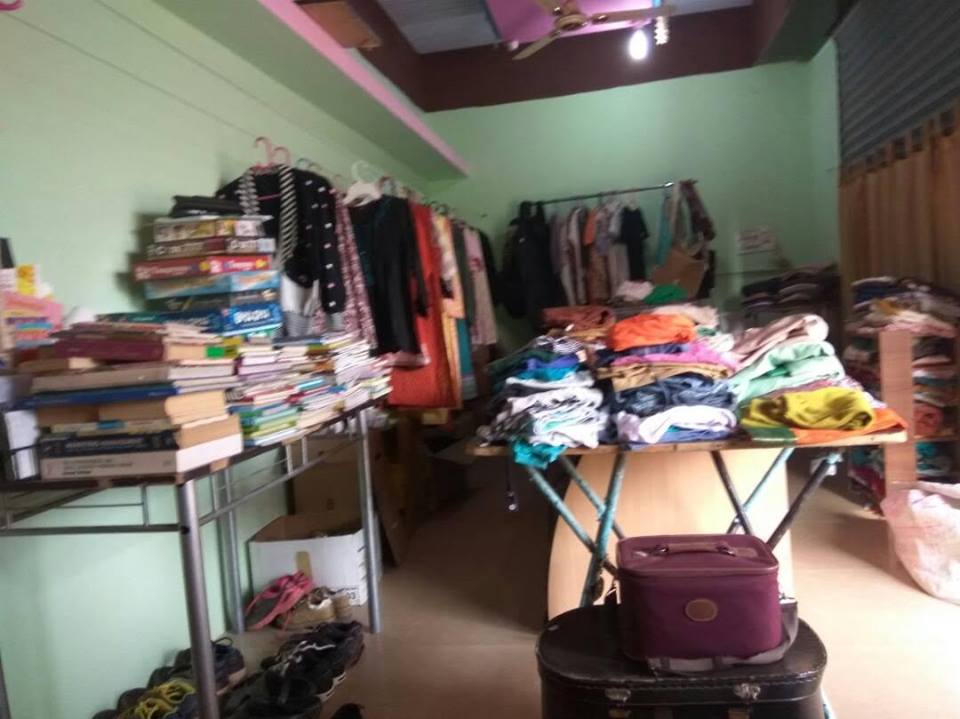 Re-store is an affordable, not-for-profit thrift store in Bengaluru, India. It accepts donations of pre-loved clothing, household articles, furniture, etc., that are in good condition, which are then offered for sale at the physical store (https://goo.gl/maps/F3EkbhmBgNk4rZfAA)  set in a semi-rural setting off Whitefield Main Road at nominal prices.
Since its inception in 2017, Re-store has promoted the concepts of 'reduce, reuse and share' by offering a platform to reuse and share. This little store has also been a great leveller, with affordable prices attracting people from different strata of the society.
A select few items are sold through online social media platforms Facebook and Instagram. All sales proceeds from Re-store are ploughed back in the place where the store exists. This is in the form of medical support to the needy, or scholarships to deserving students or livelihood generation, or support to the community. We regularly donate funds for stray welfare as well.
With the motto of sustainability at its core, Re-store has had a positive impact on both the environment as well as people (including donors, buyers, workers, etc.)
Re-store serves as an important channel for people to give away their used belongings instead of discarding it, while also spreading happiness to the many buyers from the lower socio-economic areas to whom these items are now made accessible.
Simultaneously, it serves the needs of those who are conscious of the environment and are therefore on the lookout for quality pre-loved products. The idea is to share cherished possessions that gave someone joy for years but are now set to spread that joy to other people.
The one-of-a-kind idea of the store has also helped spread awareness around the value of pre-loved clothing, harms of fast fashion and the importance of sustainable fashion and living.  We keep getting queries from school and college students who want to do projects on this model of thrifting.
Now we are on instagram (@thrift.restoreblr) and there is a facebook page too. (https://www.facebook.com/RestoreBlr). 
Whitefield Rising continues to support us as well. 
We also do pop-ups – you can read all about one such event here: https://www.instagram.com/p/CfRC5VwBf7D/?igshid=NDBlY2NjN2I=
Here are a few articles on Re-store
https://lbb.in/bangalore/re-store-thrift-shop-in-whitefield/
https://whitefieldrising.org/blog/whitefields-community-store-re-store/
https://economictimes.indiatimes.com/small-biz/entrepreneurship/re-store-sells-all-stuff-youd-like-to-discard/articleshow/58375115.cms
https://www.whatshot.in/bangalore/re-store-a-thrift-shop-in-whitefield-v-155297
https://blog.preetishenoy.com/2018/01/re-store-delightful-little-shop-in.html
https://bengaluru.citizenmatters.in/citizens-in-whitefield-reinvent-recycling-and-find-new-ways-to-go-green-27859
http://vikalpsangam.org/article/re-storing-hope#.XV_SW6d7Hqs
Many thanks to all our donors whose contributions have been invaluable thereby ensuring a steady supply of inventory for sale. The items have been highly appreciated by the customers of the store and they have been amazed at the value of items available in the store. Some of the products are brand new with store tags still intact.
One request is that please drop in either to donate your items or just to see all the items for sale in the store. Who knows, you may find a treasure that you have been seeking all along given there is a wide variety of items to choose from for you and your kids!
There is a very good collection of toys, books, bags, artefacts and of course clothes awaiting all of you.
Re-Store also now provides a Saahas E-waste Drop off Bin. So you can shop while you drop your e-waste!
Sharing some very precious images of our models from the store over the past month.
Do come and support Re-Store!
If you have queries, do contact Devyani at devyani8@gmail.com
Location: Re-Store
4th Cross Rd, Vijay Nagar, Whitefield, Bengaluru, Karnataka 560066
https://www.google.com/maps…
News coverage