BBMP Ward Delimitation | Why should you care?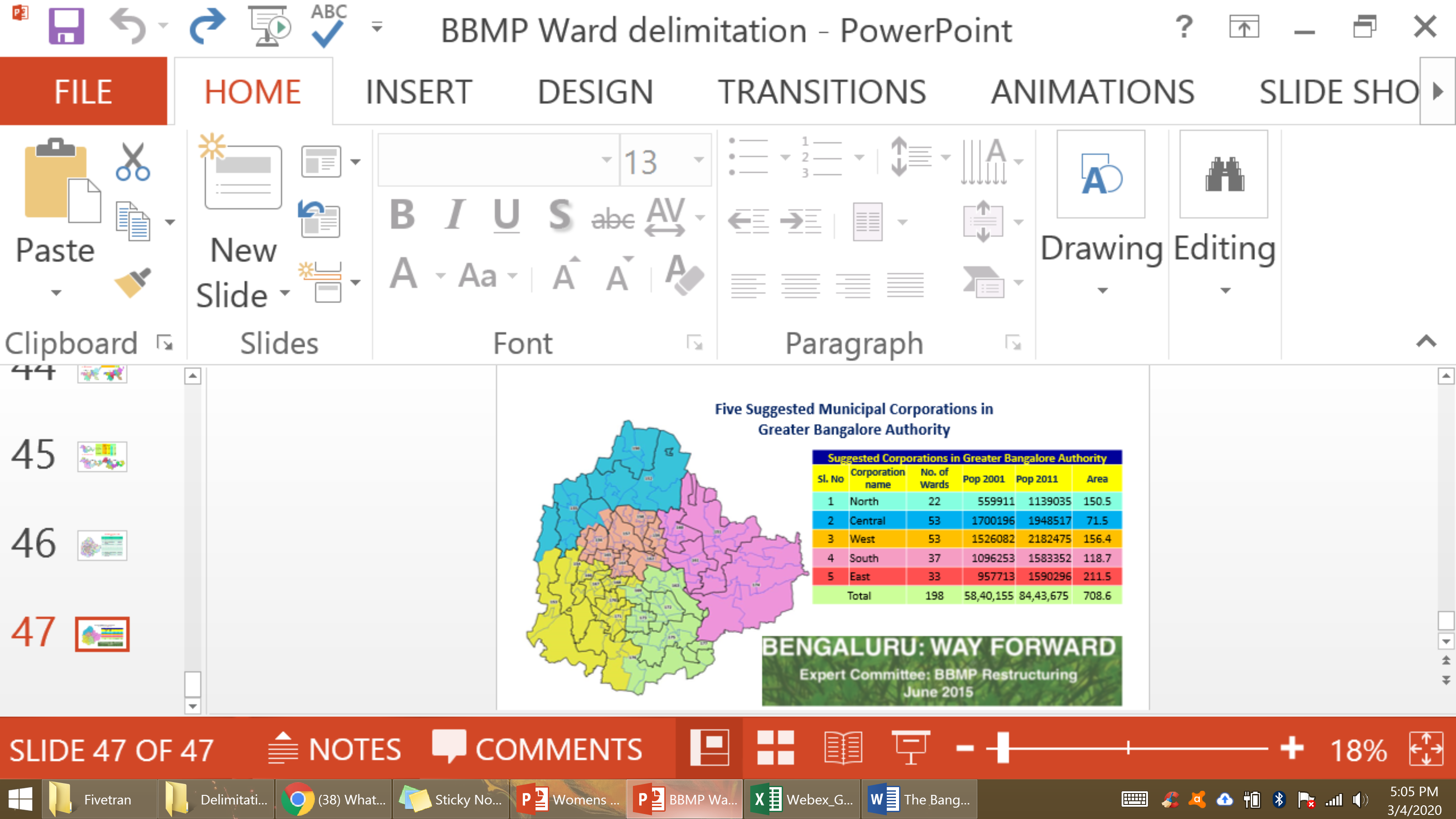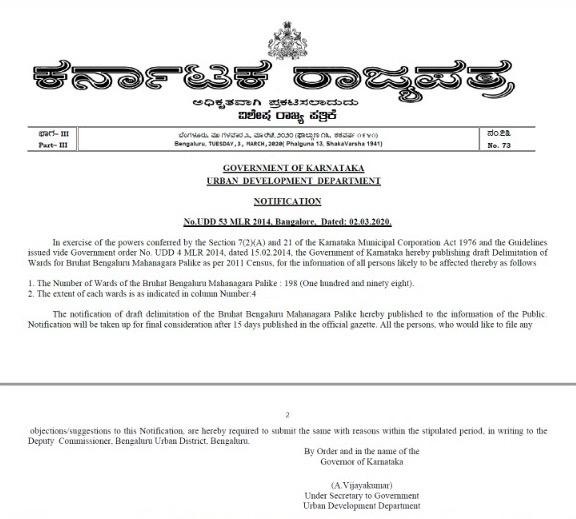 According to the 74th Constitutional Amendment Act, urban bodies with more than THREE lakh population were mandated to constitute Wards and Ward committees.
Wards & Ward Committees provide for a mechanism of participative democracy at the grassroots level, and ensure services and resources are allocated on equitable basis for a good quality of life to citizens.
To ensure equitable services and resources, the area size & population of the Wards are kept uniform. Money is allocated from the annual budget, and each ward gets its equal share of health inspectors, engineers, and capital for repairs to name a few of the services and resources.
Area & population of each ward
This is the most important part. Pay close attention.
Over the last 20 years Bangalore has seen explosive growth in population and in the city area. The Municipal Corporation too has grown, with the addition of 110 villages to become the Bruhat Bengaluru Mahanagara Palike in 2008.
NOTE #1: Core area (old) and outer area (new) are the new terms used to differentiate.
Core areas had 132 wards and the new outer lying areas added on 66 new wards, to make a total of 198 wards in the BBMP.
Delimitation
Given the increase in population and area size, the need was felt to undertake a delimitation exercise to re-look at the number of wards in the city, to ensure all areas receive the right amount of resources for growth and development. Between the core and outer areas, there were large discrepancies in the area size as well as the population.
MAHADEVAPURA
| | | |
| --- | --- | --- |
| Ward No. | Ward | AREA – SQ KMS |
| 54 | 54-Hoodi | 15.3 |
| 82 | 82-Garudachar Palya | 6.8 |
| 83 | 83-Kadugodi | 11.88 |
| 84 | 84-Hagaduru | 12.68 |
| 85 | 85-Doddanekkundi | 12.12 |
| 86 | 86-Maratha halli | 3.10 |
| 149 | 149-Varthur | 26.98 |
| 150 | 150-Bellanduru | 26.37 |
| | TOTAL AREA | 115.23 |
OTHER SAMPLE AREAS
| | | |
| --- | --- | --- |
| Ward No. | Ward | AREA – SQ KMS |
| 15 | Dasarahalli | 0.88 |
| 17 | JP Garden | 2.05 |
| 18 | Radha Krishna Temple | 1.95 |
| 19 | Sanjaya Nagar | 1.54 |
| 20 | Ganganagar | 2.26 |
| 22 | Vishwanatha Nagenahalli | 1.47 |
| 23 | Nagavara | 2.06 |
| 28 | Kammanahalli | 1.03 |
| 30 | Kadugondanahalli | 0.71 |
| 31 | Kushaal nagar | 0.65 |
| 32 | Kavalbyrasandra | 1.59 |
| 46 | Jayachamarajendra Nagar | 0.89 |
| 47 | Devarajeevanahalli | 1.37 |
| 48 | Muneshwara Nagar | 0.48 |
| 49 | Lingarajapura | 0.89 |
| 64 | Rajmahal Guttahalli | 0.73 |
Question to ask: Each Ward gets just 1 Health Inspector (HI) and Asst Executive Engineer (AEE). What will be the difference in work load and results of a HI & AEE in Dasarahalli (0.88sqkm) and in Varthur (26.98sqkm)?
Expert Committee
Expert Committee for BBMP Restructuring was constituted and put forward their suggestions in 2015. Based on the growth in Bangalore from 2001 to 2011, the Committee recommended 400 wards and 5 decentralized Municipal Corporations with about 20,000 per ward for outer areas and 30,000 per ward for core areas (Citizen Matters – With 400 wards, five parts and five mayors, committee unveils its plan for Bengaluru). The 2011 population census data was adopted to make the recommendations with respect to number of wards in the city.
NOTE #2: According to the Karnataka Municipal Corporation Act, a municipal corporation can only have 200 or less number of wards to ensure proper governance. If there are more wards, then a separate Municipal Corporation is to be formed.
NOTE #3: The Expert Committee however was given the direction to limit the number of wards to 198, and therefore made their recommendations accordingly.
As this exercise was completed in 2015, taking the data from the base year of 2011 made rational sense. Even with this 2011 base year data as the foundation, huge increases in population were noticed in the outer areas. Mahadevapura Assembly Constituency (with eight wards) for example grew its population by 140% between 2001 and 2011.
To ensure equitable distribution of services and resources, the boundaries of core & outer areas were re-drawn. An average ward population of ~42,000 was proposed, an increase from that of ~30,000 earlier. The total number of wards remains at 198, with some Assembly Constituencies seeing a decrease in ward numbers, others an increase. In Mahadevapura, the recommendation was put forward to increase the number of wards from 8 to 10, an increase of two numbers.
The recommendations were tabled in 2015.
BBMP is now waking up, undertaking the exercise to actually carry out the Delimitation exercise before the Corporator Elections of 2020 before August 2020.
The draft report was gazette notified on March 2, 2020 :
WE ARE IN 2020 NOW
Five years later, the demographic data used to make the recommendations have undergone a sea change again.
Remember, the increase in population from 2001 to 2011 was 140% in Mahadevapura. From an absolute number of 1,79,000, the population increased to 4,31,000 citizens. Request to administration to serve the needs of this population sky rocketed, but given the budget allocation set forth for each Ward, it remained the same across the city. Though monetarily, the budget allocation increased cash outlay to three times than of core areas (core area – INR 1 crore; Outer Area – INR – 3 crore), the services remained the same. Police stations, Health Inspectors, Engineers, garbage collection, revenue officers et al.
Back to population size. Using the data from the government itself, we have arrived at the most updated information on the population of Mahadevapura.
Total number of registered voters in Mahadevapura, 2019 Member of Parliament elections: 5,24,000
Total population of Mahadevapura = at least 7.5 lakhs (going by Election Commission of India approximate thumb rule of 70% of population being registered voters)
That means, by the Delimitation recommendation, average population size of each Ward of Mahadevapura will no longer be ~42,000 spread across 10 wards. It will in actuality be ~75,000!
A population increase of 78% from ~42,000!
Going by the stated goal of keeping the average population of BBMP Wards to ~42,000, the Mahadevapura Assembly Constituency will, by itself, need 17 separate Wards.
MAHADEVAPURA CORPORATION
Back to the Karnataka Municipal Corporation Act which states:
An area with more than 3 lakh population should have its own Corporation – even by the 2011 Census, Mahadevapura Assembly Constituency meets this goal (pop: ~4,31,000)
A Municipal Corporation cannot have more than 200 Ward to govern
Given the above two statements, the natural conclusion is to create a separate Mahadevapura Municipal Corporation
The problems of Mahadevapura are well known to BBMP and the Government of Karnataka
Poor roads – or no roads -potholes and accidents
Traffic congestion; lack of public transport
Poor garbage collection system with no infrastructure
Rampant encroachment of lakes
Scores of illegal buildings that flout all norms laid out by BBMP
Lack of police presence to regulate traffic leading to accidents and implementation of rules
Absence of streetlights causing safety & security issues
Budget outlays to make roads and repairs as necessary
Signages and road signs which are completely missing
The list of issues are long.
The point to focus on is that – ALL OF THESE ISSUES CAN BE TRACED BACK TO WARD SIZE AND THE COMMENSURATE BUDGET AND RESOURCES ALLOCATION to meet the requirements of the citizens.
The problems you face daily are intimately connected to the Ward size and allocations. Unless we make our concerns known, we will again be caught up in a 10 year cycle of doom.
***
WHAT DO YOU NEED TO DO?
Make your voice heard. State your objection to the unscientific delimitation method being followed by Government of Karnataka which severely impacts our quality of life.
Citizens can share objections to the draft notification by March 17, 2020.
Following a hearing and scrutiny of all objections, the government will issue a final gazette notification, following which the ward reservations will be announced. IF we don't raise objections now, we will have to hold our peace for years to come.
In the letter, make the case for:
Scientific and sensible delimitation of wards
Demand higher allocation of resources for developing areas like Mahadevapura
A letter template you can follow is shared below. Fill in the details, and send as registered post:
Send the letter to:
Deputy Commissioner (Urban), Bengaluru Urban District, KG Road, Bengaluru – 560009 | Phone: 80-22211292 | E: dcurban@nic.in; deo.bangaloreu@gmail.com
With a copy to:
TM Vijay Bhaskar, Chief Secretary to the Government, Room No. 320, 3rd Floor, Vidhana Soudha, Bengaluru – 560001 | E: cs@karnataka.gov.in
************************************************************************
OBJECTION TO WARD DELIMITATION DRAFT
Letter Template
March [X], 2020
To:
Deputy Commissioner (Urban)
Bengaluru Urban District (Behind Kandaya Bhavan)
K.G. Road, Bengaluru – 560009
CC:
Mr. Vijay Bhaskar T M
Chief Secretary to Government
Room No. 320, 3rd floor, Vidhana Soudha, Bangalore-01
Dear Sirs,
Re: Objection to Ward Delimitation Notification # UDD 53 MLR 2014, March 2, 2020
We are writing on behalf [ORGANIZATION NAME / INDIVIDUAL NAME] as part of a citizen groups in and around [NAME OF AC] Assembly Constituency and BBMP Zone [NAME if known].
We have read the draft report circulated regarding proposed delimitation of the 198 wards of the BBMP under the Karnataka Municipal Act. The Government has proposed the 2011 population to demarcate wards based on a population/area that is manageable by a 7-9 member ward committee and be represented by a local Corporator.
Currently the demarcation is 198 wards for entire Bangalore. The notification has omitted key data and basis of the delimitation by not mentioning the population nor the map nor square kms of area.
The BBMP Restructuring Committee Draft Report took into consideration the 2011 Census to make its recommendation back in 2015. Since then, 5 years have passed and population data is no longer reliable to make sensible and scientific delimitation of Wards to ensure citizen participation at grassroots level and the provision of services and resources.
[IF YOU ARE FROM MAHADEVAPURA, include this para – Mahadevapura Assembly constituency is one of the largest at 115sqkms. We residents suffer daily as we do not have access to the service and resources that we pay for. Even basic services such as clean water, roads, streetlights and foot paths. Years of campaigning and complaints have resulted in minimal attention to the gravity of problems faced by this constituency.]
In lieu of the latest census population, we urge you to consider the updated Voter Registration data of 2019 to make decisions with respect to size and population of Wards.
For proper resource allocation, ward population should be limited to 30,000 as recommended by the BBMP Restructuring Committee in 2015 [Citizen Matters – http://bengaluru.citizenmatters.in/bbmp-restructuring-committee-final-report-7500, July 2015]
We therefore request that the State make scientific demarcation that is amenable to governance and representation as enshrined in the Constitution of India and which can follow best practices to allow administration and budgets for an area that is critical to the growth of the State economy and country.
Thank you.
Warm regards,
[YOUR NAME]
[ASSEMBLY CONSTITUENCY; WARD NAME]