Meeting with Minister for Bengaluru Shri. K.J. George & officials on May 26th 2017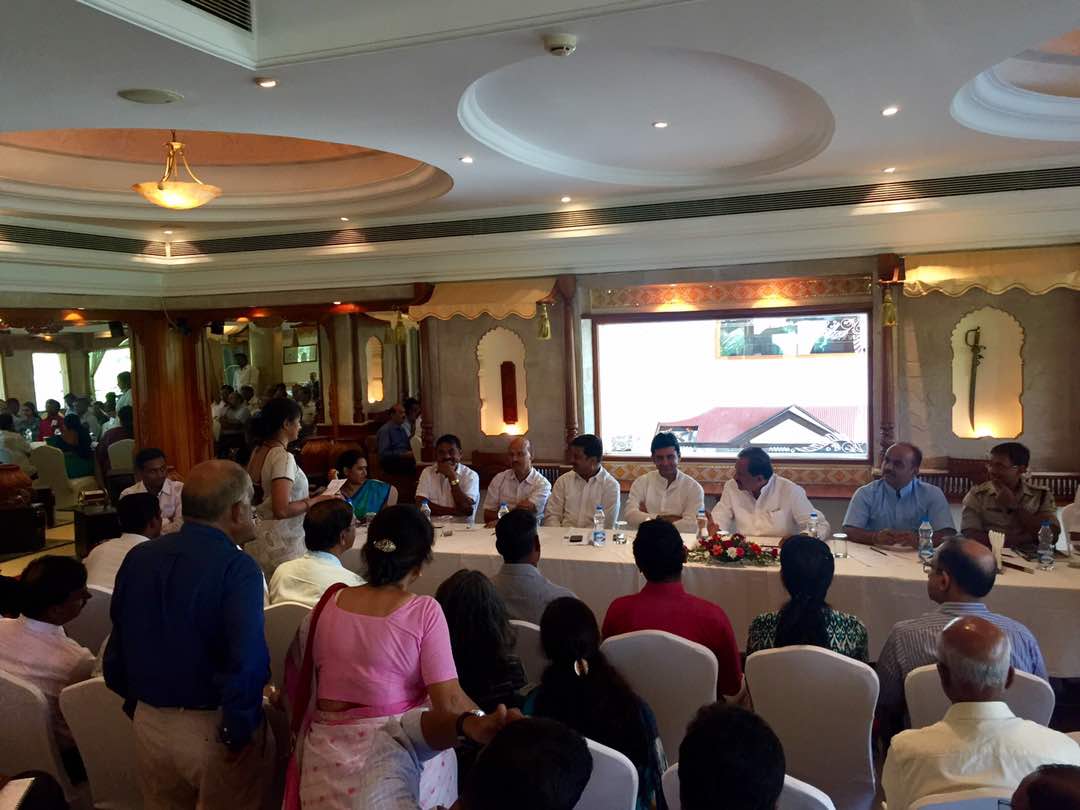 Attendees:
Bengaluru Development Minister: Mr.K.J. George
MLC:Mr. Rizwan Arshad
Commissioner BDA: Mr. Rakesh Singh
Special Commissioner of Projects, BBMP: Mr.Vijay Shankar
Special Commissioner Finance BBMP: Mr.Manoj R
BMTC Chairman & MD: Ms. Ekroop caur
Mahadevapura JC BBMP: Dr. Vasanthi
Chief Engineer Major Roads BBMP: Mr. Prahalad
Executive Engineer BBMP Major Roads : Mr. Kempegowda
BBMP Hagadur Corporator:Mr. Uday Kumar
BBMP Hoodi Corporator: Mr. Hari Prasad
BBMP Garudacharpalya Corporator: Mr. Nitesh
BBMP Kadugodi Corporator: Mr. Muniswamy
Chief Engineer Lakes, BBMP: Mr. Satish
Chief Engineer, SWD, Mr Sidde Gowda
Tehsildar:  Mr. Tejas
Whitefield Rising Volunteers
NEXT MEETING: 45 days from May 26th, 2017 to be held in Borewell Road or R Narayanapura Road by which time the 3 most terrible and yet busy roads will be fully restored as committed by Shri K J George
Roads:
Borewell Road:

Action Item : 10 days to complete asphalting of road length
5.5m motorable width but for full widening 4-5 people have not taken the TDR
Footpath work to follow
Inspection on June 10th by Spl. Comm. Vijayshankar

Narayanapura Road:

Paved 5-6 years ago by the local citizens at their personal cost
BWSSB have dug it up but not fixed it making it non-motorable with cars getting stuck in the mud especially in the rains
L2 contractor has been assigned since L1 didn't take it up
Widening of some section is in court since it's private land. Landowners had rejected the TDR offered. Empowered committee to approve new payment scheme on Monday (Prahalad)
Action Item : Will be made motorable immediately – work to be completed by June 10th inspection on June 10th by Spl. Comm. Vijayshankar
Action Item : Eviction of road encroachers on June 27th by Tehsildhar.

Vibgyor Road:

Road is on private land and the matter is in court with a stay order in place for 3 different locations. Local RWAs also need to get lawyer to help get the stay vacated so the work can move forward (Minister). Govt willing to increase TDR once stay is vacated
Tehsildar has not provided a report on the survey done
Action Item : Spl. Comm Vijayshankar to call for meeting on tuesday May 30th with all stakeholders including landowners and residents to find a solution.
Please Note. Motorable does not mean temporary layer of Tar but one that stands the test of time. We will be tracking that and publishing for all to see.
Overbridges:
Hope Farm:

Switched to cash compensation for land owners instead of TDR
Acquisitions to be a completed in 10-15 days by JC
Action Item : Work to commence on June 15th (CE Prahalad for major roads)
9 months to complete – alternate roads have been identified & notified to police

Kundalahalli Underpass:

Compensation for landowners have been sorted out
Work to commence soon with completion in 9 months (Note – we have heard about work commencing soon now for 2.5 years)
Action Item : Work to commence on June 15th (CE Prahalad for major roads)

Hoodi:

Compensation for landowners sorted out
Work to commence soon with completion in 9 months

Old Airport Manhole cover protrusion:

Action Item : Contractor to RNS to commence the 40 mm BM layer within the next week

Mechanized Cleaner:

One allocated to Whitefield and will be sent after RTO registration which is in progress

Parking using relinquished land:

Land not yet taken over by BBMP in-spite of them being relinquished e.g., Virginia Mall
Used for illegal construction
Action Item : Create parking to prevent parking violations on the Whitefield Main road by reworking SFC contract by utilizing all relinquished land areas along the main road.

Varthur Kodi Rotary : Work to commence soon using the 10 Cr allocation. We questioned the validity of this project.
Additional not discussed yet important. Remove all the silt that is now collected by the side of the drains all along Outer Ring road. Silt was removed long back but simply remains in an unsightly heap all along the road for the whole stretch. With the rains it will go right back into the drain. (CE Prahalad for major roads)
Lakes:
Nallurhalli:

Illegal settlements dumping into lake and Police/Tehsildar support needed to fix
Need to be surveyed and fenced but revenue dept not cooperating
Commissioner Survey Dept to take over the surveying instead of Rev. Dept. Spl. Comm. Vijayshankar already working with the Survey Dept
Survey cost for Nallurhalli Lake is Rs. 80-90L (CE Lakes)
Tehsildar says Survey done but marking is not
Action Item : Tehsildar to mark boundary and BBMP Lakes to fence simultaneously on June 6th. Action Owner : Mr Satish, CE, BBMP Lakes.

Sheelavanthakere:

Garbage from encroachment coming into the lake
Action Item : Eviction of squatters to be done and rehabilitated elsewhere by June 6th

Siddapura Pond:

Action Item : Survey by Tehsildar on June 29th and subsequently fencing. It is important to note that this action item was also decided during the meeting between MLA and Tehsildar a week ago.

Varthur Lake:

STPs inaugurated or being inaugurated upstream of Bellandur which will result in almost all sewage getting treated before entering Bellandur Lake and downstream to Varthur Lake
Dumping:

Govt is going to insist that all builders/contractors only hire authorized vendor for removing debris and they will ensure it is sent to the right designated area – To be executed immediately by Spl. Comm. Vijayshankar
Citizen involvement needed for monitoring with all photos/videos being sent to Mr Nayak of BDA Lakes department.
JC to start notifying large builders who participate in illegal dumping in lakes about withdrawing building permits
Minister to talk to CREDAI about educating builders and tracking

Varthur survey done and BDA Comm to share the sketch drawings with citizen representatives and lake warden
Action Item : Fencing of Varthur Lake will take 4 months to complete
Action Item : De-weeding machines currently in use at Bellandur will be directed to Varthur in about 3-4 months after Bellandur is complete.
Action Item : BDA Comm to meet with a philanthropist within a week to facilitate all approvals for his investment in Varthur Lake cleaning.
Silt traps for Rajakaluve's coming into Varthur Lake – BBMP SWD CE Mr Sidde Gowda to provide clarifications on feasibility by end of next week
Solid Waste Management:
Mahadevapura has no designated facilities to treat various categories of waste streams. This is resulting in dumping into lakes and other public places. There was a request to plan for these facilities in the Zone.
Health  Inspector was planned to be transferred as he simply does not enforce the rules including plastic bans in shops etc. (Action – Special Commissioner)
Action Item : As Joint Commissioner for SWM & Health was not there in the meeting, it was decided to have a separate meeting with him next week to discuss the same. BBMP Special Commissioner Projects will help in facilitating this discussion with JC Health & SWM.

As part of the SWM meeting – to check status on the 'Green Elephant' Bio Meth project proposed in Bellandur and the operation of the Panathur Bio Gas plant
Get clarity on the process of C&D waste management, au
Voter Registration:
Lack of follow through on offline and online registration by BBMP and BLOs for voter registration. Applications either not processed to completion or takes several months to get approved.
Action Item : Spl. Comm. Fin. Manoj R, BBMP to facilitate camps through BLOs to address requests from 84 apartment complexes
Buses:
Possible bus bays across 64 locations have been sent by BMTC to BBMP but no action yet. BBMP CE Prahlad has been instructed to work with police to identify the correct ones.
Hatched no-parking markings are needed at bus shelters to enable 36 m to be available exclusively for buses to park. CE Prahlad to execute these by <no date given>
500 mini-buses being procured for short routes by June. Should address the hyper local movement within Whitefield.
Public Spaces:
Kadugodi Corporator Mr Muniswamy brought up the issue of court order for a 11 acre government land in survey # 54. Requested minister to help in resolving the issue so that the space can be utilized for public amenities.
Action Item : Ward committee members to identify a govt land parcel on Whitefield Main Road. Minister suggested  a Multi Level Car Parking in that space.
Live Action Tracker: