#MahadevapuraDemands: 1 week after Protest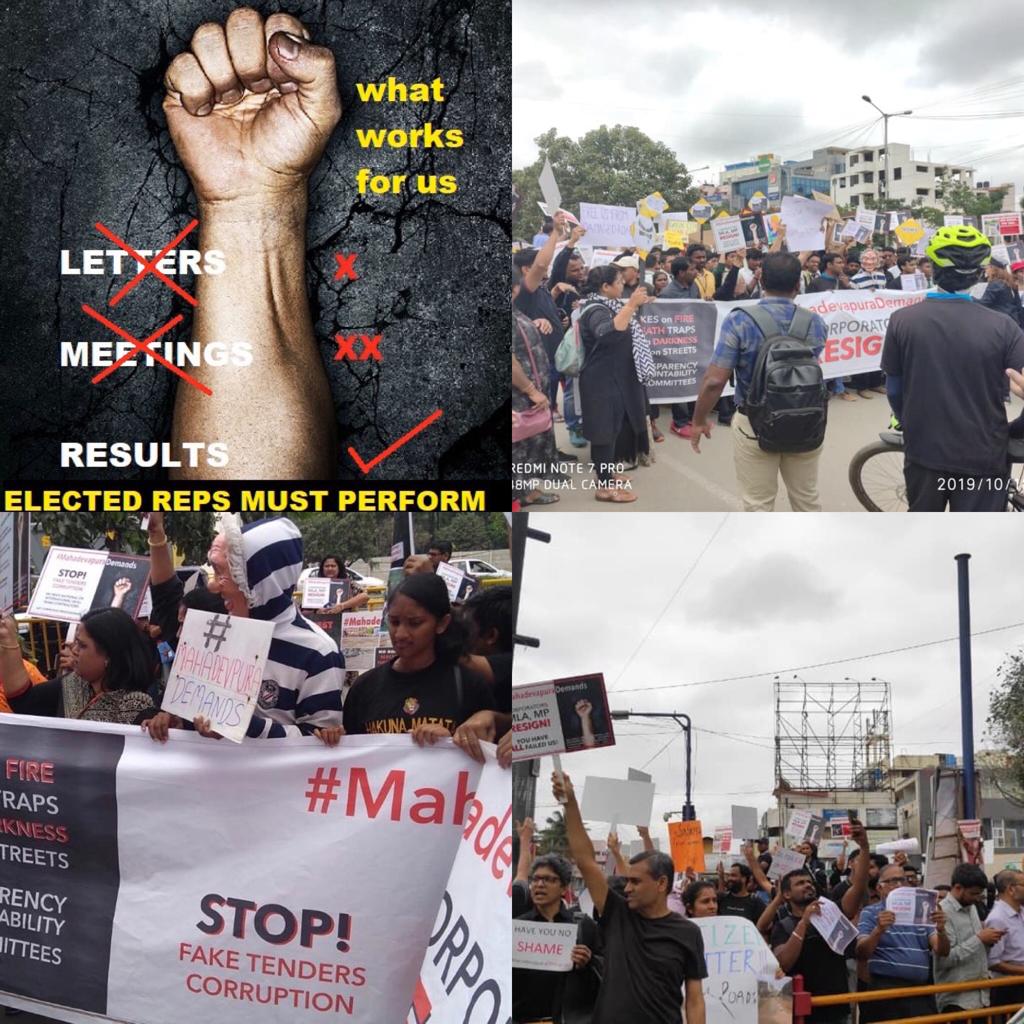 #MahadevapuraDemands
It is One Week since the #MahadevapuraDemands Protest.
We thank the Elected Representatives, Bruhat Bengaluru Mahanagara Palike (BBMP), Bangalore Traffic Police (BTP) and Bangalore City Police (BCP) for initiating a few changes reported below. We hope this continues since our objective is to see genuine systemic transformation on basic civic amenities across Mahadevapura. Even better, if the protestors are the ones applauding the systemic changes you bring.

1. Kundalahalli Underpass: Survey has begun for land acquisition, and deadline set up for completion (6 months) following the visit by BBMP Commissioner Anil Kumar and Special Commissioner SWM and Mahadevapura, Randeep Dev.
2. Work on setting up and ensuring streetlights are on across the constituency: Joint Commissioner (JC) Venkatachalapathy is following up on the work order and inspections. Varthur-Gunjur Road, Kodi – Kundalahalli Road and in Hagadur Ward lights are up
3. Following the presentation and meeting with Commissioner of Police Bhaskar Rao, DCP Whitefield MN Anucheth and DCP East Traffic Dr Jagadeesh, strict enforcement of traffic rules against wrong side driving, footpath riding, parking in no parking zones, stoppage of BMTC buses in bus bays as well as monitoring of heavy vehicles and water tankers will be carried out, to begin with, on five main corridors (Hopefarm-Kodi; Kodi-Marathahalli; Sarjapur Road; EPIP Zone; Goshala Rd-ITPL)
a. Water tankers across Whitefield were called in for an inspection, and drivers + trade licenses were verified; strict timing for operation given
b. Follow up meeting to assess improvements and works set up for end of November
4. Identification of land for DWCC across the seven wards in progress
5. Notice to all Corporators to conduct Ward Committee meetings every month, with seven day notice to all residents. Clearly communicated and published, followed by sharing the details of the minutes of the meeting
6. All Health Inspectors have been equipped with laptop, and training given to plan daily garbage pickup routes, block wise
7. BBMP Sahaaya App: There is more attention for issues logged in via Sahaaya app. This progress and change is much appreciated. A good functioning system to log in complaints and closure will go a long way to improve the lives of the residents
8. Announcements of funds for works in Mahadevapura, some new and others that have been set aside before.
a. We hope the funds will be used appropriately to resolve the issues
b. The work will be done according to strict standards and is of good quality
c. More importantly, the WORK HAS TO START AND FINISH BY TIMELINES AGREED UPON
That said, we want to clarify a few things to ALL our elected representatives.
1) INSINUATION THAT WE ARE POLITICALLY MOTIVATED AND THREATENING A RESPONSE.
To clarify on our political motivation, as we regularly do, we are neither with Congress, BJP, AAP, JDS or any other party. We do not support any party and nor are we interested in that. We just want a better neighbourhood and are realizing that our votes are being taken for granted. It is really possible to just be regular citizens, who are keen to have a decent life that are not politically motivated. This is the new India where we demand that the Elected Rep is NOT a VIP but is in fact there to fulfil his promise to represent his constituents.

2) MISMATCH BETWEEN YOUR PARTY AND THOSE ABOVE YOU.
When any of you stood for election, you did not clarify for us that you cannot do work unless your own party was also in power in the state. This promise was made and is in fact in the manifesto citizens presented and that ALL elected representatives categorically agreed to.This excuse is not acceptable for the non-development of Mahadevapura and its eight wards.
If we had known this, we could have worked with someone who would be able to work regardless of who is in power since that will always be unpredictable. If all politicians had the same excuse, it will always mean that pretty much half the city will not see work because their own party is not running the state. How is this acceptable to the public? There are in fact examples of multiple MLAs and Corporators who during the same periods have been able to perform without referring constantly to the lack of support from the State Government or Center.

3) MANIFESTO COMMITMENTS
Before the elections, a number of promises were made, and committed to in your own manifesto as well as the manifesto presented on behalf of all the residents of Mahadevapura. What we need for Mahadevapura goes beyond just getting us funds! It requires systems and processes. No amount of new constructions can help if process and enforcements are not followed.
a. Fencing of public lands so they can remain public. This is in the manifesto. As you and we both know, it is this fencing that preserves these lands to remain public which we hope will be open lung spaces for our well-being.
b. Ward Committee Meetings: As we all know, this is where the Corporator becomes accountable. The rules specify how these meetings are to be conducted every month, with 7 days' notice, pre-published agenda and followed up immediately after with the minutes published widely. Either the meetings are not held at all, or these rules are not followed. All Corporators and MLA committed to attending them in each ward in the manifesto to ensure they are run well.
c. 100% Streetlights: How can there not be streetlights? How can there not be funds? Just the property taxes from here amount to INR 1000 crores. Do you all realize how difficult this is for residents every night and all the safety risks this poses? We absolutely understand this is a Corporator/BBMP responsibility. Ensure there is streetlights across the Ward and they function properly going forward.
d. Regular maintenance of roads and garbage: Ensure garbage can be picked up every day and not allow for accumulation on roads. Ensure garbage autos come daily, that they don't put away the inbuilt GPS systems. This is a Corporator/BBMP responsibility, but also of the MLA.
e. Suburban Train: The ping pong between the State and the Center continues, and we continue to suffer on the roads daily. 4km/hr is the average speed across Mahadevapura, and it comes to a standstill with a single rain shower. We need, on an urgent basis:
i. Conversion of Goods Shed to a regular ticketed station
ii. More MEMU/DEMU trains to and from Whitefield from across the city (Yeshwantpur, Marikuppam and KSR Bengaluru) suited to office hours
iii. Quadrupling of tracks to strengthen and add on to the network
iv. Development of Doddanekkundi, Bellandur and Heelalige Stations, as well as one for Marathahalli
4) MAJOR ISSUES THAT REQUIRE URGENT ATTENTION
Beyond the concerns raised in the manifesto, we want to bring your attention to the following that have severely impacted quality of life & liberty of the citizens
a. Rampant illegal construction across Mahadevapura. If you know about them, please tell us why it is not stopped. If you don't know about them, kindly tell us why you don't know about this in your constituency. The volumes of people packed into these tall structures are
all loading the roads, garbage system, drain system and more. Even BBMP demolition notices do not stop these constructions. In fact they go faster when citizens complain.
b. Openly illegal borewells: Commercial borewells without license and worse, tankers running amok on already poor roads are causing complete havoc in the area. In fact there was yet another tanker death last week on Immadihalli Road. Meanwhile, the water table is dropping dramatically so villages like Ramagondanahalli do not have water from their wells and have to rely on the tanker mafia.
c. More Wards: All, kindly read this article. In fact, as our representatives, you all should be leading the charge to ensure we have the right number of wards in Mahadevapura. Then we will have more maintenance and not require large infusions of separate funds.

5) PAST PERFORMANCE
We are all only as good as our last performance. In any organization anywhere, we cannot keep bringing up what we may have done years ago. Right now and for MANY years now, the situation in Mahadevapura is pathetic and as our elected representatives we have a right to demand an explanation for all our specific questions to you. Just mere reports of visits and meetings does not
help. We will keep reporting all the positive changes you bring to the public as we see them.
Regards,
Citizens of Mahadevapura
October 28th, 2019