#COVID19Whitefield Relief Efforts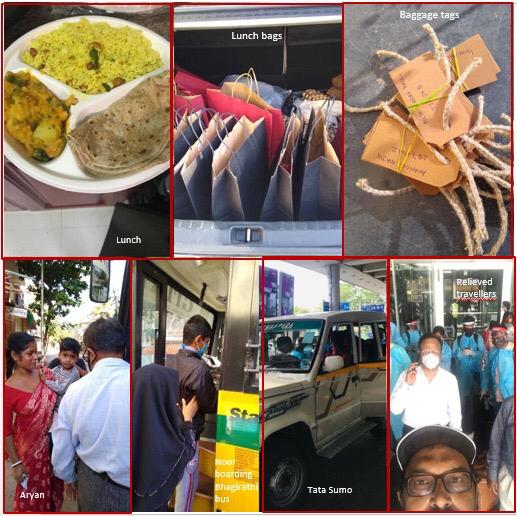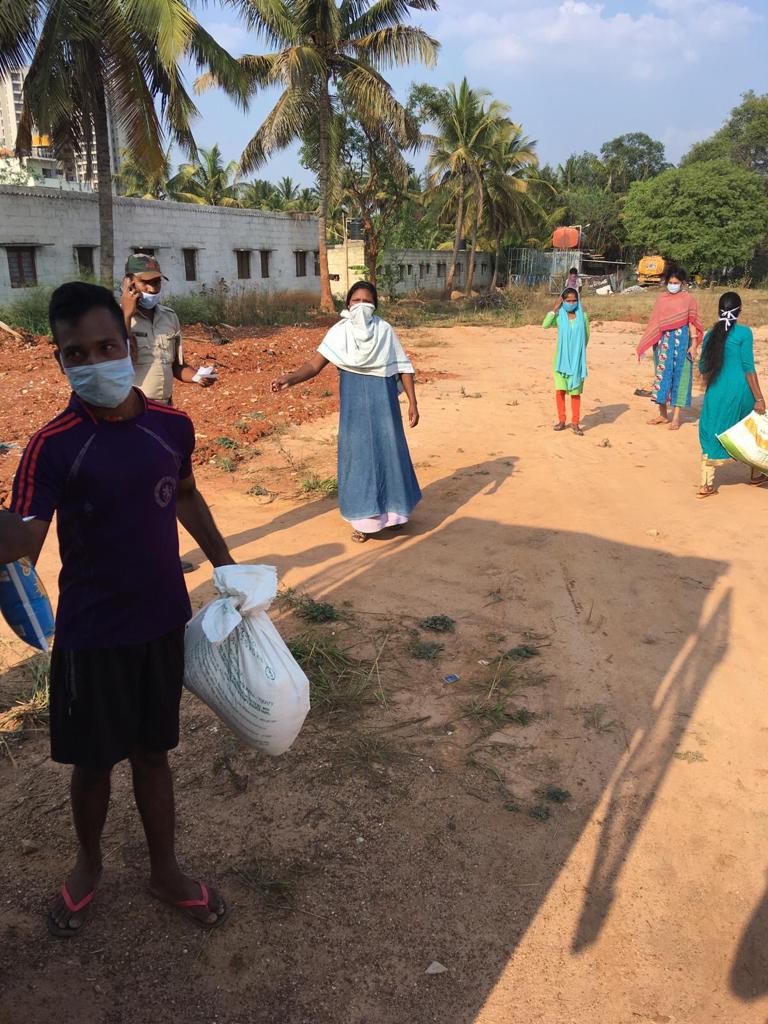 June 5th
WR Positive Stories –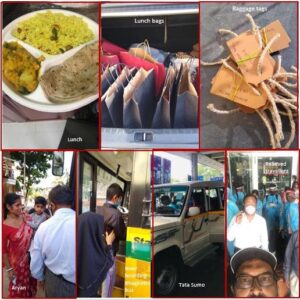 Soaring the skies
What a fantastic labour of care, love, perseverance and persistence to see this come together. Our 17 travelers on their way to Kolkata by air today. These are no ordinary 17! They have had the harshest hands dealt to them already. Besides being financially unsteady, they have been hit by a loved one getting sick with cancer/tumor/kidney disease and so on.
When we met them, it was apparent they could not go home by trains or other modes of transport. So a volunteer reached out to her friends in Mumbai who as an initiative of their NLS alumni group had sent a whole plane of people back home! Before we knew it, we got support from not only her Mumbai friends but other groups in Bangalore (Fuel a Dream – a crowd funding platform, Rotary Bangalore Indira Nagar and their partner Rotary in Kolkata). Funds were raised literally overnight and logistics were arranged quickly.
One volunteer made baggage tags that are now necessary. Another acquired flight friendly suitcases to give them. They were counselled on the whole process of flying including how to pack, what to pack etc.

5th June- Bright and early, at 6.55 am, the first volunteer showed up and soon 4 volunteers awaited the bus that Inventure academy organized with Bhagirathi. Breakfast arrived lovingly cooked in the morning by one volunteer and packed with such care including a little add-on for in-flight food. Our Bangla speakers make them all feel comfortable. An important detail – a volunteer brought Horlicks. Apparently every Bengali appreciates Horlicks! And another volunteer brought Sandesh that is considered a good omen. No wonder, the travellers said, this was not food – it was Prasad!
The two younger ones Noor (15 years old and operated for a brain tumor) and Aryan (4 years old, one kidney removed) had excitement writ on their faces. The mothers were dressed in their best! Little did we expect these extra joys, busy as we were with the mundane details of logistics.
The Rotary team was all geared up to take over from us at the airport and the first part of the relay was successful! Affectionately dubbed as Santas for all their kindness, they ensured our 17 successfully navigated check-in and security! That was a milestone as we had discovered a pocket knife earlier in one of our passenger's carry-on as he had intended to cut fruit on the flight ?.
At 1pm, many of us had a prayer in our hearts as we knew that Spice Jet would be taxiing for takeoff with our special group. By 3.30 pm, we started receiving cheeful word of them being near baggage claim and finally the pictures of them all getting into the specially arranged Tata Sumos to take them home courtesy Rotary Kolkata. Little Aryan was spotted wearing a PPE his size and we all heaved a sigh of relief.
Many of us have never met each other before. But here we are working across groups, across states to help this small group of 17 reach home even as we ready ourselves for the next set. This is the power of people coming together in times of crisis.
June 4th 2020
Positive Stories
On a positive note, we are about to send our first 17 people by flight to Kolkata tomorrow. One of our volunteers Initiated this and now we have a group in Mumbai and two groups in Bangalore including Rotary Indira Nagar who are all working with us on this.
The 17 comprise of patients and their caregivers. We didn't know that people come to Bangalore even from metros like Kolkata for treatment. These people would have had an impossible time on the very long and arduous train journey.
All the littlest details are being planned out now. Not the least of which is Horlicks! Apparently the Bengalis love this drink ! Suitcases/bags, packed meals – everything is being thought of.
On our end , we have a team of volunteers coordinating this. Special thanks to Inspector Narendra kumar and DCP Anuchet who helped.
Thanks also to Inventure Academy School for helping with transportation to the Kempegowda Airport using their bus.
Image 1 – This little 4 year old has had his right kidney removed
Image 2- He has been undergoing chemo
Image 3- Suitcases collected from Rotary Indira Nagar and our volunteers.
Our volunteers who have been meeting with the patients feel very emotional seeing such difficulties first hand. But they draw strength from the fact that we can come together to do this for them.
June 1st
Stories of people helping each other
Train to Odisha
1800 food kits and 2000 meals supplied by the team Kitchens@Whitefield
Workers came in autorickshaws, cabs and buses along with their families- babies, children, elders to the central location KTPO. Queues also at Varthur and Whitefield Police Stations. Our volunteers helped with processing the required documentation for the travellers in all locations. 1636 to Odisha processed. Well managed by the police.
The packed food distribution at KTPO was at 1 pm. 10 litre cans of water provided. Buses ready for departure to the station and a hilarious incident when a volunteer could not find the bus driver after all the travellers were seated.
When the volunteer called him, he said "bus ke neeche hoon". It took some time to register he really meant that! Finally issue was fixed.
Care kits which included mask and sanitizer was a big hit with the crowd, and everybody else. The police, bus drivers, Marshals all wanted them. 1526 masks + sanitizers were distributed- 100 in Varthur PS, 150 in Whitefield PS and the rest in KTPO.
Big cheers to the kids who sourced and packed 1600+ kits in 2 days.
Handling of travellers at KTPO was very well managed by the police and the team. Kudos to all who made this happen. Our patience, kindness and small helps are going a very long way in this very difficult time for people.
We are now working towards verifying and sending travellers who want to go to their home states by flight. This includes those who cannot go by road or rail- pregnant women, elderly, injuries, illness and more.
One more story from Bihar workers –
Here are 2 heartwarming stories from workers who reached Bihar.
1. From a volunteer- "I got a call from Sanjeev Sarma and apparently some "Sir" from Delhi had given him my number and I seem to have helped him some.. He called me to say he is home in his farm in Samasthipur, Bihar! He did say that for the last 24 hours they did not get any food on the train. He is staying alone on his farm because he does not want to affect his family. He had deep gratitude and says two people helped him so much. Us and some other person at BIEC who filled his seva sindhu form for 2 hours. That sir did not know hindi. He was so grateful and so well spoken. He said he never wanted to come back to Bangalore again. I asked him if the last two months experience made him say that. He said that he was in fact taken care of by his employer so well – apparently paid fully the whole time. (He is a carpenter making furniture). He just said – he is done. Home is in Bihar and he will earn less and make less and make do. I told him to decide later after 2-3 months go by but he said his mind is made up."
2. Another volunteer- "Bihar Karim, that's how I save the numbers – helps to track them, to tell about the trains – called me today. He got home and is with family. I could hear the relief and happiness in his voice. Asked him about it, said he was very stressed in Bangalore. He used to call me every evening asking about trains. After a long day today, it was a solid pick me up."
Our small acts of kindness make a big difference. Every bit we do is making some person's life better in ways we cant really imagine.

May 30
Stories of people helping each other
The many who could not make it on May 29 for Bihar, were contacted and sent to BIEC again.
7:00am: roll call at Varthur Police Station.
8:00am: 19 folks got in from Varthur.
On route, they stopped at Kitchens@Whitefield for breakfast and to pick up supplies for the long journey ahead- Water and food kits.
The bus then made its way to Marathahalli to pick up more passengers. 32 boarded the bus from the Marathahalli Police Station including the 4 who missed getting from Varthur PS (they caught an auto).
We found out that more people missed the bus. But Auto again to the rescue!
19 people caught the auto from different parts to BIEC. Charges paid via GPay.
In all 70 workers made it to BIEC to catch the train to Bihar.
Super awesome school kids packaged care kits (mask+sanitizer) for the travellers. Each got one for the journey.
Another day of incredible efforts and happiness for all ??
May 29
Stories of people helping each other
147 people from Varthur are getting on trains to Bihar today.
Thanks to the incredible work by so many to make this just slightly easier for people that are truly feeling very helpless.
Thanks to all volunteers and citizens of the area coming together for a cause.
It's overwhelming how it all unfolded.
May 28 night
9.02pm: Word from DCP Whitefield just saying we can send people to BIEC Tumkur road for Bihar train.
Midnight : On a team call we decide we can't help them get to BIEC. Resigned and dejected at our helplessness to help the guest workers.
12.05am: A volunteer posts he can arrange buses! Hurried group and decisions. A few volunteers come together to make calls to all the people we can inform about the train today
7.00am : a few volunteers on ground. A line forms. Way more people than we thought show up. Tea and biscuits provided to all by a couple volunteers.
Another volunteer organizes BMTC in addition to our buses. One by one they depart – each stopping at Kitchens@Whitefield on the way to load up food for the way. Volunteers also helping with Seva Sindhu applications for those who didn't have it.
10.30am: 125 people on board 3 buses headed to Bihar. A neat list of all people in the bus and bus details sent to police. In addition others have co-ordinated getting 8 people by auto from Electronic City PS.
11.45am: A volunteer has received them all at BIEC and confirms all got a pass.
3:25pm: 14 people from Marathahalli PS also make it to BIEC and are through.
Special attention to special cases- eg for a family with patients and a small child.
So many stories of people's lives were experienced in those few hours between 9 pm yesterday and 3:30pm today. May they all be well and reach home safe. We send them all off with love and care as residents of the same neighbourhood.
May 23 am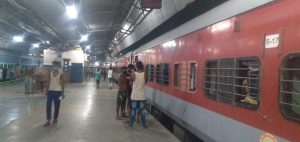 Nothing could convince them to stay. So we did what we could to help our police and the travelers undertaking such an arduous journey back home.  At 10 pm last night, 48 hours after we had seen them off with relief, we received word that they were badly in need of water and food. The train was late. V late. 20 hours late. We learnt they were about to approach Prayagraj. A resident angel who has been instrumental in providing food for 1,00,000 people to date since the lockdown started kicked into action.  He knew people in Prayagraj. Working furiously he set everything in motion and by 1.35 am he sent the below message
 "Water and biscuits will be served again at Mughalsarai
" They got water and 5 Samosas each.
Also train water tank is full. Washrooms also cleaned.
https://whitefieldrising.org/covid-stories-of-travels-back-home/
May 22
Project Janardhan~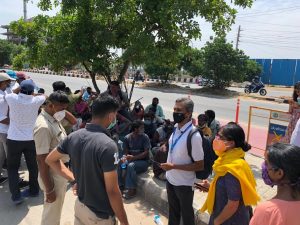 These guest workers are on the bus from Marathahalli to the train to Bihar now. A
ll 32 of them. The youngest is 13 years old. Most between the ages of 17-22.
The story –
They have had an arduous journey since Tuesday when they tried to take a truck all the way to Bihar, was stopped at the Karnataka – AP border, back to Bangalore in a KSRTC bus. Dropped off at Hebbal. Got shoved around by the cops. Then caught another vehicle / truck to Whitefield Thursday morning. Stood in line for Bihar train, only 4 made it. Rest 32 were wandering about with no money or food.
Then the volunteers got a call, & our wonderful people swung into action. Background information w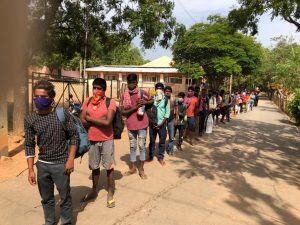 as collected. The food team deployed a volunteer to track them down at Hope Farm to serve hot food. Another volunteer stayed with them till they were accommodated by the Whitefield Police station at the St Joseph's shelter and received support from a team member as needed. Data and forms were collected, collated into excel.
A long journey ahead for them. All's well that ends well. We pray that they reach their homes safely .
May 18, 19, 20
This is how people are sleeping, waiting for a ticket, at the Varthur vegetable market
Whitefield Rising supplied home made rotis & other items. Along with mosquito coils. These guys cleaned up the area after purchasing supplies
Day 2 started with a bang. These 2 boys had been waiting days to get on the bus to take them to their train. Finally their turn came after immense suffering. They were literally setting foot on the bus when they were pleaded with to step aside. Another worker's father had passed away. Yet another worker's mother was unwell here and just wanted to go home. These two agreed to step aside. True compassion. In the midst of their own crisis. Stories we saw ourselves. These exemplary young men made it on the train to Bihar. 9 years working in Bangalore, in hotels. Now going back home as future is none too sure.
Day 2 was also about bringing order into the chaos.
Army of volunteers did data entry. Crisp clean data given to police in the morning. A 1000+ names across 6 states.
A train to UP!
Lines magically appear. Varthur Police were most helpful in registering, creating the order. 200 guest workers from Varthur Police Station caught the train to UP at 6 pm yesterday. They received their tokens and all set for their journey back home. 46 of them sponsored by us. It's hot. But this is how the police lined them up to have their cooked food provided by Kitchens@whitefield, rotis by communities and distribution by volunteers. A happy bunch they are! Thanks to all volunteers for helping out with data entry yesterday and for the callout and issuing tokens today. We will continue to help the next set of workers.
There are still many waiting for their turn to go home!
From a volunteer : 2 people, who you had helped board yesterday's train, called me from the train to convey their gratitude to this amazing group … they are amazed that within a day you all have gotten them onto the train and did not ask for anything in return. ?? My response to them on your behalf has been – "if you get a chance, please try to pay it forward".
May 8th 2020
We started our efforts to support those in need right after lockdown was announced. Our efforts continue with distributions which include rations and 5 kg vegetables as part of the relief kit across Mahadevapura.
Our partnership with the Azim Premji Philanthropic Initiatives and contributions from well wishers has resulted in this extensive coverage.
To date we have distributed:
Non-perishable bi weekly and monthly rations to 23,942 people
Ready to eat hot meals: 57,901
Vegetables purchased from farmers for distribution to needy: 11,550 kgs
April 30th, 2020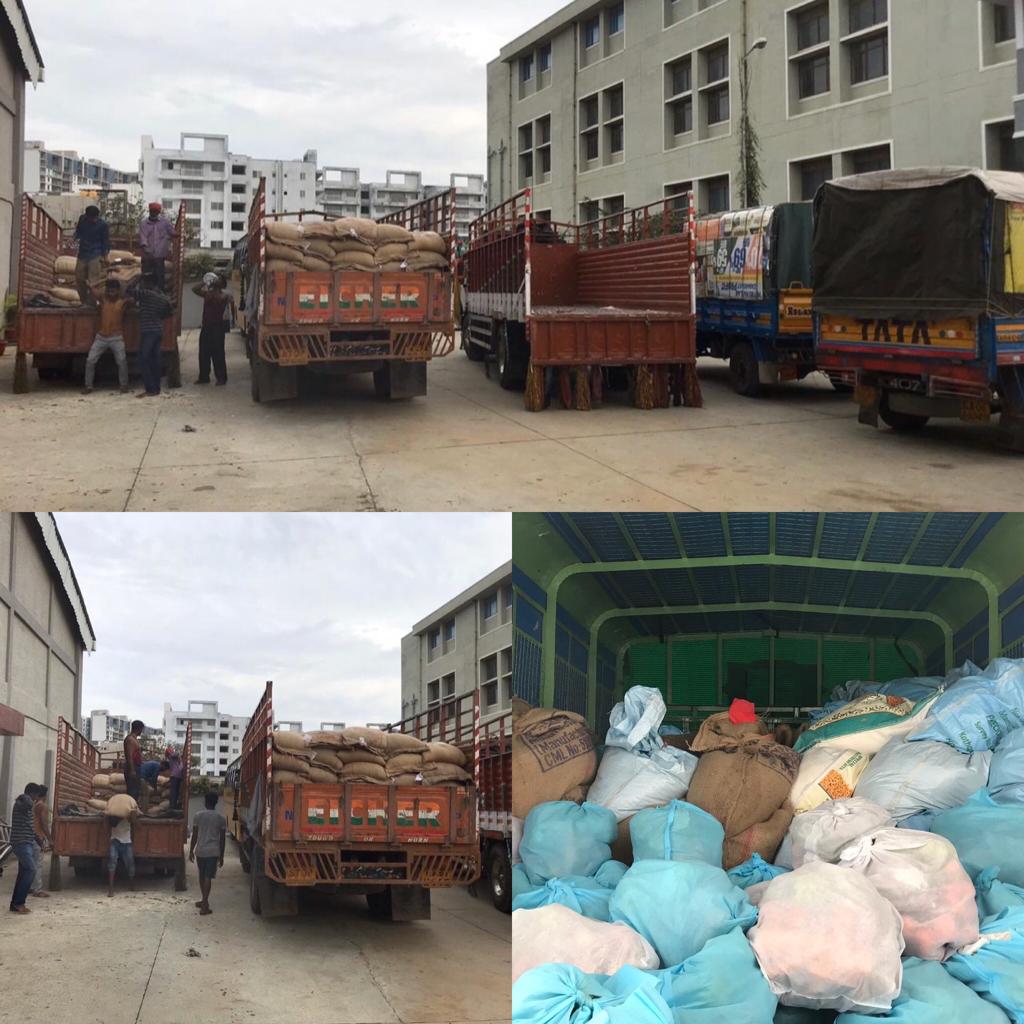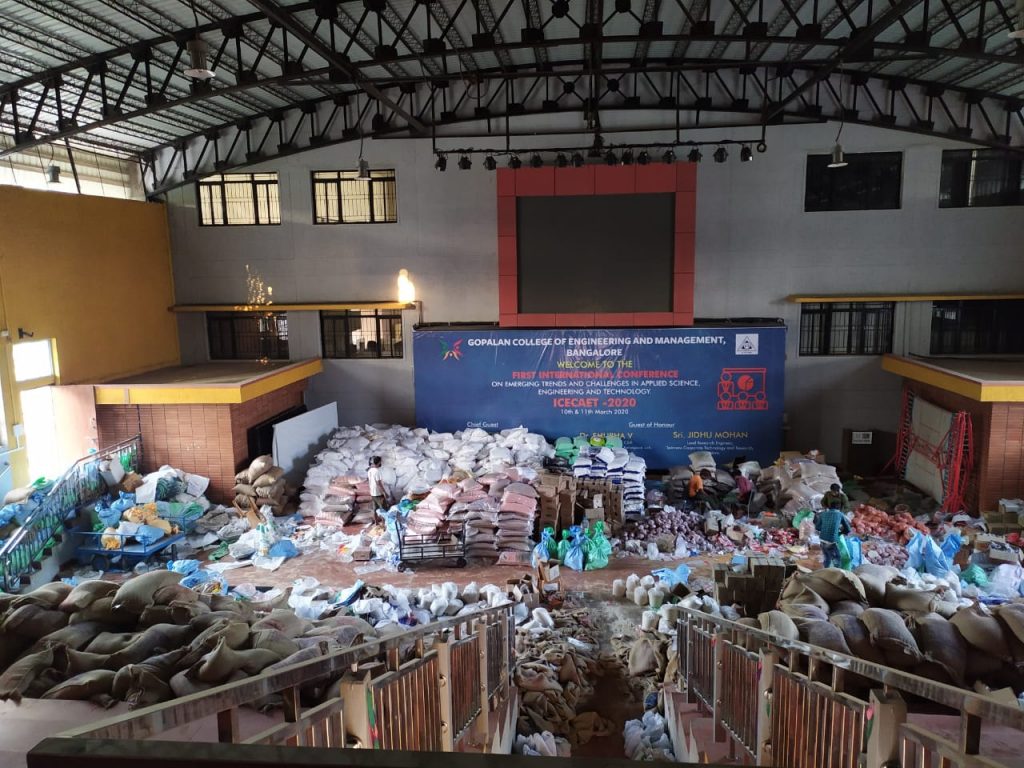 Non-perishable bi weekly and monthly rations to 12,585 people
Ready to eat meals: 36,000
Vegetables purchased from farmers for distribution to needy: 7800 kgs
We continue to scale up our distribution of rations and have added 5 kg vegetables to each staples bag as part of the relief kit. This will not only provide added nutrition but will also help the struggling farmers.
Our partnership with the Azim Premji Foundation has resulted in extensive coverage across Mahadevpura.
Farm to Plate, Farmer to Customer
Whitefield Rising is making an attempt to enable wholesale farmers to sustain themselves at this time. We are connecting these farmers to residential communities for them to buy directly. If you want to join this initiative, choose a Point of Contact for your community and then please fill this form. We will reach out to you.
https://forms.gle/GaJdBxGQ4Eyi8rU97
For more information about our relief drive,
https://whitefieldrising.org/blog/covid-relief/
We thank Gopalan Enterprises group for letting us use their school facilities for this massive rations distribution exercise.
A touching message for us from the NGO Building Blocks team – "Thanks so much Whitefield Rising, for amazing 150 bags with so many different items that should sustain these families for another month or more. Extremely thankful. Poor sending you lots of gratitude."
For questions, reach out to us at hello@whitefieldrising.org
https://whitefieldrising.org/
https://m.facebook.com/groups/whitefieldrising
https://twitter.com/WFRising
https://t.me/WhitefieldRisingofficial
Apr 28th : Farm to Plate. Farmer to Customer
This is the attempt Whitefield Rising is making so that Wholesale farmers are able to sustain themselves at this time and who knows – maybe beyond.
We have done the first pilot where residents order during a certain window and Farmer then delivers bagged produce at the allotted time.
We are still tinkering with the model – can we avoid bags? How can we introduce consistency in quality for the customer? How can payment reconciliation be easy for all?
Many wonderful residents have stepped up to be the Points of Contact for their communities and go through this pilot. And yet other residents are working so hard to make this work.
And most importantly, the Govt department of horticulture is keenly engaged having initiated the idea themselves.
Where will this go? Lets wait and see. Meanwhile, if you want to join this initiative, choose a Point of Contact for your community and then please fill this form. We will reach out to you.
For more information, please write to hello@whitefieldrising.org (Picture Credit to Subin Nair )
Apr 21st : Big day today! Whitefield Rising connected with Kolar farmers to see how we could support mass distribution of vegetables directly.
We also made a plan to buy the vegetables wholesale from farmers. 1000 kgs were purchased which were made into 200 bags of 5kgs each.
Veggies came in at 7 am today and were distributed at 2 settlements around Sheelavanthakere Lake and Pattandur Agrahara.
Thanks also to Rajender Kataria, Secretary Horticulture and Team, Gayathri DD Kolar, and support from Azim Premji Foundation.
Farmers are happy.??
Apr 20th Update – Supply of Groceries/ Staples : Non perishable rations have been provided to 8182 people so that they can be sustained till the end of the lock-down. To date 1905 bags of rations have been distributed.
Distribution locations from 15th-18th : Singanpalya, Hoodi, Mahadevapura (ORR) Whitefield (behind Hindustan Lever) Hagadur (Behind Swastha) Agrahara Road, ITPL Back Gate, Pattandur Agrahara, Channasandra, Gandhipura, Siddapura, BEML, Varthur, Garudacharpalya, Ramagondanahalli school, Magadi Road orphanage.
Cooked Food Distribution : Hot food funded as part of this initiative: 20,540 meals
Engagement with the Govt : The Dept of Horticulture, GoK requested that we support farmers from Kolar. They are suffering immensely as the wholesale market is heavily affected.
This week we will begin a pilot with 5 communities. We will use a tech front end to get individual orders from residents collated at the community level. These will then be further rolled up to show total demand so that farmers can get a clear estimate and bring the correct volume to our communities. After the pilot we will scale to the 70 communities that registered for this within a day.
If you are keen to get this to your apartment, community, layout, neighborhood, kindly fill out this form https://forms.gle/GaJdBxGQ4Eyi8rU97 .
We continue to be flooded with requests for help and we are carefully validating requests and prioritising based on urgency. We are also working on sourcing bulk vegetables to be supplied to the settlements for free. Last minute details are still to be ironed out: So along with cooked food and non perishable staples, we will now be adding vegetables to the distribution.
Some observations from the Ground
In Mahadevpura, some people are going hungry. Yet, others are throwing away cooked food because too many people kind people gave them! No more. Now we can all see WHAT was provided, BY WHOM, WHERE, and *WHEN. Red on the map means – food is needed. Green means, its been given. Details can be seen when you click on it. https://stophunger.mapshalli.org/
This will obviously only work if all that are out there giving rations and cooked food update this site. We will be using the Stop Hunger platform fully across Mahadevpura so all can see whoever is served in this zone. By anyone.
In other news, seeing the work we have done, the Azim Premji Foundation reached out and as of today have comitted to parterning with us to extend our reach to cover more of Mahadevapura .
The Police have been wonderful in their help and support of our distributions. We have been engaging with BBMP and other government departments who have all been pressed into service for this cause.
Whitefield Rising thanks all well-wishers, volunteers, contributors, partners, the Whitefield Ready Team, and Samridhdhi Trust.
For more information about our relief drive,
https://whitefieldrising.org/blog/covid-relief/
Thank you
hello@whitefieldrising.org
Stay updated: https://t.me/WhitefieldRisingofficial
STOP HUNGER
Compassion, Good intent, hard work and contribution are unfortunately not enough for successful relief work. Organization and process is mandatory.
In Mahadevpura, some people are going hungry. Yet, others are throwing away cooked food because too many people kind people gave them! No more. Now we can all see WHAT was provided, BY WHOM, WHERE, and WHEN. Red on the map means – food is needed. Green means, its been given. Details can be seen when you click on it. https://stophunger.mapshalli.org/
This will obviously only work if all that are out there giving rations and cooked food update this site. All groups providing relief, please share your designated contact with us at hello@whitefieldrising.org
We will be using the Stop Hunger platform fully across Mahadevpura so all can see whoever is served in this zone. By anyone.
April 14th 2020 Whitefield Rising Relief Efforts, Covid 19
Supply of Groceries/Staples: Non perishable staples have been provided to 5714 people so they can be sustained till the end of the lockdown.
Distribution of Cooked Food : Hot food funded as part of this initiative over the last 10 days : 17000 meals
One of our key interventions however has been to engage the Government and direct its attention to where it is most needed. This comes from our work in understanding the details of the settlements (mapping them out, doing surveys and so on) as well as understanding in depth what the government can and cannot do. Thus, three large settlements totalling over 20,000 people have now been included in BBMP's radar. This ensures they are supported by the Government and not just civil society. We are delighted to see that rations have begun to be delivered here directly by the Govt. (Vibgyor settlement behind Thubarahalli is the first such). Similarly, we mobilize water through the Government to areas that need it.
Some observations from the ground:
Hunger itself is steadily being addressed by many like us. Now the issues are changing…. They need fuel to cook what we give them! Pregnant and sick people need some medical attention. Mobiles need to be recharged. Basic vegetables need to be bought. All this needs money – their daily wage.
In addition, domestic violence is a real threat across the board. Non availability of alcohol, stresses of loss in income, tight living quarters, erratic supply of food and water – all make for a conducive environment for abuse.
Many workers above the level of the daily wage worker are also beginning to be stressed by the lockdown. Plumbers, Carpenters, Drivers, Restaurant waiters and more are some we have observed as having some challenges with making ends meet.
The police have been remarkable in their support of our distributions. We have been engaging with BBMP and other government departments who have all been pressed into service for this cause. War rooms have been set up and effort is clearly underway to manage this crisis. Additionally, numerous volunteers across the city have organized themselves under various banners including one group run by the Government called Corona Warriors.It is heartening to see the government and civic response to this crisis.
Whitefield Rising thanks all well-wishers, volunteers, contributors, partners, the Whitefield Ready team and Samridhdhi Trust.
For more information about our relief drive,
https://whitefieldrising.org/blog/covid-relief/
For questions, write to hello@whitefieldrising.org
Helplines during Covid19,
https://whitefieldrising.org/blog/helplines-during-covid-19/
Update on #COVID19Whitefield Relief Efforts for April 10-12 , 2020
Supply of Groceries/Staples: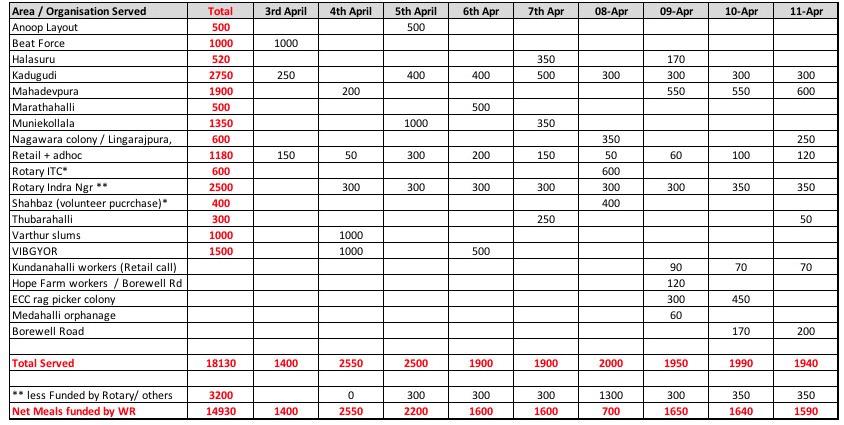 Locations covered on April 9-12
Mahadevapura (on the ORR, near Iris Inn)
Whitefield (behind Republic of Whitefield)
Sadarmangala Road, Kadugodi
Kodigehalli, next to BMM Cement
Maheshwaramma Temple Rd/Maheshwari Nagar
Mahalakshmi Lodge, opposite Royal English School, Kadugodi
Multiple locations in and around Nallurhalli Main Road and the lake
Immadihalli
Total 350 bags (fortnightly) requirements were provided for 350 families. This included some patients recovering from illnesses, including cancer.
Coordination with Government & Others
We continue to partner with BBMP to encourage their adoption of the larger settlements that are best served with the involvement of the govt. The large settlement in and around Vibgyor/Thubarahalli Extension has 1500+ families. We assisted Mahadevapura BBMP officers to distribute 21 day ration kits. The effort is ongoing.
A small cluster of 12 families did not have access to water. With the BBMP's help, water was provided at short notice.
With the help of Whitefield Police, we completed survey of multiple settlements in need of food rations and have queued up distribution.
Distribution of Cooked Food:
Net hot food funded as part of this initiative from April 3 to April 12 = 14930
Our focus continues to be to curate and provide what is needed but by minimizing contact. While we provide both staples/groceries and cooked food, our goal is to transition those receiving ready-to-eat meals to staples.
As usual, the police were most supportive and their presence helped with this complex multi-location delivery to those most in need.
Whitefield Rising thanks all well-wishers, volunteers, contributors, partners, the Whitefield Ready team and Samridhdhi Trust.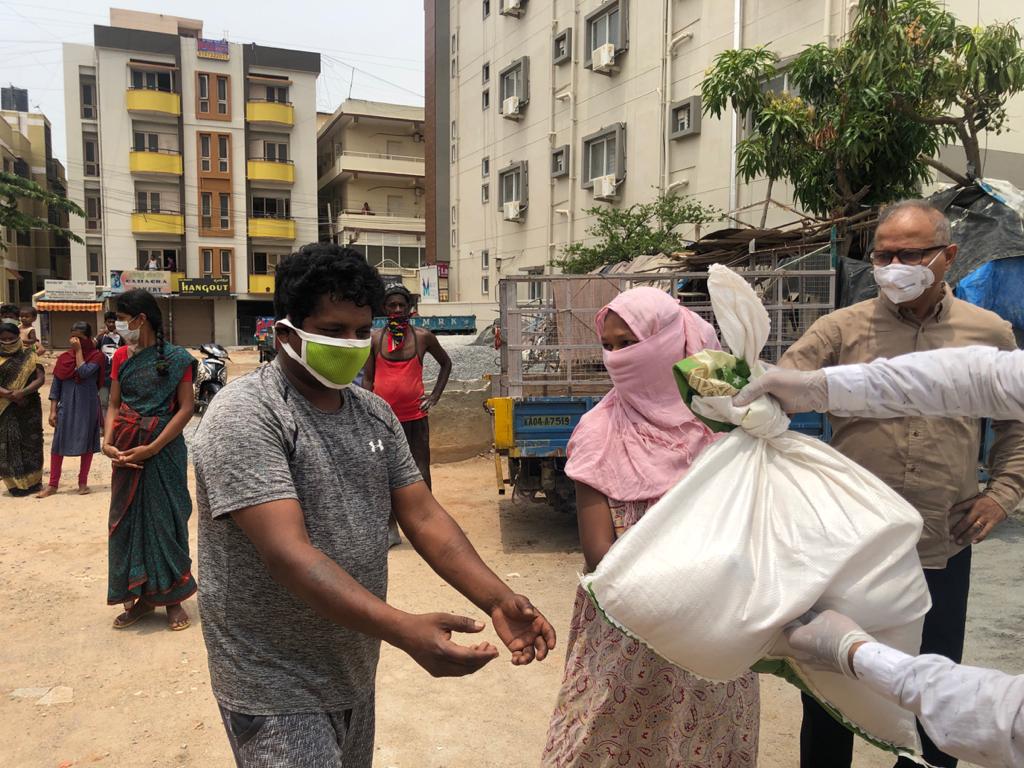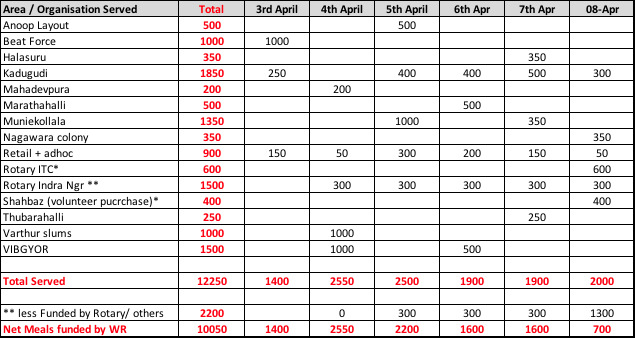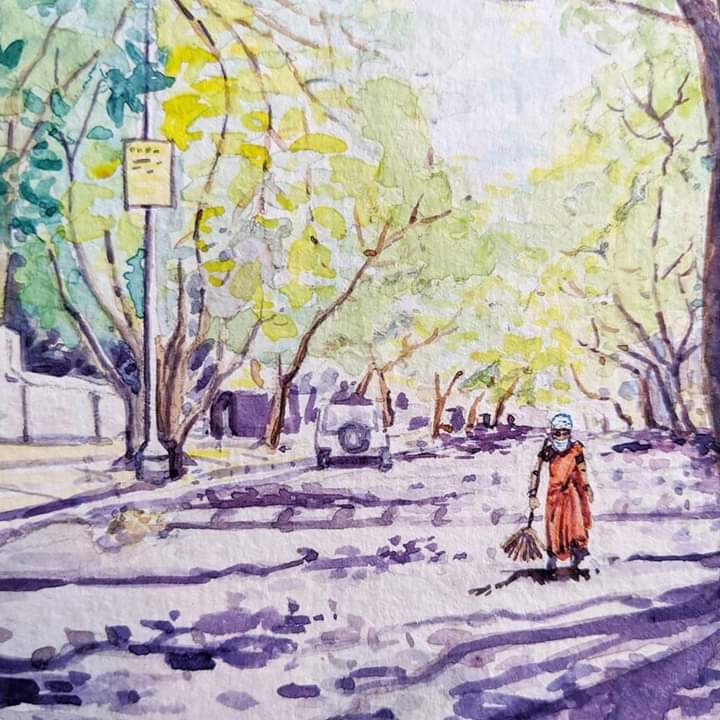 Vibgyor Slum distribution by BBMP- still awaiting final numbers
Thanks to all Volunteers, Contributors, Partners Whitefield Ready and Samridhdhi Trust, Reporters and Well Wishers of Whitefield Rising.
5th Apr 2020
Asad's team of volunteers comprising cooks, packers, dispatchers and organisers, working round the clock to supply 3000+ food packets~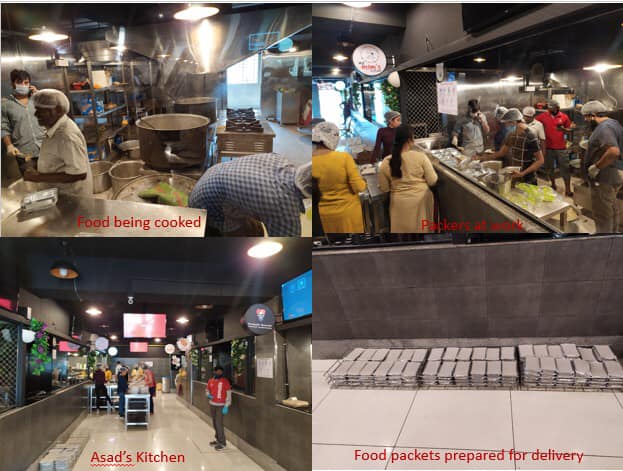 Asad Ali, along with some partners run a chain of several kitchens under brand Food Crates (FC) that supply food under various brands based on internet/ phone orders. A few days ago, he had posted a message offering free food to the needy, giving his personal phone number as contact. This went viral and since then his phone has been ringing off the hook, and has become a hunger help line!
Over the last few days his kitchen has been supplying about 3000+ food packets a day for the needy. Two kitchens are currently operational for this – Whitefield and Electronic City. He has also been working with Whitefield Rising (WR) and Rotary to serve the needs around Mahadevapura.
WR and FC are now working in tandem to streamline calls via an IVR, arrange funding and finally to fulfill as much of the needs as possible.
The main focus initially has been around Mahadevapura, while also supporting the Electronic city operation. This will soon be pivot to supplying rations rather than cooked food.
*Some heartwarming stories, thanks to the calls received by volunteers on IVR*
• 25 handicapped kids without food near Hebbal were delivered dinner yesterday and will get rations today, through outreach to Rotary
• A group of workers stranded in Jargaram near Kharagpur, West Bengal: With help of some friends ( a group of do gooders) are transferring money to a grocery store near them, so that they can get some rations.
Many more such stories in our area. Many doing their bit for the needy. If you would like to help, please reach out to us at hello@whitefieldrising.org
Let's all do our best to help in these tough times!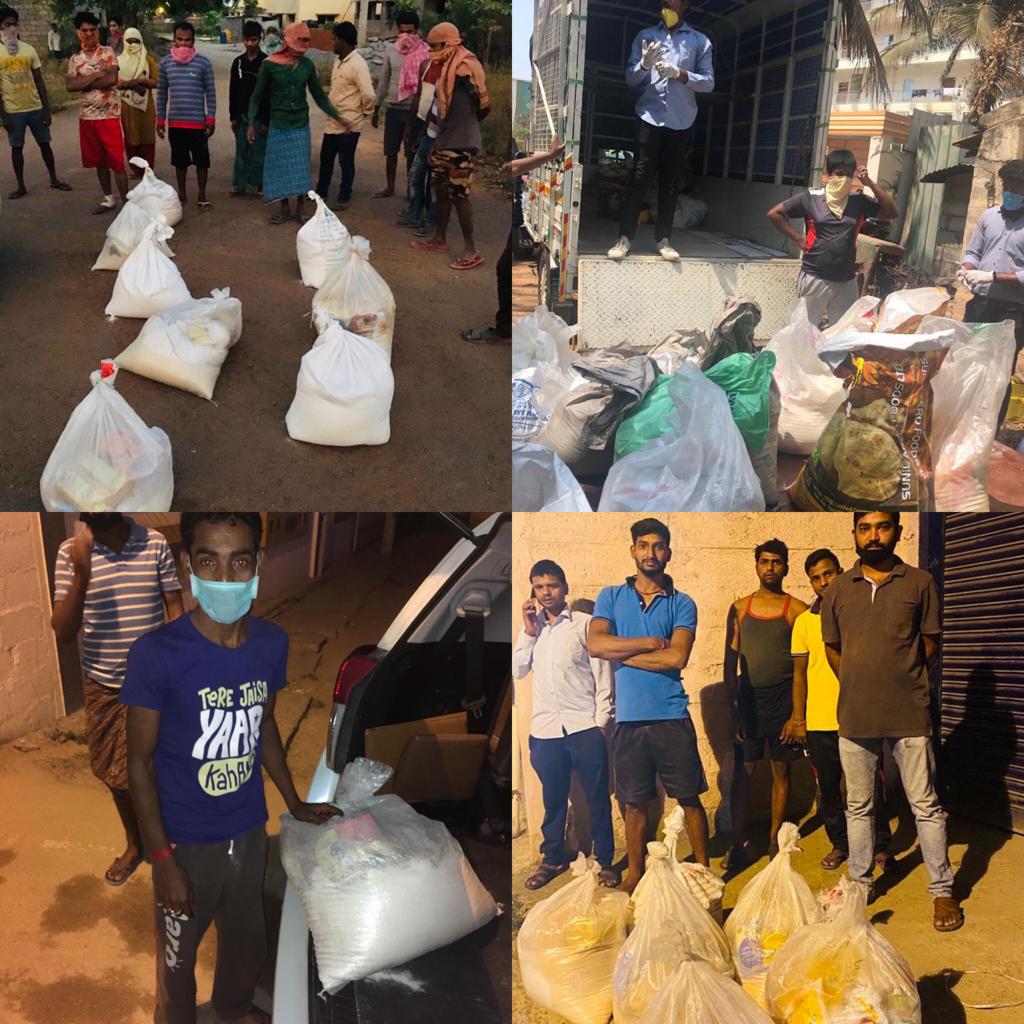 Relief drive-staples distribution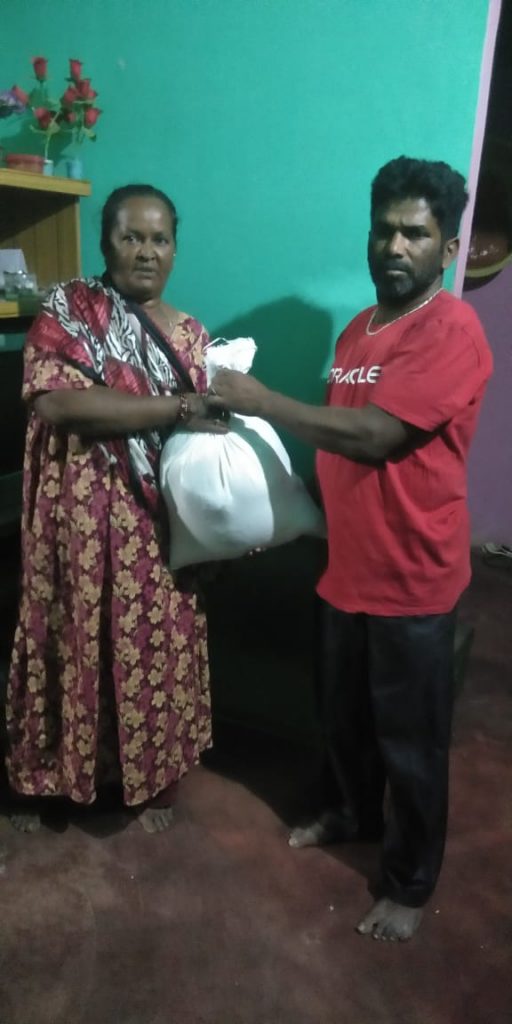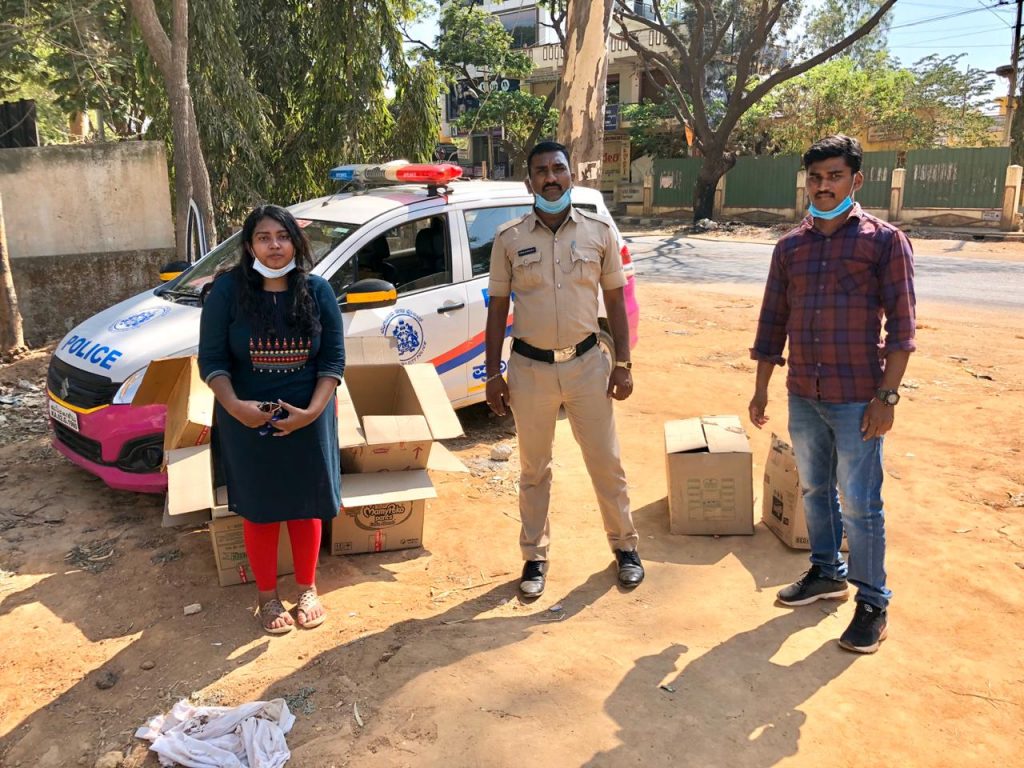 Covid 19- relief efforts update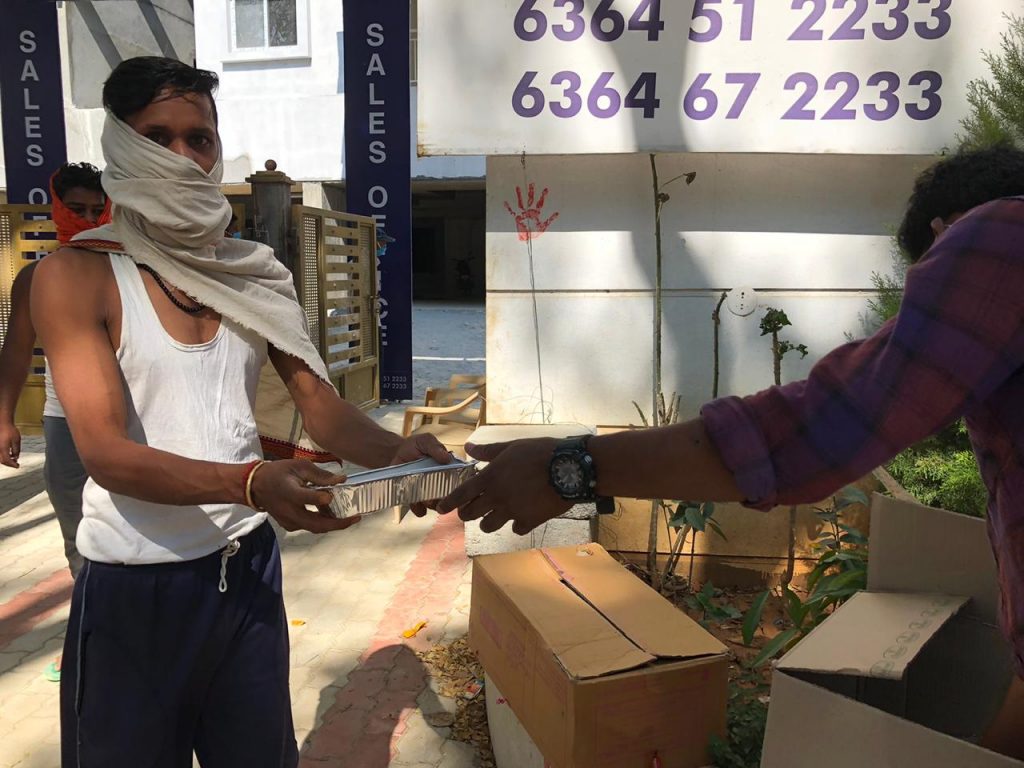 Apr 4th 2020 (evening) : The hunger out there is real. Daily wage workers are suddenly left with no immediate way to sustain. Our intent is to help until Govt relief reaches them. So far we are only touching those that have not had any other support.
Monthly Ration Distribution
People helped to date : 2170
Next few days: 2444
Expediting help for large slums totaling 10K-15K people
Locations Covered
Nallurhalli 1 & 2
Sheelavanthakere Lake
Govt school/ST parents
Sarjapur – Arunachal families
DPS Whitefield Mallasandra
Kadugodi Bridge
Siddhapur
Govt School/Samridhdhi Trust School parents
Varthur Kodi
Near Graphite
Sheelavanthakere Lake
Govt Polytechnic College, Immadihalli
Near Phoenix (Ajay & Sandip)
Construction opp Samsung Office/Mahadevapura (Gopalan)
50 sheds / KR Puram
Challenges
Large areas like the settlements in Vibgyor are best addressed by the Government – we are hoping relief from there can come to them fast
Only those volunteers with passes can deliver (10 so far)
Sourcing and packing the rations is taking time – demand is increasing meanwhile.
Thanks to all volunteers, Contributors, Partners, Reporters and well wishers
Whitefield Rising
Let NO ONE go hungry : Apr 4th, 2020 The #Covid19 drive continued in other areas of Whitefield yesterday, April 3. We gave the rations to the following areas:
Siddapura slum – 149
Small cluster of road construction workers near Varthur kodi -13
Graphite India -28
Sheelavanta kere slum-17
Immadihalli govt polytechnic slum-8
Near Phoenix mall-14
Bags/kit for 1 month rations include:
10 kilos rice
10 kilos atta
2 kilo toor dal
1 kilo salt
1 kilo sugar
3 litres oil
500 GMs chilly powder
500 GMs turmeric powder
500 GMs tea powder
3 bars of dettol soap
2 bars of 555 washing soap
1 big tube toothpaste
100gms mustard
100gms jeera
Whitefield Rising partnering with Whitefield Ready and Samridhdhi Trust will continue to distribute one month worth of rations to people in need.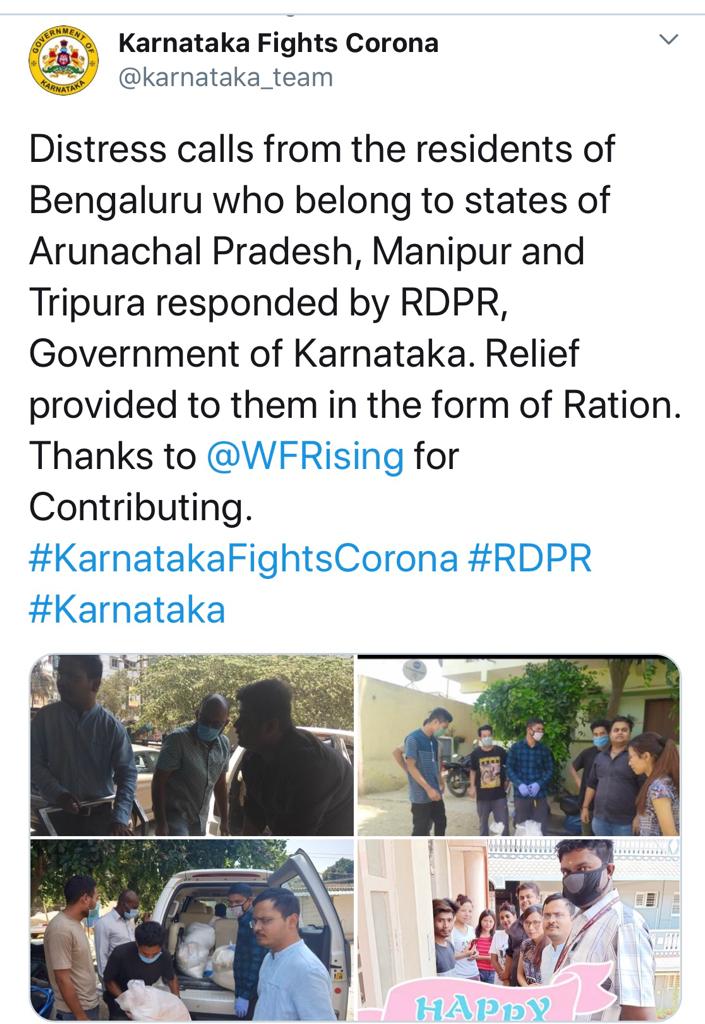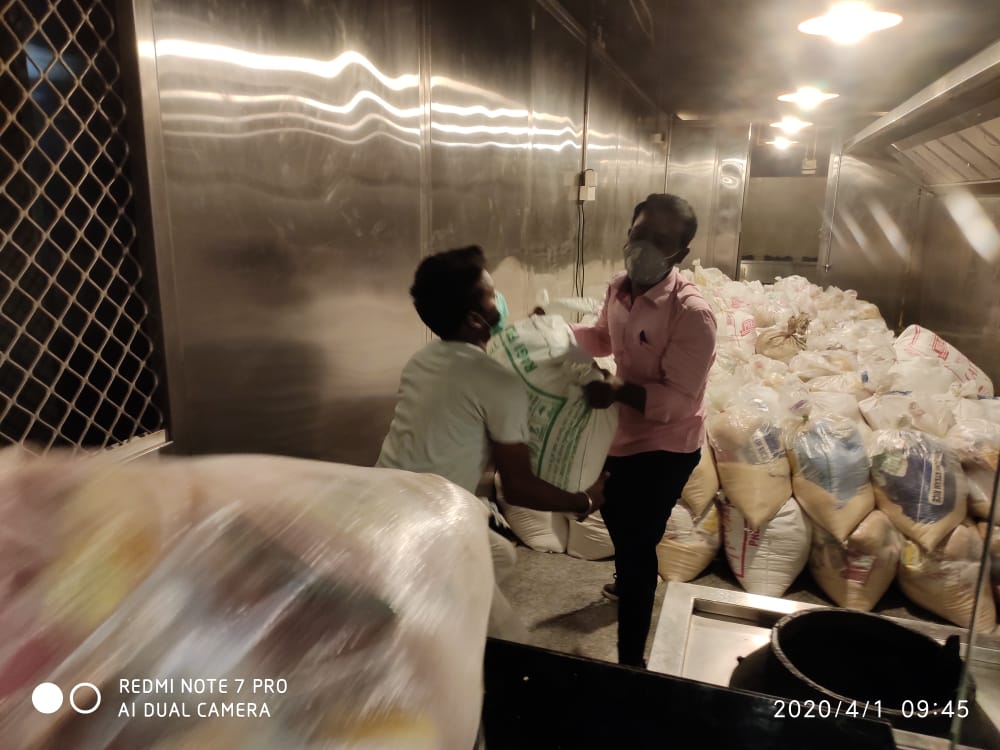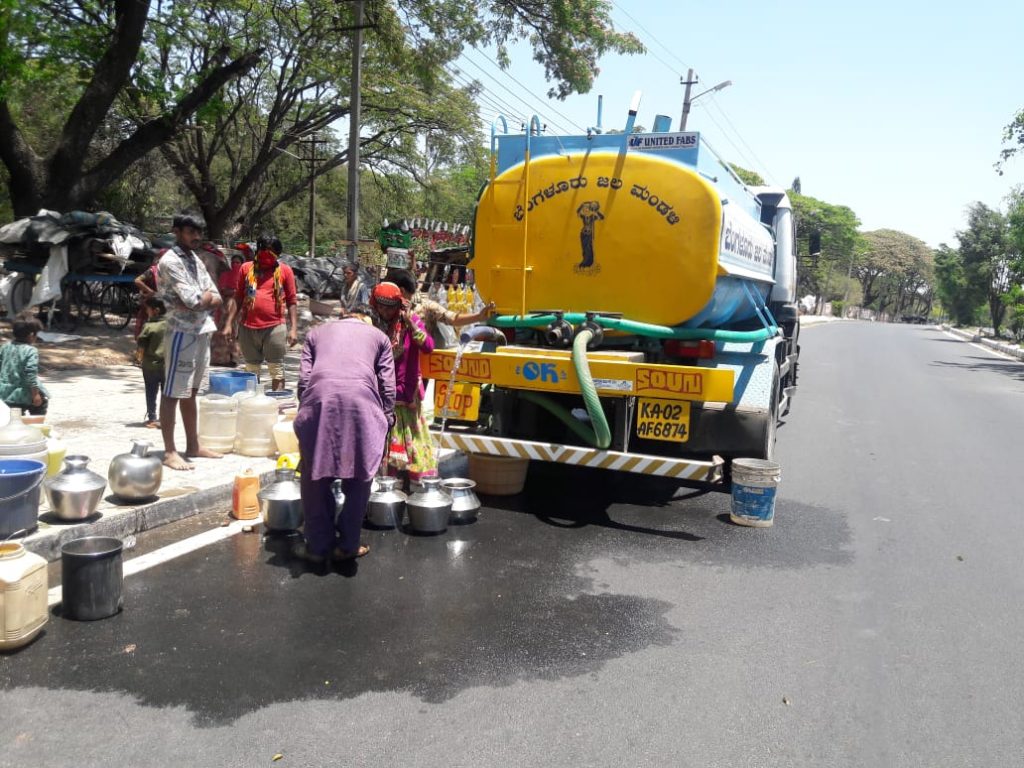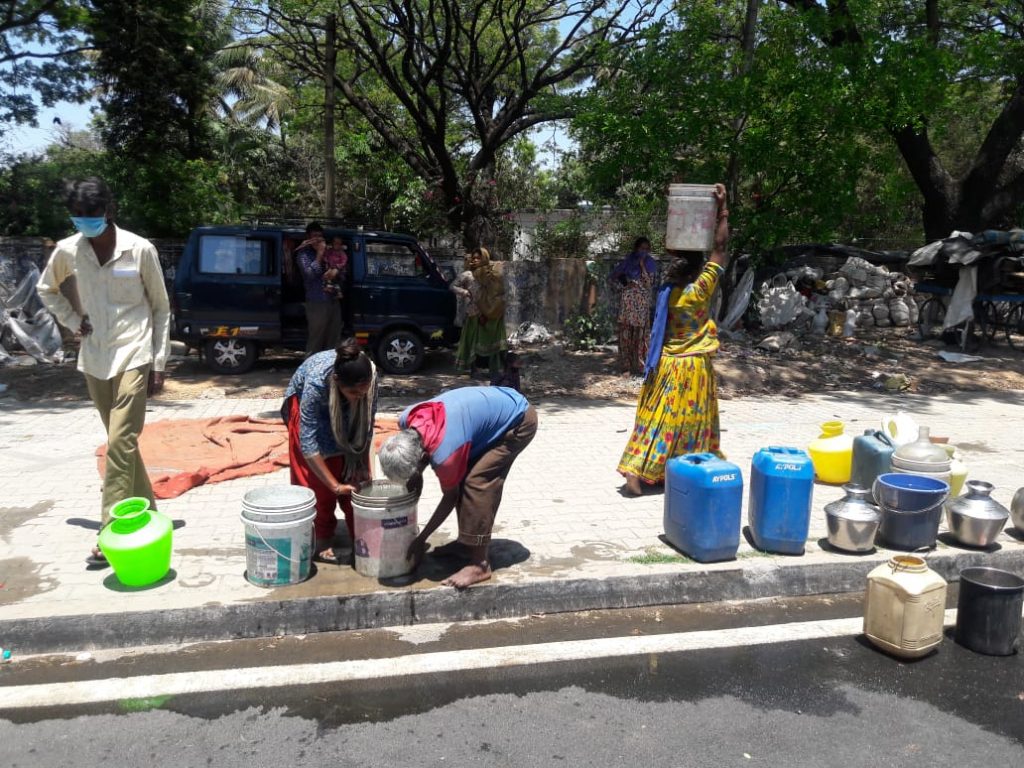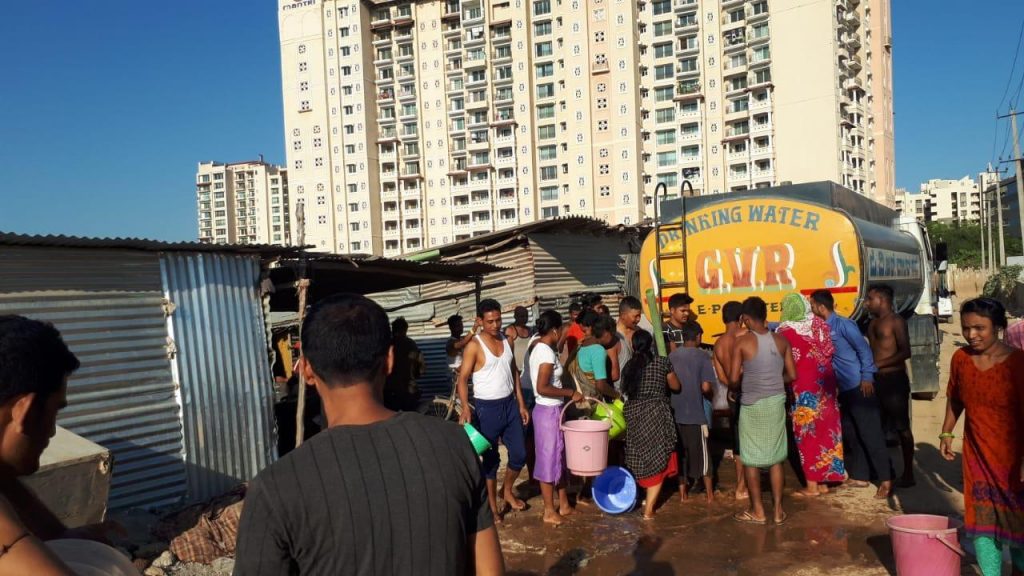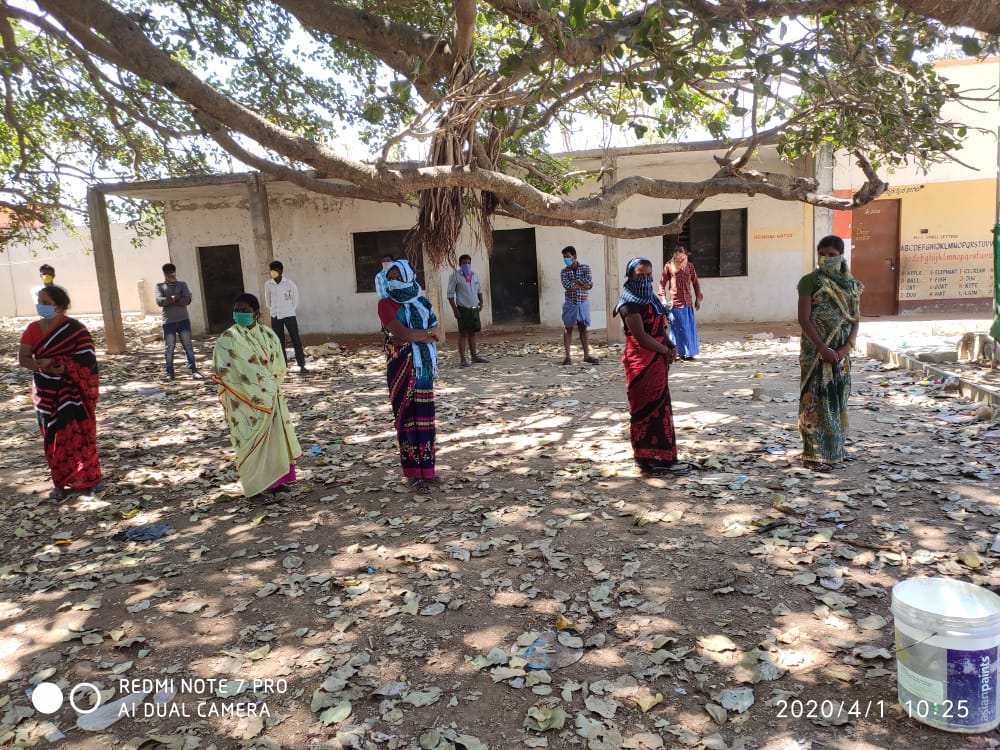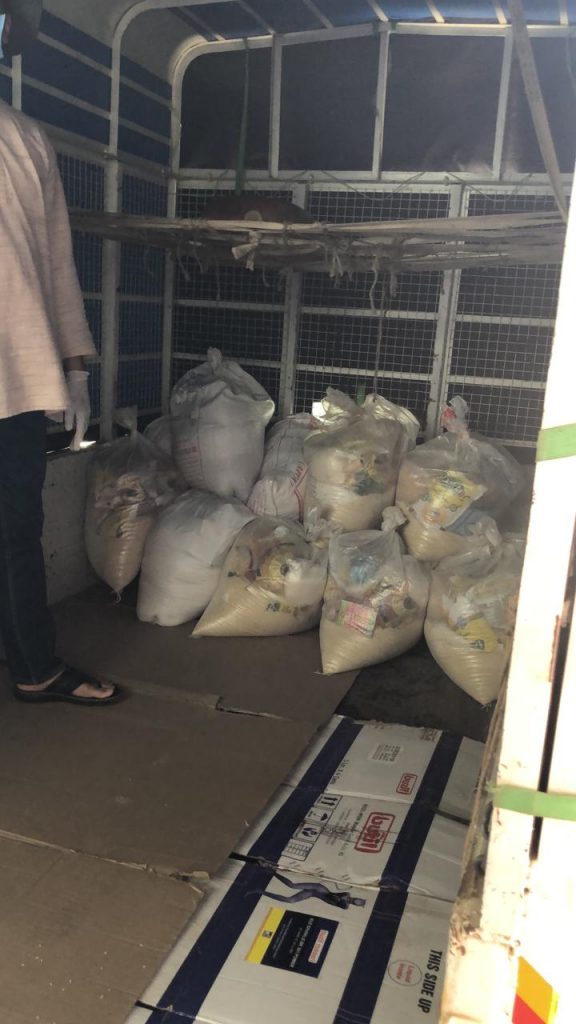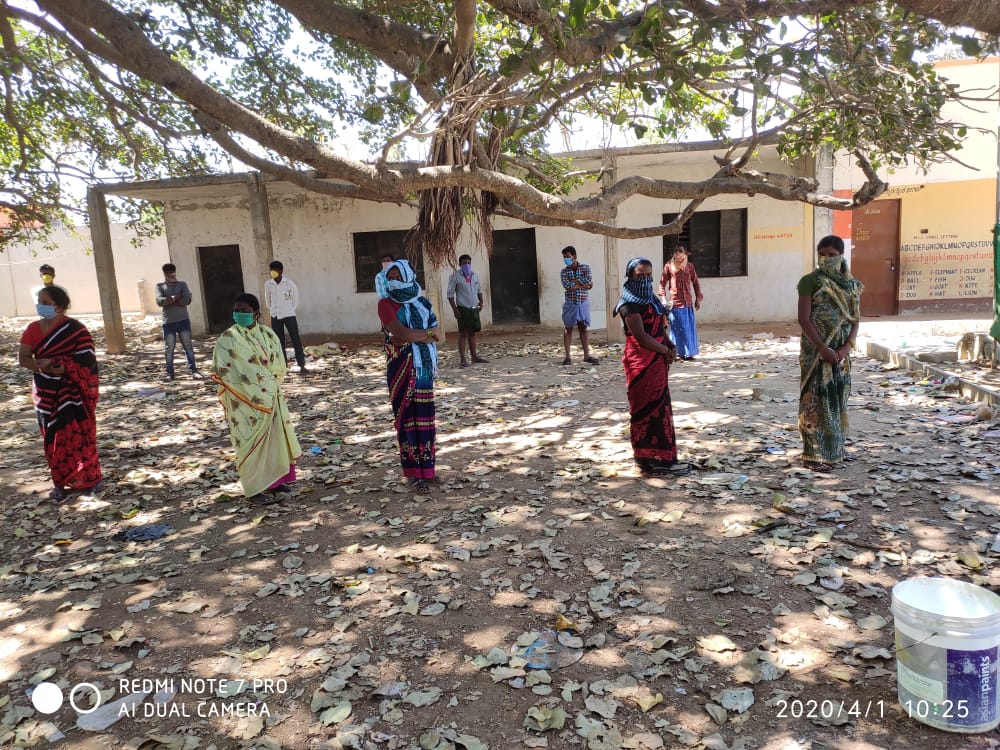 2nd Apr 2020 :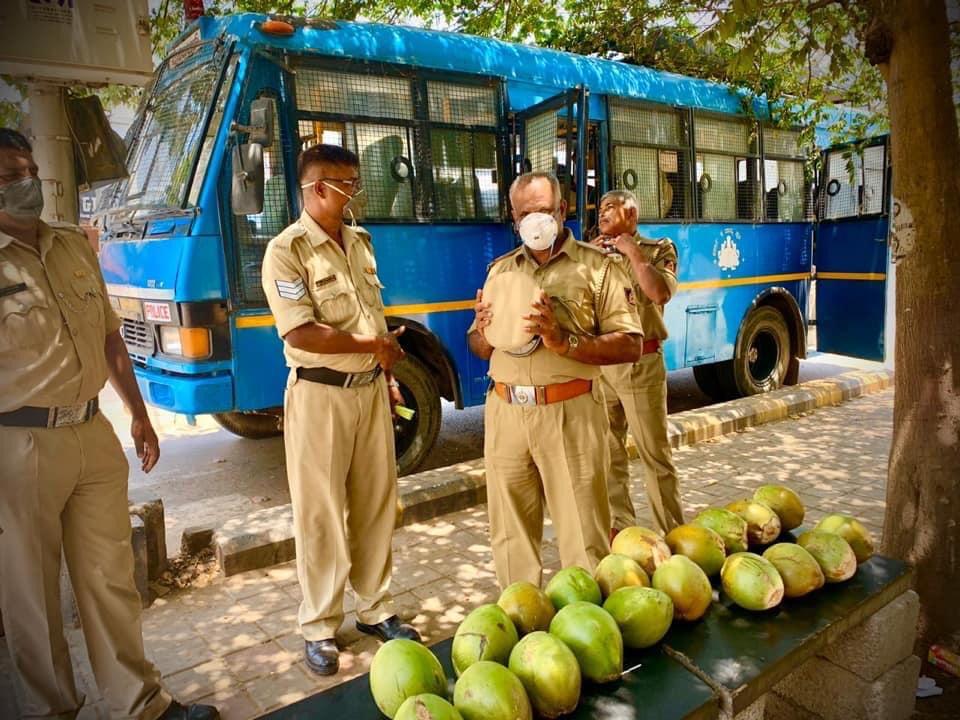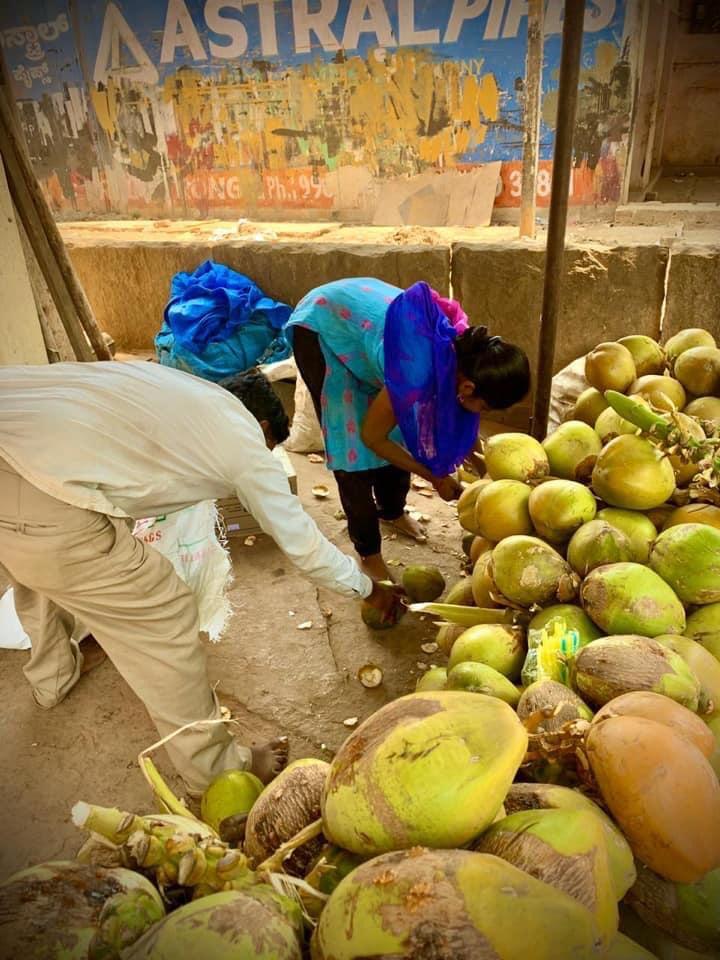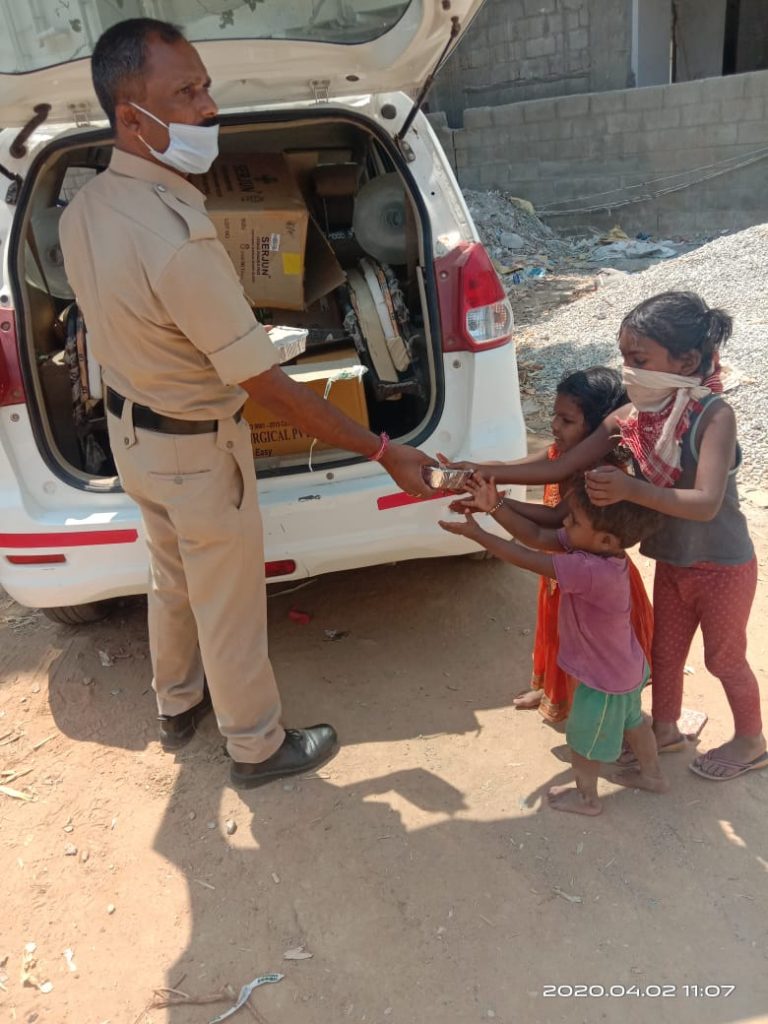 Police working continuously to address distress calls. And so many groups and individuals just like our group doing their bit. Amazing to see the good side of humanity! ??BENGALURU CITY POLICE
1st April 2020 : Today Whitefield Rising began distribution of "one month worth of rations" to people who need it. We are happy to report that it has gone exceedingly well.
Our extreme focus was on
1)Addressing the true need
2)Ensuring physical distance
3)Working within the constraints of the lockdown.
We could not have done this without
1)Contributions by Residents of the area and beyond
2)Police helping in every way possible
3)Govt being responsive when we have needed them
4)Core volunteers who have spent countless hours – some who we just met recently
5)Additional volunteers who are on standby to help
6)Reporters highlighting plights and alerting us to the needs
We feel we have worked out a model by which to procure, pack and deliver to the right people with safety, minimizing touchpoints for all. This is the need of the hour given Corona.
It is important to share that we have observed NUMEROUS other people coming forward to support including the MLA's group, individual residents, many many young people and RWAs. We are just one among all of them and think its a privilege if we can help. Let no one go hungry.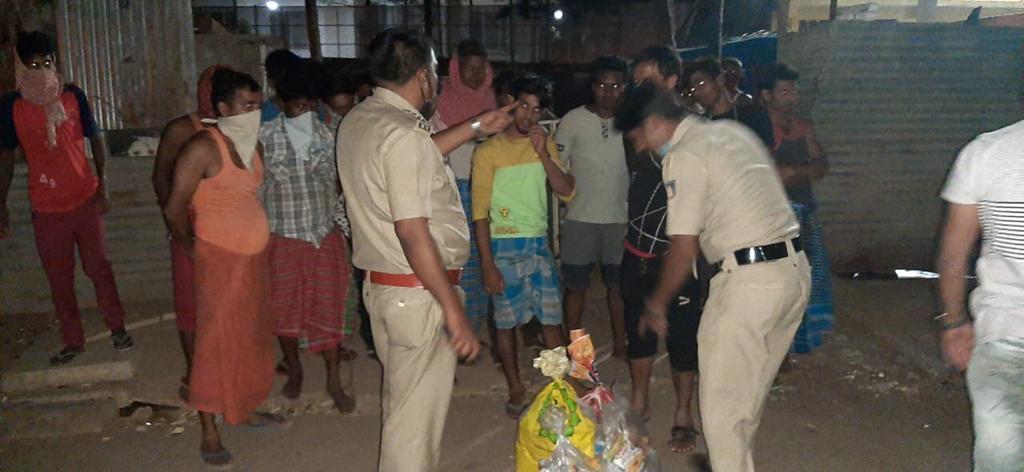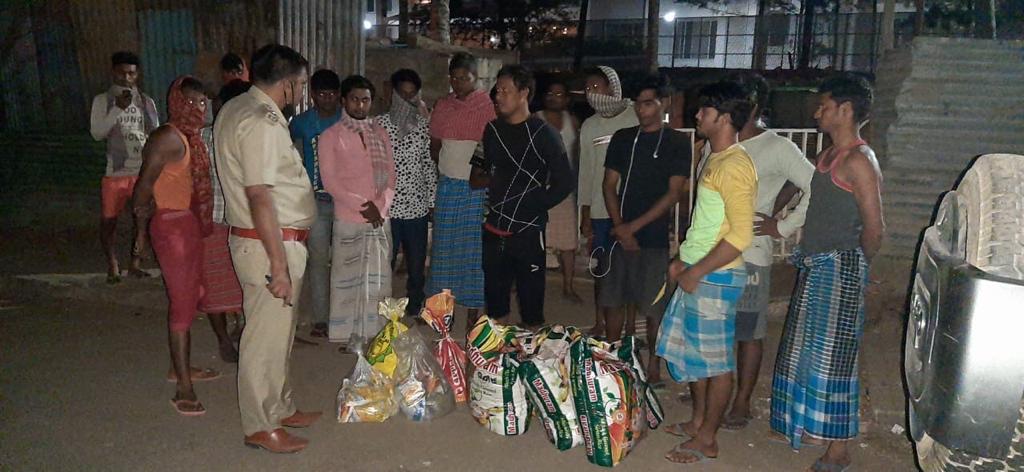 31st March 2020: A moment to appreciate the humanitarian work being done by BENGALURU CITY POLICE on top of all other work. A call was put out for help at 9:50pm Mar 31. Police got this note late last night from an amazing reporter. "22 labourers are in the following address. They haven't eaten in 2 days. They need rations". We were looking to see if we could help but even before we mobilized, the police had organized for it. When we are upset with acts from the same department we must also remember how hard they work at other times. We are personally seeing them work through the night… @DCP Whitefield and @Marathahalli Police swung into action. Ration for 15 days supplied by them at 11:30pm!
29th March 2020 : We are kicking into gear. We heard of thirst in 3 settlements in our area and were able to push the govt machinery to supply water there. And they did it willingly and efficiently. We are grateful. Hectic work for some of us volunteers for COVID relief. Starting Tuesday we will begin distribution of 1 month carefully curated rations to select settlements in our area where we have connects and awareness of their status. It is a crisis out there and we are happy to do a tiny bit to mitigate. Will keep you posted. Thanks to many of you who have donated.
Roll out of water and food beginning. #COVID19Bangalore
Tanker supplied water to ITI Colony and the 2 slums in Kundalahalli Gate.
Kariyamma Agrahara too will be taken care of.
Thanks to MP PC Mohan, Joint Commissioner Mahadevapura
and Dr Manjula Naik
We will send out a schedule and seek volunteers for the distribution