About
What is Whitefield Rising
Whitefield Rising is a community of volunteers who have come together to utilize residents' abilities to make Whitefield a better place across all aspects affecting our quality of life. Today's lifestyle offers us many comforts that eases the day to day living. But this has also resulted in multiple problems that we are now struggling to handle. This is also a result of lack of urban planning that is so evident in a growing city like Bangalore. So, we as residents, are trying to address these issues through solutions that will leverage the benefits arising from community living. Many people in the community already have a passion to give back to where they live. There is a great diaspora of people living in this educated suburb, people who have a plethora of experience working in India and outside and are at the stage of their lives where they can contribute to betterment of society. We are a one of a kind citizen movement where changemakers in a locality have come together on a common platform to join forces and create massive impact.  Our primary agenda is to empower the people who live in or use Whitefield to address issues affecting them and solve them in partnership with the agencies responsible for them in the first place.
Our focus includes Women's Safety, Pollution, Government Schools, Waste Segregation, Greening, Emergency Services, Water, Lakes, Staff Welfare, Stray Dogs, Medical Care for the underprivileged among others.
In the many years we have been around, we have enrolled hundreds of Changemakers which is visible by the impacts they have each made. We are lucky because during this time of social media boom, we are able to amass a large following that is keenly watching and is very quickly aware of the genuineness of the platform and the integrity of the people working due to our complete transparency.
The model is extraordinary in that it brings together an ideal combination of a problem that is identified at the grass root level by the resident champion(s) who want to solve it backed by organisations that support it either via money or know how or such. This triple combination of people committed to a cause enough to see it through to completion, backed by organisations who believe in them and a community that applauds the work is the secret to our success to date
We leverage every type of volunteer while keeping a flat structure respecting that everyone is actually a leader of themselves.
We are a registered Trust
Whitefield Rising is a registered Charitable Trust with # VRT 4-000033- 2015-16

How does it work
Those interested in a topic such as Traffic or Garbage etc gather together virtually. They meet at a mutually convenient time and place. After that magic follows because its usually love at first sight. Imagine finding someone else that has been thinking of the same problem as you and has now got someone to brainstorm with! Even better is the feeling of support from being part of such a large group.
The individuals may arrive at a plan of action or not. It may take many tries before they start rowing together. But nothing stops them from going ahead and acting on their ideas individually. You see, no one is really the boss of any group. We believe we are all mature adults that know right from wrong. But overall, it is working better when the individual rowers are in sync with the group and overall direction that they themselves arrive at.
None of this is necessarily written anywhere. No long meeting minutes and documents. Just get going, talk less, do more is our mantra.
So where are we going with this. Will Whitefield be beautiful, utopian?
The only answer is this. Whitefield will be what "you" make of it.
If you vote, you can help choose who governs you.
If you reduce plastic usage, you can reduce the amount of non degradable trash immediately around you.
If you manage your Sewage, you will stop polluting your own drinking water.
If you join a group to help brainstorm solutions for our problems, you will provide an opportunity for us to be better.
If you don't have the time but can support in kind or cash, that too will help the groups trying hard to make this a better place.
So it comes down to YOU. Having said that, we are connected across communities and villages in Whitefield. So we believe we are gathering more and more in our fold as we row on. Folks that come in, merge seamlessly and feel like they have always been a part of the movement.
What are some of the daily activities of Whitefield Rising?
This is best explained with some examples.
Mita loves gardening and is deploring the state of the trees on the medians on Whitefield Main road. She wants to do something about it. Well since we are now a group of people, we can quickly point her to the right agencies to work with, connect her to more people that are interested and support her more. So Mita has a new community to work with instead of alone.
Anjali has been working with BBMP, knew to demand why an HDFC bannered stall was on a public sidewalk outside ITPL. He claimed to be an employee of HDFC which was quickly found to be untrue. The vendor then quickly folded up shop and disappeared. Anjali had newfound freedom to exercise her civic rights. The vendor probably just moved to the next street where thousands passed by, inconvenienced by his presence but simply accepting it and sidestepping the problem. What would happen if all stepped up to ask?
6 communities out of 10 recently evaluated by our expert Waste Management and Sanitation Leader Sangeeta Venkatesh with the help of SAAHAS were found to be exceedingly good at Segregation. We learnt quickly that those that were not segregating yet or doing it well, were actually loading Whitefield's already burdened garbage management system, further worsening our collective problem. We were shooting ourselves in the foot and didn't even know it. So Whitefield Rising shares that information and many more communities are eagerly joining the bandwagon.
Monish found an injured bat and wanted to care for it. Who to ask? Well we don't know either but for sure someone in Whitefield does? Turns out 3 people responded to his ask on our Facebook group. Monish is happy to do what he knows is the best possible advise he can get for the situation.
Sumedha is already doing all she and a few volunteers can for the Government schools.
So how do I become a part of it?
If you live or work in Whitefield, you are already a part of it. There is no "joining" that is required. But to stay current, it will be useful to be on this mailing list, Facebook, Twitter, Instagram or Telegram. That way we can quickly and effectively communicate.
I really can't do Spot Fixing. Is that necessary?
Not at all. In fact nothing is necessary (ok, we lied. Some things are. Segregate, get your voter id card and don't litter). We recommend that you absolutely do not join something unless really called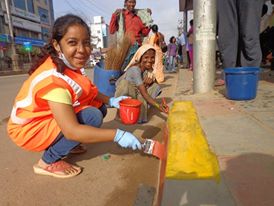 for it. What we clearly see that those that have a passion for something just can't be stopped and that's really what we want to see. Each person has a different passion and focus in life and we respect that.
I am already teaching kids in a Blind School in Koramangala. I don't have time for more work.
Well, the good news is that you are even more of a Whitefield Rising-er than you thought. We would like for you to share what it is that you do and if more people might find the satisfaction from joining you.
I worry I will be sucked into this stuff and have to dedicate so much time to it.
Do not worry. We have all joined whenever we wanted and stepped away whenever. We give it time only as long as it does NOT compete with other priorities. We realise it conflicts with conventional or corporate wisdom ie committed, must complete what is given etc. But this is working well and we won't change it. We are having our cake and eating it too.