Goonj's School to School Drive 2019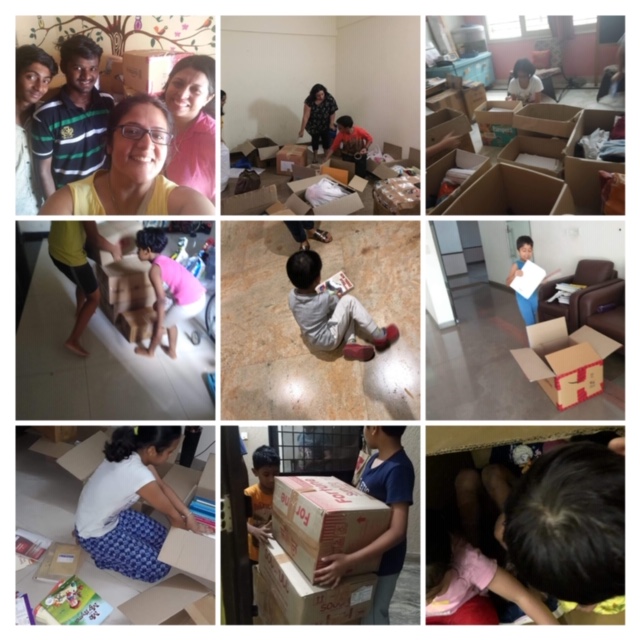 Superb effort by 45 communities who participated in the 2019, Whitefield Rising's collection drive for Goonj's 'School to School' initiative.
The drive which ended on April 27th 2019 was incredibly successful. The notice for collection was published on the Whitefield Rising Facebook page and many communities showed a lot interest and participated enthusiastically.
Community champions (volunteers) conducted collection drives in their individual communities. They spread the word, did the collection, sorting, packing, labeling, and ultimately delivered everything to the designated drop off points.
Champions used their own homes, community clubhouses etc. to store the collected items, and their own vehicles to transport the boxes to the designated drop off points. Everyone participated whole heartedly with the intention of helping underprivileged children by reusing materials which were in good condition instead of sending them to the landfills.
It was a fun activity for the children too. They helped to carry, sort, and pack. Forty five communities and many individual donors took part in the drive. Thanks to all the volunteers for such great work and for coming together to help some not-so-fortunate children in remote villages of India.
Our special thanks to Ritu of Akshaya Redstone, Shailaja of Balaji Pristine, Association of Veracious Lansdale, Juhi of Jagriti Renaissance, and Sreekala of Casa Gopalan for arranging space for us to use as drop of points and to store our collected items.
Our Special thanks to Mom Benerjee, of Samridhdhi Trust for sharing her school space as a collection point and the staff and children for all their help.
Special thanks to Mr. Anoop and Whitefield Rising for sponsoring the truck fare for collection and drop off to Goonj. Heartfelt thanks to everyone for the fantastic effort. Looking forward to making it even bigger next year.
This drive would not have been possible without our lead orchestrator and coordinator Sampa Chakraborty. She beautifully managed the entire drive coordinating with all the leads of the 45 communities and made it seem so effortless. Kudos to you Sampa.
Participating communities were
1. Purva Riviera
2. Jagriti
3. Sowpernika Sanvi
4. Confident Orion
5. Asset Gardenia& Enclave
6. DNR Atmosphere
7. Victorian Meadows Layout
8. Golden Blossom
9. Prestige Ozone
10. Sreeja Fantasy AECS layout
11. Silver Springs, BEML
12. Balaji Pristine
13. Akshaya Redstone
14. Citilight Rustique
15. Tzed homes
16. Brigade Cosmopolis
17. 17 Habitat Crest
18. Veracious Lansdale/ Rosedale/ Zerita
19. Ratnagiri Enclave Channasandra
20. Vastu bhumi
21. Mahaveer Varna
22. Shriram Spurthi Apartment
23. Prime Blue Forest, Rajapalya
24. Zonasha Paradiso
25. Akme Encore
26. Maple heights mahadevapura
27. Aditya Pristine Kadugudi
28. Laughing water
29. Chaitanya Samarpan
30. Bhoomi Divine
31. Malibu Paloma
32. DNA
33. Amrutha Value
34. Aacharyaa Music & Arts
35. Skylark Esta
36. Spring field
37. BM Marvel
38. Sohum Isiri
39. BM Rose
40. BM Glorieta
41. Patandur
42. Silver Ripples
43. SS Felicity
44. Casa Gopalan
45. SSB Touch stone
Some feedback from our volunteers:
"Our community Mahaveer Varna has been a part of Goonj drive for the past 4 years and it has always been a fulfilling experience.The residents have wholeheartedly contributed with the sole intention that the kids who are underprivileged should benefit. Also the retail shop owner of A1 fresh near our locality gave cartons free of cost saying it is for a noble cause and this is his contribution. It feels good when people come together supporting the noble cause. Hope the kids associated with Goonj benefit and are motivated to do well. Special thanks to Sampa for taking the initiative for the last 4-6 years."
– Shweta Khandeperkar
"It was a great pleasure participating in this drive. I and my daughter managed to collect materials, sorted, packed and dropped at the drop point. It was a nice learning experience for my daughter. I thank Sampa and the team behind the Goonj school to school drive for involving me. Thank you once again."
– Ranjulata Sahoo, Sreeja Fantasy, AECS Layout, Bangalore