Whitefield, Ready for Football?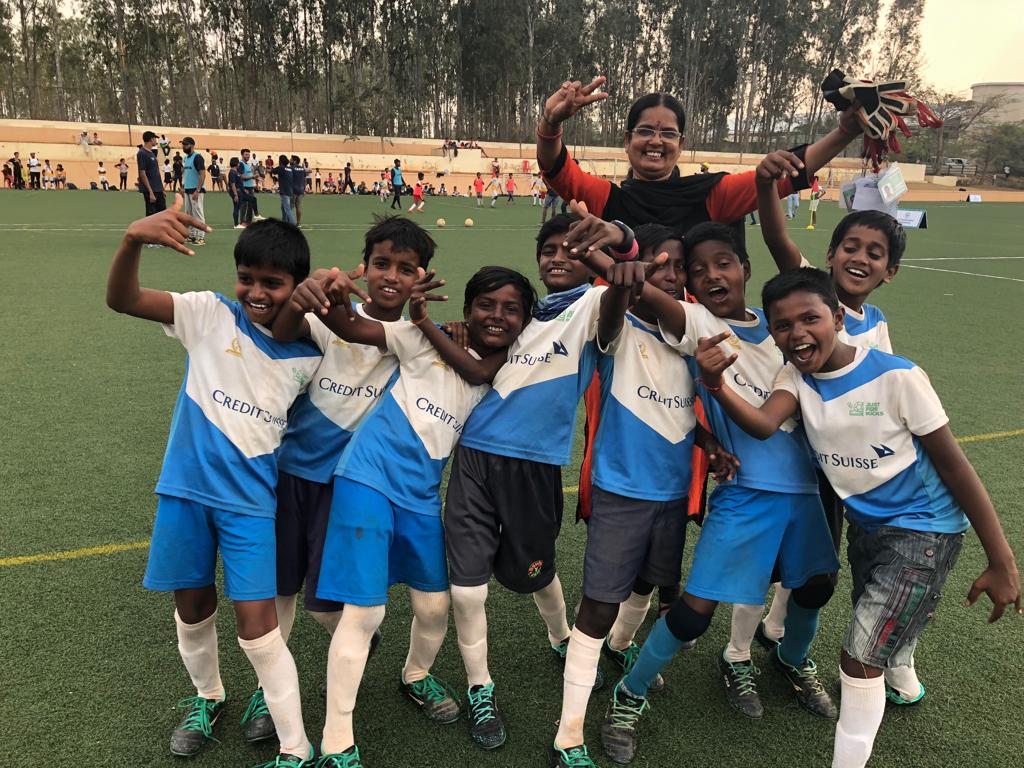 Whitefield Ready supported schools thrive thanks to Football and Just for Kicks!
The Just for Kicks (JFK) organization was founded in 2011, working with schools across India in Pune, Chennai, Hyderabad, Mumbai, Bengaluru, and Dharwad. They first started work in Bengaluru three years ago. Their mission is multi-fold, as it aims to develop the student's technical skills, physical ability, social awareness, and leadership skills, using football as a medium to live and learn these values.
JFK works exclusively with schools that staff Teach for India Fellow. Due to the efforts of Whitefield Ready, which works with Government Schools in Whitefield, JFK is now working with all four of the primary schools that are tied to it.
Just for Kicks, Bengaluru has seen over a hundred schools battle it out for a spot in the national finals which concluded on the 10th of February at Inventure Academy, Bengaluru. After an exhilarating three months of competitions, Whitefield Ready schools had taken all six Bengaluru spots in the final round.
Whitefield Ready has long been committed to improving the quality of life provided to students attending government schools. Initially the partnership between JFK and Whitefield ready was to address the lack of physical education in government schools. However it quickly became clear that JFK was bringing much more than football to the schools. Not only has the love for this sport brought a shared experience to the children that they can all rally around, it is has made school more exciting and appealing for them. There has been a noted difference in students since the start of the program; their academics and behaviour has improved as they feel proud of their school to stand for something both on and off the field.
Since JFK started in Bengaluru its popularity has only been increasing. This is the second time that we have seen a Whitefield based school make its way to the final round of the league. Over the past three years, the program has exposed these students, their teachers and parents to experiences and opportunities that they may not have thought possible. More importantly it has challenged everyone to believe in the successes and rewards of unconventional paths. Last year, students from the Ramagondanahalli School experienced a number of firsts. They were seen off by their families at the Bengaluru airport, where they took a flight to participate in the finals in Mumbai.
Looking forward, Whitefield Ready hopes to see this program expand and supplement in order to include more students in this invaluable experience. At the end of the day, "academics is part of it, but the larger picture around education is really about discovering yourself, figuring out what you can do with your potential" says Whitefield Ready founder Sumedha. Every opportunity there is to make a child's education well rounded and holistic is a step in the right direction.
Following the conclusion of the game we saw Ramagondanahalli boys under 10 and Immadihalli girls under 14 through to the final round of the league, where they were just shy of a win. However the children did walk away with the Player of the Match award, which went to Madan and the Overall Golden Ball trophy for most goals in the tournament, which went to Sohail, both from Ramagondanahalli School.
A special thank you to Inventure Academy that has opened its doors to all JFK participants. Inventure Academy generously provided transportation and a venue for games during the entire season. Their civic and community involvement was instrumental in allowing the league to flourish. These matches created a vibrant environment and a space in which sportsmanship was able to thrive.
———Amaya Illuri