Shobha Rose Entrance and Public Space gets a makeover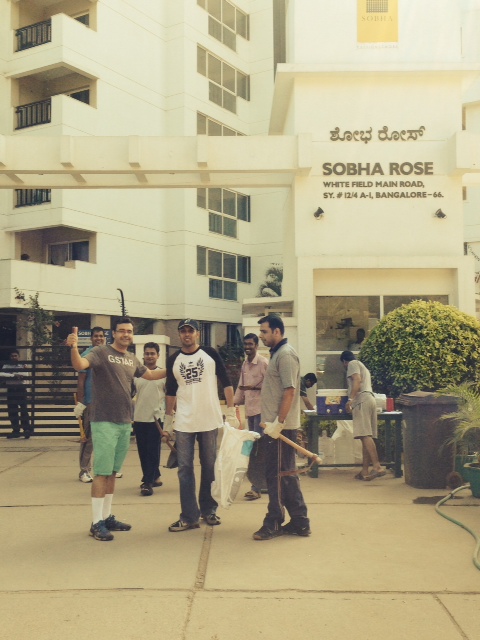 Shobha Rose is on Whitefield Main Road. All it took was for a resident to write in and say he wanted to make a change. A few dialogues later, Gautam was off canvassing his community and encouraging a Spot Fix. What he did next makes our mentors The Ugly Indians proud. He and some friends ran a spot fix entirely on their own. Yep. With a little help from Whitefield Rising and a lot of good attitude, the community did it.  He writes in as below.
 "You can't choose your neighbourhood but with a little bit of resolve you can sure make it cleaner." This is what residents of Sobha Rose on the Whitefield Main Road set out to achieve one Sunday morning. The results are to be seen to be believed – 100 meters+ stretch with 6 difficult spots fixed by 30 residents in 4 hours flat.
The frontage had an eyesore of a fallen tree-trunk ridden with termite and used as a dumping ground by pedestrians. The 2 adjacent properties – Water tank and an unfinished building were also abandoned dumping areas which needed special attention.  Although an easier choice was to settle with cleaning the frontage alone, but the residents took a stretch target to clean the complete 100 meter stretch with the adjacent 2 spots too"