Mr Pandey, MD of BESCOM is cool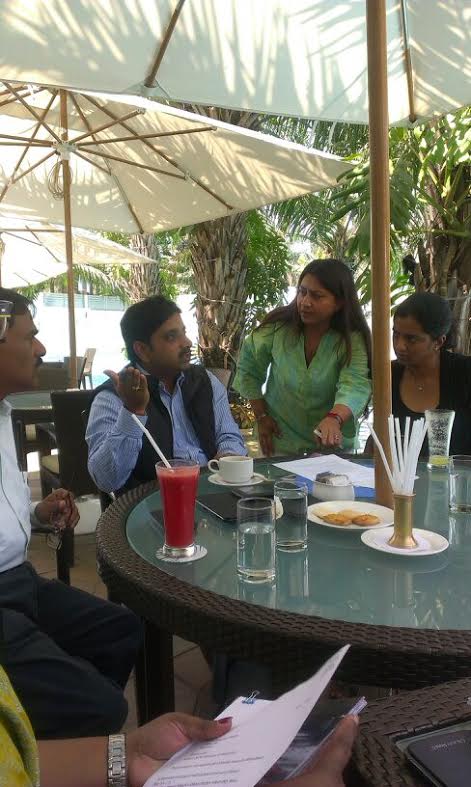 We were pleasantly delighted to have Mr Pandey visit us in Whitefield with his team from BESCOM so he could see firsthand the issues we face here. Our Champion Anu orchestrated the event but not without having done weeks worth of homework. Walking the stretch, taking pictures, documenting the issues, visiting BESCOM, making hundreds of calls all resulted in a great meeting of the minds and the below email. It elicited an immediate response from the MD and true to his word, work has begun. But what we really hope to see is an ongoing relationship with BESCOM and work happening without any MD visits or Anu's multiple calls 🙂
Dear Mr Pandey and BESCOM Team
Whitefield Rising thanks you for your time, attention and the promise of a collaborative future for us. In the first phase of our long term relationship, we hope to establish credibility and trust by working together to resolve the first set of urgent issues we reviewed together. As agreed, we look forward to meeting you Mid March at a one month mark to review progress and adjust any mechanics as necessary.
 Phase 1: Resolve  crucial issues related to dangerously broken sidewalks, debris lying about,  Safety/Hazard issues, Protruding angles from BESCOM poles, Transformer issues, illegal/loose wires from BESCOM poles and a proactive measure on the widening Borewell Road in an attempt to save trees.
 Phase 2: This will be detailed during Phase 1. This may include Stretch owners taking part in monitoring/maintaining the Transformers in their area.
 Scope: Whitefield: Specifically Kundanahalli to Hope Farm – both approaches and ITPL.
 BESCOM 1st Level Team: Ravinder, Narasimha Pandit, Sheila
BESCOM Escalation: Chiknanjapp
#
Category
Details
Current Status
Sign Off
A
 Restoration & tarring of road (includes removal of debris) 
Stretch from Borewell Road to Geneva Factory where they have dug up to put new cables
Road Tarred, but Debris not removed. Patch work done
 
 
 
Spot near Sobha Rose
Not done
Gautam
 
 
Removal of unused cables & wires from the road – Sobha Rose Stretch
Not done
Gautam
B
Safety and Hazard Issues
Big high tension wires in front of Balaji Pristine on both sides 
Completed 11/2
Shailaja
 
 
Cables running on road opposite I.T.P.L.  
Not done
 
 
 
Big high tension wires at Prestige Shantiniketan Signal
Not done
Ritu G
 
 
Big high tension wires at a junction of Aloft Hotel Lane
Completed 11/2
Anjali S
 
 
Cables on road with water flowing opp.ICICI Bank
Not done
 
C
Angles protruding haphazardously
 
WFR to provide design
Anu P
D
All Transformer issues 
Clean up
WFR to provide action plan
Anu P
 
 
Loose wires
 
 
 
 
Spot Fix
 
 
 
 
Overhauling & Maintenance
 
 
 
 
Broken grill & door 
 
 
 
 
No or broken door of Control Panel
 
 
 
 
Cutting of tree branches
 
 
 
 
Loose Wires
 
 
E
Loose & sagging wires on poles of BESCOM
 
BESCOM to put system in place
 
F
Borewell Road
Shift the Electric pole to the other side of Borewell Road during this Widening process
Work in co-ordination with BBMP
Poonam
 
 
Set process to inform residents of Borewell Road before cutting Tree
This email will be sent regularly until the closure of all Phase 1 issues which we anticipate will be by March 15.
 Thanking you
Yours sincerely
Whitefield Rising Team
Update on May 27 not as promising as we would have liked. 
Dear Mr Pandey
Greetings from Whitefield Rising!
This is a follow up report we have sent you on 27th March 2014.

We regret to inform you that not a single point has been actioned by BESCOM in the last 2 months. Anu Parekh our citizen representative for this initiative has been walking the streets trying to progress this with no real response from the team. Kindly advise us on what we should do next.

 Anu writes:
I had informed about these pending matters to Mr.Chiknanjappa 15 days back. The following points were also discussed :

1)  After cutting trees or branches by BESCOM, there has to be a proper system in place to clear debris immediately
2) Recently the lives of two boys were lost due to BESCOM negligence due to loose and exposed wires (This issue was mentioned in our pending matter chart).
3)We are facing a lot of power fluctuation and power failures in Whitefield.
The same chart above with all the issues detailed was attached with the latest status on each of them.
Oh no 🙁