Ramagondanahalli Spot Fix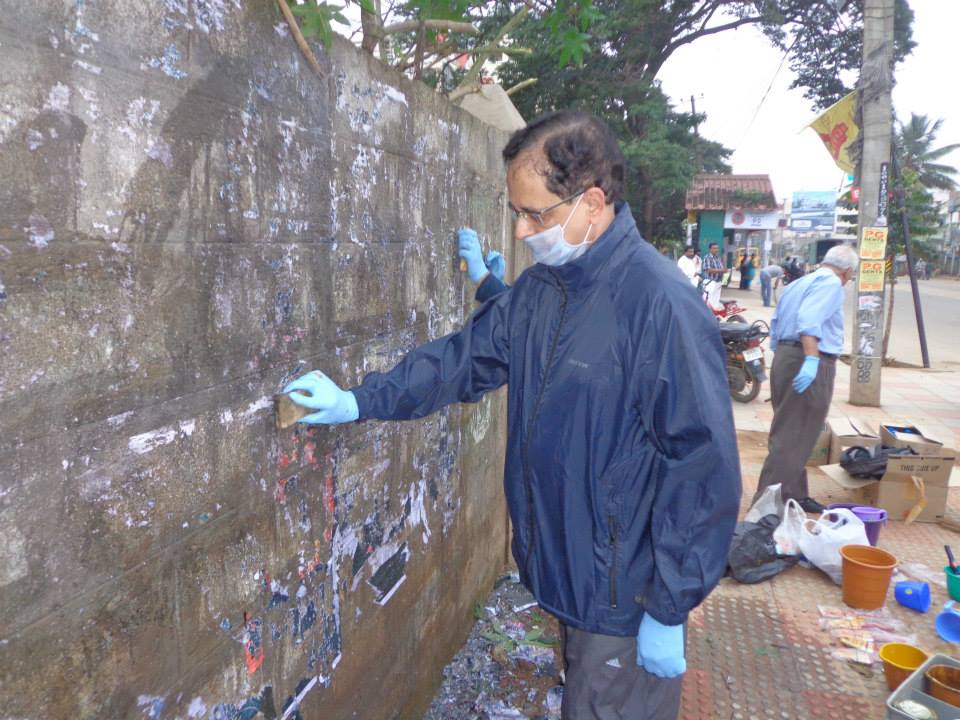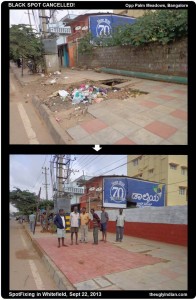 Ohh, was this one ugly or what. This was right next to the bus stop. An open sewer, packs of dogs, rats and ugliness was all over. People could not even walk past and taking children along was not possible. We realized the value of fixing this when an aged lady came over the next day as we stood inspecting it to thank us from her heart. She could now walk without fear of falling into the worst mess ever. Residents from communities nearby chose to do this fix. They put in their time and labour and won the respect of all those around that were "stunned" at "madams" and "Sirs" cleaning up their garbage. Soon others joined and before the day was done, there was pride and ownership of the space by all those around – the observers, the residents who occasionally used the street and all shop owners. The real challenge then was to ensure that garbage didn't resume. Therefore it was important to
provide a solution if there was none
Catch those that do the dumping for convenience.
Process
Days of preparation – Half. (Yes that's half a day – ie 6pm previous day, the decision was made to clean up this spot. One of us chose to just absorb the cost and then seek contributions later. The reason was to keep up the momentum from the Nandini Spot fix the previous day).
Cleaned up Garbage
Brushed wall, transformer wall and sidewalk with brushes to prep for painting
Begin painting. Laying of tiles and chamber cover – professionally done though residents helped
BESCOM called to help remove an old transformer pole lying around. They brought a crane the same day!
Time taken – 6:00 am – 6:00 pm. Up to 40 volunteers .
This was just our second fix and was such an inspiration that within a week a neighboring community chose to transform their own access road – Prestige Ozone Access Road. See more Photos here. Note that you may be asked to become a member of the facebook group. That's easy. We then went ahead and celebrated the transformation a month later by felicitating the garbage workers that literally handle your garbage with their bare hands here in India. See photos here.
We then transformed 4 other spots in the area quickly.