Nandini Spot fix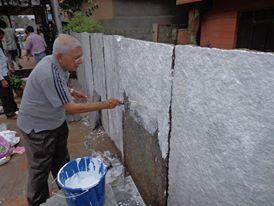 This was our very first Spot Fix and little did we know what this would do for our sense of empowerment.  This is named "Nandini" because there is a Nandini milk booth next door. It was chosen not because it was the ugliest but because it was the simplest.
1)Stakeholder Understanding – the main person here was the house owner behind the wall. A casual conversation with him in his language established that we were free to go ahead and clean it up. He was very suspicious at first however, because he hadnt seen anything like this before. Soon however, he was on board, painting with us. His wife brought us coffee.
2)Benches were chosen to be installed so that the place had traffic and usage.  The idea is to completely change the mental and visual understanding of the space. This was validated by the fact that the same evening, children got off the school bus and started sitting there. Note that there is a science to the size of the benches and distance from the wall. They deter getting too comfortable on the bench ie sleeping or leaning back. Those can result in more problems later on.
3)Colors on the wall are standard TUI colors. They have been arrived at by them after some experimenting. Terracotta to prevent spit stains from becoming apparent eyesores quickly and white because it just looks clean.
4)Potted Palms add instant greening and also their spread prevents folks from going too close or peeing – we presume it can tickle at the wrong places.
5)Time taken 6:00 am – 1:00 pm. Number of people : 15
Process:
Sweep up Garbage
Scrub the "To be painted" surfaces with Wire Brushes
Paint the wall and sidewalk – two coats may be required sometimes
Stack up the cement blocks layering cement in between and lay kadappa stone on top.
Sweep up. Then install a Tere Bin. We cemented the pots down for fear that they would be stolen but we are finding that may not be necessary.
3 months later when this is being written, the spot remains clean. All stakeholders are happy. The Paani Poori Wallah's business is brisk in the evenings and he cleans up for sure before he packs up.