ITPL Gate 2 on Agrahara Road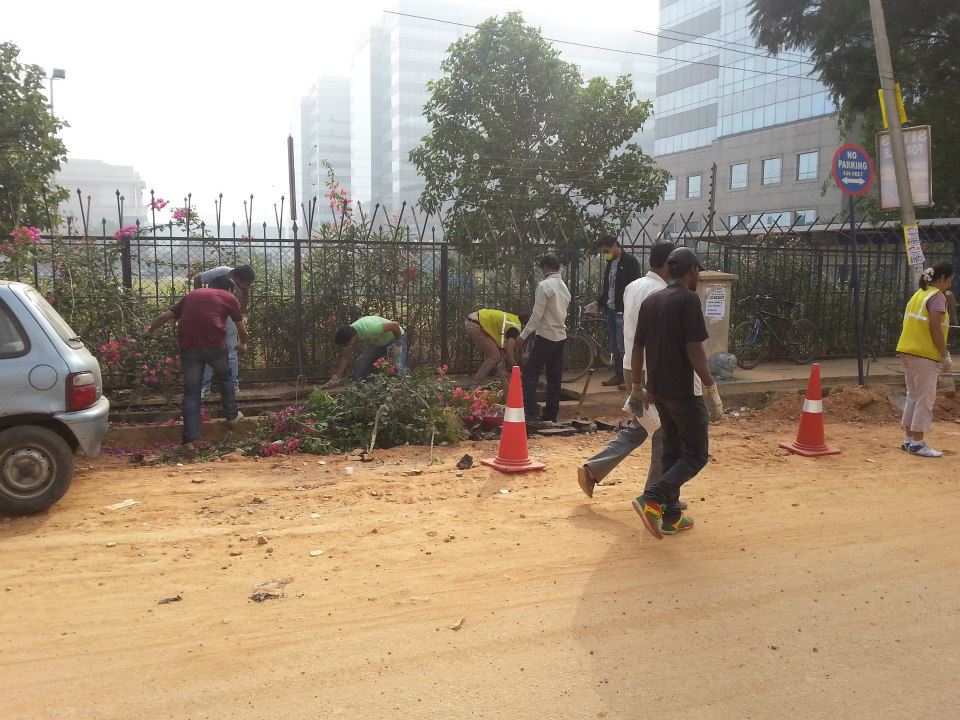 When Capital One reached out to Whitefield Rising, we were delighted to be of help. It meant more citizens want to be empowered. Naturally, we suggested that they address the spots that affect them the most. They chose the Back Gate of where they work – ie ITPL.  Enthusiastic planning ensued over email and visits to the site and issues were understood. The employees were ready to roll up their sleeves and get on the ground. And how! On the d day, they managed traffic, jumped into drains, laid sidewalks and edging and generally created so much interest that now 30,000 people in ITPL are interested. Infact, an ITPL Rising is underway. Even better, we are excited that we will collaborate with ITPL and the civic agencies so that the entire periphery around ITPL is managed by them – a true sense of ownership of the space beyond your own walls.
ISSUES
Illegal 2-wheeler parking near Gate 2
No footpath/ safe pedestrian walking areas
 2-wheelers  park illegally & brazenly
No Parking signs, barricades and Traffic Warden ineffective
Footpaths have no slabs and are cluttered with debris, thorny plants etc
Vendor garbage in drains and on the road
•Vendors are illegal, though service ITPL employees
•Not on BBMP's daily garbage collection route
•Have no facility to dispose of garbage collected daily in their dustbins
•Dump contents of their dustbins in the drains every night and set fire to it——->This is the root cause of the visible garbage problem
Vendor location creating traffic bottlenecks due to customers standing on the road
Vendors are located haphazardly, and there are no drain covers, so customers have no choice but to stand in front of the shops, on the road. As there are two-wheelers parked on the opposite side (consuming 5-6 ft of road width), and customers occupy another 5 feet of road width, an already narrow road loses 10-12 ft of width – an entire lane!
Capital One understood as they are users of this space – along with 32,000 other ITPL users.
SOLUTIONS
Smart design and change in environment induced this behaviour change
Daily garbage collection service :•After studying  garbage collection route of BBMP, a system was created, where a volunteer collects the garbage shop-to-shop between 1230-1245pm everyday and hands it all over to the BBMP Garbage Tractor that stands down the road at 1pm everyday
All vendors are delighted with this, and they have NOT dumped their daily garbage in the drain
Created space between vendors and 'Safe Customer Zones' with visibly safe & solid stone drain slabs (not plywood as before)
 Customers naturally gravitate towards these areas, and stay off the road
 By placing dustbins near the customer, the dustbins get used
More Photos.