Women Rule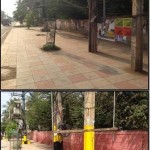 You know you have a good thing going when with less than 48 hours of notice or preparation, 25 people show up at 8:00 am on a saturday morning to do something that will give them no personal benefit. They toss in their anonymous Rs 100 or more, roll their sleeves up and get started with their "Mooh Bandh and Kaam Chaalu".  A couple of hours later, thoroughly exhausted, they thank you for the opportunity and leave. Hello? What is this affliction that seems to be striking folks here?  This is the latest bug "The Ugly Indians" have infected Bangalore with!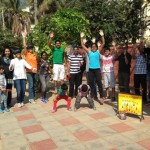 These crazy people are those that have had enough of waiting for someone else to do something about the state of affairs. They want to go out there and do what they can. It doesn't matter that it is someone else's job. It doesn't matter that there is a risk that their hard work may have value for a few short days only and regress. It doesn't matter how many people they have for company. They are just there to do their bit believing it will make a difference.  And boy, is it making a difference in Whitefield or what! Some people are coming out to do spot fixes like the one below and many others like it. Others are loving their time and energy spent on their own areas of interest. Some are focused on saving the bees and sparrows in our area. Others have dived right into water conservation. Still others are trying to make a difference to the quality of learning in our local Government schools. In summary,  this movement is attracting those that have always wanted to make a difference to their own community. But back to the spot fix today!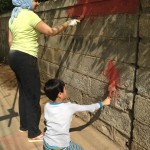 A long stretch of wall that separates disputed property from public sidewalk was chosen for the makeover. This was not nearly in the same league as some of the previous spot fixes – see RMV Spot Fix. But it was the perfect choice for an event that was not planned in advance and one that could accommodate any number of people ranging from 1 person to 50 if need be.
First they scrubbed off the posters. Then they brushed off the sidewalk. Then they swept the pavements.  Many felt empathy for the daily sweepers of the road who have to do this day in and day out for a living. We considered finding a way to acquire a small automated street vacuum that would do the bulk of the work for us. We also wondered if the builders in the area would consider a different way of trucking their material in and out thus making the public space less of a common dumpster for us all. Maybe some of them could come and join us for a spot fix and see for themselves how hard it is for human hands to sweel heavy silt off of roads and sidewalks. Especially those human hands that make a pittance for a living.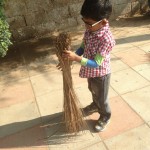 Little hands helped cutely stopping for water and biscuit breaks and providing us all some comic relief. Yet some others brought water in coolers and tea in flasks. Tripathi uncle got some paint to take away to do some updates to the RMV park nearby which he now guards against regressing back to its old ways. Balakrishnan uncle quickly convinced his gardener to come and trim the trees peeking over the wall. Two friends separated for years across continents found each other today! How lovely to see one surprise the other.
Many passers by stopped and some worked up the courage to ask what was going on. All left inspired and we see many of them join our Facebook page soon after! A passerby, a man from Maharashtra who is in town looking for work was sure we were part of a political party since Elections were round the corner.  It took a few assurances to say that we were folks here to stay in this civic engagement and while we did care about who came to power and would vote for sure we were not affiliated with anyone. Soon he got to work and said, finally Bangalore feels like Bombay!  We assume he meant folks in Bombay were empowered citizens who took charge.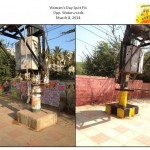 Two hours later we had a transformed space. The mechanic shop owner across the road came and congratulated us. And Prestige Lake Vista residents resolved to take charge of their street like many communities have begun doing. Their spot fix is on March 23rd. When is yours?
More pictures on our Facebook Group