Whitefield Rising objects to Ineffective City Planning!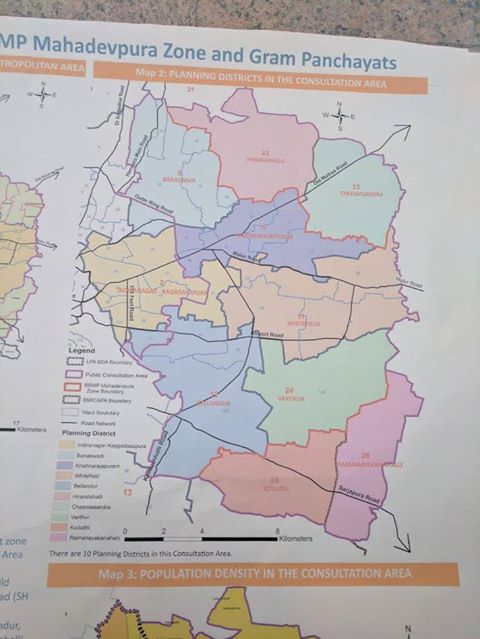 Whitefield Rising objects to Ineffective City Planning!
Boycott of 2031 RMP consultations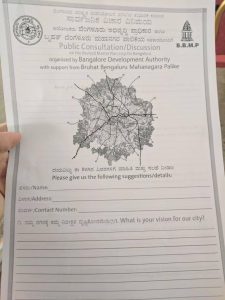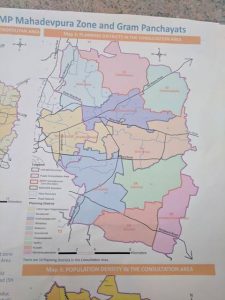 For the last 20 years, BBMP, BDA and other government agencies have done such a poor job of managing the needs of a rapidly expanding Bengaluru City. Recently, BDA released its 2015-31 version of the Comprehensive Development Plan (CDP). Whitefield Rising and other citizen groups believe that this iteration of the 'Master Plan' for the city continues to be meaningless, as mandates in these plans are seldom adhered to.
Rules are constantly being flouted by the agencies themselves, with approvals sometimes being granted to commercial establishments to build on public land; having allowed sanctions for homes to be built of top of city drainage lines such as the Raju Kaluve; building of narrower roads; lack of sewage lines and storm water drains; zoning issues, etc. with neither BBMP nor BDA having solutions to fix problems that they themselves have created, and oftentimes coming up with solutions that are proving to be disruptive to regular citizens.
See 3 examples below of RMP2015 failing on the ground:
Borewell Road: Some problems in this city's planning come from a clear lack of foresight or common sense. For example, in the Whitefield area, Borewell Road occupies a name of notoriety. CDP-2015 offered a solution with directives to widen Siddapura Road and Borewell Road. However, this proved an exercise in futility as several homes and establishments would have to be demolished.
One of the main arteries into a residential area, Borewell Road ends at a junction of 3 other roads of varying sizes; Nallurahalli Main Road, connects ITPL through Siddapura Road to HAL Airport Road, while Borewell Road connects Whitefield Main Road to EPIP. The four roads are major throughways in Whitefield, connecting to 4 major zones and  2 tech parks. With a lot of office goers in this area, traffic jams are a common sight, as cars coming in from a wider road invariably must converge lanes to navigate a subsequent narrow stretch.. Eventually, the road widening could not go through. Poor planning has doomed this part of Whitefield to become a permanently log-jammed zone.
Doddanekkundi Flyover:
 This flyover started and never completed causing major traffic jams and endless problems for all residents in the area. Complaints of kickbacks, shortage of funds and all kinds of excuses are fed to the populace without any execution. Even today we are told the contractor has received on Rs. 2 cr. out of Rs. 20 cr.
What is the meaning of RMP  – you start a project without funds ? You disrupt an entire Ring Road without any planning and zero execution on the ground ? Citizens are running from pillar to post – even MLAs intervention is not yielding any results.  The flyover remains an eyesore, a traffic obstruction and a danger to pedestrians, generates dust that pollutes – planning has no meaning without execution.
 Varthur Kodi  Junction, Ward84 _ Relinquished land not used
BBMP has also been ineffectual at protecting public land which is clearly demarcated under RMP. A case in point is at the corner of Varthur Kodi junction. At some point in the last 2 years, when a mall was being built at this junction designated a "Transport and Utilities Perimeter" in CDP-2015. Varthur Kodi junction is one of the biggest traffic choke points in Whitefield, with traffic coming in from Varthur, Whitefield and HAL Airport Road. Although land has been relinquished BBMP is not using it nor taking it over to enable road widening. BBMP had also advertised in 2016 for tenders to build a bridge at the junction. This piece of land, important to the process, is however walled in and encroached upon by the private developer of the mall. This willful acquisition of land that belongs to the city is a common problem all over Bengaluru. Neither BBMP, nor the MLA seems capable of enforcing the law for this breach. Whitefield Rising has served a legal notice to the developer and is waiting for due process.
As the examples demonstrate, in a clumsy attempt to undo years of poor city planning, government agencies in Bangalore are constantly in a bind and veering toward being ineffectual. The citizens of this city are entitled to Master Plans that not only alleviate the problems that make living in Bengaluru less bothersome, but also good plans that can be enforced by the government.
Most importantly the Plan does not have any method of review on the ground and execution. BBMP as an executing agency is a complete failure. Funding is centralized and funds are not released for projects but based on percentages given at the HO to contractors who have to toe the line. We therefore are of the opinion that the planning exercise has to involve local bodies like the ward committees and funding and execution has to be at a local level for such a plan to succeed.  Financing and funding must also be at the local level.  BBMP has to be broken into units with funding and finance properly decentralized and overseeing the implementation at local ward level. This is the only way planning and execution can go hand in hand and be meaningful and have a chance of success.
Thank you
Whitefield Rising – a citizen group from Mahadevpura Zone –  AC 174