An apartment complex organises large zero waste event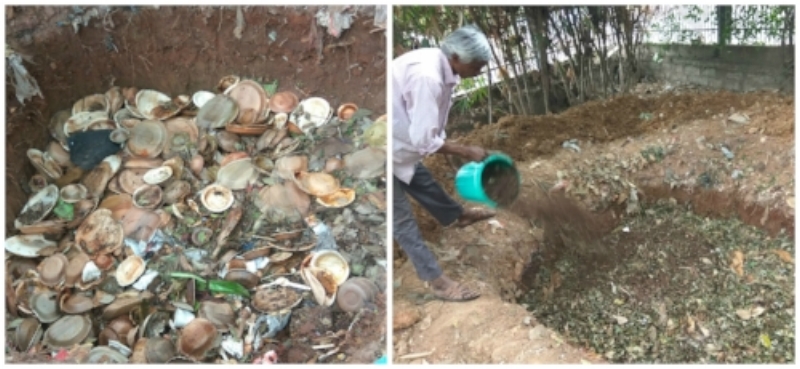 Gopalan Grandeur in Hoodi, Bengaluru, an apartment complex of 560 flats used its Annual Day celebration to send residents a message about eco-friendly consumption and disposal practices. Many residents here are active participants in the activities of the community which has put several waste management measures in place. They have been segregating waste for the past 2 years to achieve 98 percent segregation. Garden waste is managed using installed leaf composters yielding rich compost every 6 months. A temple inside the premises is sustainable with steel tumblers and leaf plates for prasadam. The flower and degradable waste goes into a composter installed inside the premises, refurbished from an unused Sintex tank inside the apartment.
This year, the management committee of Gopalan Grandeur came up with the idea of marking its annual day by celebrating the spirit of unity among its residents who hail from all parts of the country. More than 100 resident volunteers came together to plan and execute the event.
I have been a resident of Gopalan Grandeur for the past 7 years and an active volunteer driving its waste management efforts for the past 2 years. The committee decided that as a vibrant community that has been a role model to other communities in implementing green initiatives such as waste management, composting, STP, rainwater harvesting and LED conversions, this event too would be made litter-free and zero waste. The event was spread across the indoor and outdoor premises of the complex and was attended by over 1,500 people. The organisers were successful in making the event litter-free with the cooperation of the housekeeping staff.
How we did it
Organic waste: With 21 food stalls using only biodegradable cutlery, about 300 kgs of wet waste was generated at the event.
Plastic and paper waste
Water stations had steel tumblers thereby eliminating the need for disposable plastic/ paper cups and PET bottles. Beverages were served in bagasse cups by the stalls.
Food stalls were instructed to use only biodegradable cutlery and no plastic disposables. Residents too were given prior information about where to buy biodegradable disposables.
The use of tissue paper was limited and takeaways were packed in recyclable foil containers or banana leaves. Residents were instructed to carry their own handkerchiefs and shopping bags to minimise the trash generated.
The distribution of plastic or Polypropylene carry bags was prohibited. Only cloth or paper bags were allowed.
Sponsors were asked to get creative and use branding other than flex banners. Many sponsors including Grofers, Erden Creamery and Manipal Hospitals complied.
300 kgs of waste kept away from landfills
Waste was segregated and disposed of properly. 300 kgs of wet waste – comprising of food waste, leaf plates and biodegradable cutlery made of arecanut leaves, sugarcane bagasse and wood were kept out of landfill by composting in 5 foot by 5 foot in-situ community compost pits dug especially for the event. Into the pits went a base of crushed dry leaves, the wet waste from the event, another layer of dry leaves and a dose of microbe-rich solution. The pit was covered with mud and left to be turned into rich manure.
A single designated area in the apartment near the food stall had dustbins labelled 'wet' and 'dry'. The bins were manned by housekeeping staff to prevent the mixing of waste.  Staff also monitored the events area to pick up and dispose of any carelessly disposed litter.
The only dry waste generated from food stalls came from the plastic food wrap used by the vendors.The dry recyclables were picked by the regular garbage vendor for recycling. Juice TetraPaks used prior to the event were collected and handed over to Joy At Work to be made into beautiful bags and purses.
Lessons learnt
While we went to great lengths to make the event a zero waste one, what we managed to do was a zero-litter event with responsible waste management. Zero waste means that all waste generated is recycled. Wet waste is composted, dry waste sent for recycling and no rejects are generated. Here's what we learnt:
Cost was a major concern while convincing food stalls to use only biodegradable disposables and no plastics.
Using pictorial cues to indicate wet and dry bins makes it easier to manage waste.
There were a few factors we could not control despite our best efforts: Flex banners, balloons and gift wrap could have been avoided as they are not recyclable.
Getting the support of house-keeping staff was invaluable in controlling the litter generated, turning what could have been chaotic, poorly managed waste management into a streamlined activity.
Our commitment to responsible waste management helped us do everything we could to make it possible. The lessons we learnt will only improve any future programmes we arrange. The event brought our community together with a common intention of establishing Gopalan Grandeur as a role model to other communities for responsible, community-led waste management. The outcome was that everyone involved felt a sense of ownership over the event and, thanks to the support and compliance of residents, vendors and sponsors, it went on to be an overall success.
Planning a zero-waste event in your community? Get in touch with Lakshmi at laksan_inin@yahoo.com for ideas.
http://earthamag.org/stories/2017/2/8/how-my-apartment-complex-organised-a-zero-litter-celebration-for-two-thousand-people