MLA-WR Connect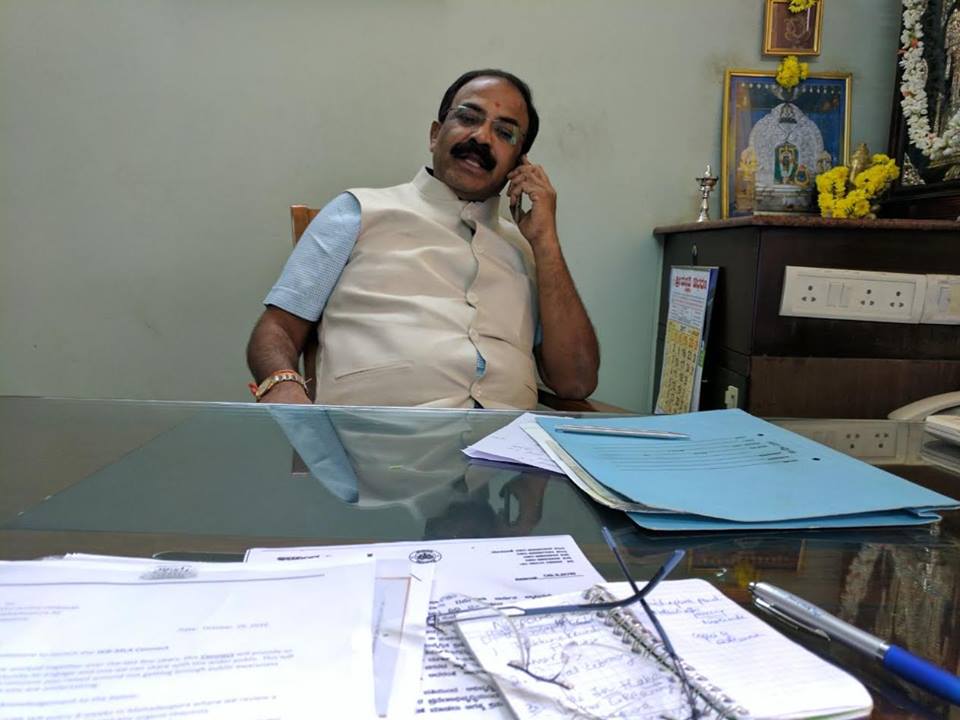 Minutes of the Meeting held with Shri Arvind Limbavali MLA, Mahadevapura Assembly Constituency on 13th Jan 2017 at his office in Indiranagar.
The meeting with MLA and his P.A. Mr Prasad commenced at 12.40 pm. At the outset MLA mentioned that WR Members are not seeing his Facebook page and appreciating the good things done in our area. He said part of our connect was that we would publicize all the work HE does and we have not done that. We mentioned that positive relevant work will be seen and mentioned on our Facebook
group. Mr. Prasad will also keep us updated on such works.
ABOUT ISSUES brought up at previous meetings:
———————————————————————
1. Siddapura Pond: WR informed him the ramp had been demolished. So we thanked him for removing obstructions to this work. Net step is the survey and fencing. He agreed to erect the fencing through BBMP so as to prevent dumping and encroachment. About survey he said the whole area had already been surveyed.
He also shared his plan to build a 100 bed Govt Hospital conceived
during his tenure of Ministership in the previous Govt. The current school would be moved behind making it better and safer and the hospital would be at the front. He also mentioned that BMTC has vacant land behind and the MD has not got the Board to give the land. On our part we said this could also be raised in our next meeting with Transport Minister / Transport Commr / BMTC. He
claimed Mr. Ramalinga Reddy and BMTC were blocking the work and sought our help as citizens to get them to hand over the area for the Govt. Hospital – WR team agreed that a Govt hospital is a good idea and that they would take it up with BMTC.
2. Panathur Bio-Gas Methane Plant: This has still not been commissioned. He spoke to an official of M/s Ashoka Biogreen and asked him to complete the pending work and the come to him for the pending financial dues(Rs 4 Lakh). He also warned him of being blacklisted from future works. He confirmed he will call a meeting with Spl Commissioner SWM, Mr. Sarfaraz Khan and the vendor, Asoka Biogas together to get it sorted out.
3. Sadarmangala Lake: The structures erected there for facilitating Chath Puja and devotees has not been removed. The MLA informed us that it will remain as considerable amount has been spent on it. He gave us copy of a letter seeking permission to keep it as a structure for immersion and puja for safety of people (dont want them drowning lilke in Varthur lake). He confirmed that a tender has
been floated for fencing of Sadarmangala lake. A copy is to be provided by Mr. Prasad for review by WR Lake team.
NEW ISSUES:
———————–
1. Doddanekundi Flyover: We mentioned about rumors that MLA is slowing down works. He denied that and spoke to the BDA Engineer concerned in front of us. We were informed that the Contractor has been released payment yesterday and work will be completed. Being a Civil Engineer he understood the difficulty of working in
dense traffic zone with a carriage way having traffic movement. BDA engineer spoke to us and told us the delay was from traffic police side and that the Flyover would be commissioned by Feb 15th (one side) and the whole flyoer would not be finished for another 6 months.
2. Women Wefare in BBMP Budget: Rs 10 Lakh grant to Women Corporators for women welfare: we suggested that the grant of Rs 10 Lakh in our 3 women Corporator Wards could also be utilized for safety of women by installation of 100 CCTV across the wards and 2 Toilets with baby care and bathing facilities for women. MLA was very positive and asked for a proposal that he would fund with the budget and supplement with contribution from MP / MLA funds
3. Rumors about MLA stalling road works at Immadihalli was also dispelled. Regarding blocking footpath construction at Varthur Main Road by some political elements he said he will speak to the concerned party people.
4. Nallurhalli Lake: He instructed his P.A. to look into encroachment by migrant labor and also the dumping of waste into the lake. Fencing of the north side or other sides can be repaired but there was no budget for new fencing. He mentioned that new fencing work needs tender and approval but repair work of existing fence can be taken asap for all 3 lakes.
5. Regarding Relinquished land at Kodi circle and Varthur Kodi rotary : We submitted copies of Relinquishment deed and Occupancy certificate and letter from Town Planning Dept to BBMP to take over the land for Public Use. We explained that BBMP / major roads should look at taking over and making a a lane which will make left turn easy and decongest kodi. Also a wall blocking public use of an area was illegal. Upto 3 km back ups are occurring in traffic coming from Varthur Main road towards Whitefield main road a free left will ease this back up. MLA mentioned he will discuss with BBMP Mr. Prabhakar on this. He will instruct BBMP to hand over the wall demolition and free left work to Major Road Mr. Prabhakar.
ACTION POINTS:
—————————
By MLA Office
Item Due by date ~
1. Doddanekkundi flyover – call BDA and contractor to sort out payment issue – Jan 27
2. Siddhapura Pond – Call Tahsildar for survey /BBMP to fence
3. Panathur bio gas plant – To call Contractor Asoka Bio gas and Mr. Sarfaraz Khan to commission in Varthur #149 immediately
4. Kodi junction – To speak to Mall owner to remove wall from relinquished land – ASAP
5. DOCUMENTS to be provided by Mr. Prasad:
a. Tender for Sadarmangala lake fencing
b. Details of hospital construction in Siddhapura
Action Points By Whitefield Rising ~
1. Publish work completed after checking MLAs facebook page – Jan 27
2. Coordinate with BMTC 1 week after receiving details from Mr. Prasad
3. Details of CCTV locations from police – Jan 27
4. Request for Women toilets from respective Wards – Feb 7
The meeting concluded with thanks to all attendees. Next meeting to be 8 weeks from date.