Whitefield Inner Circle gets a Makeover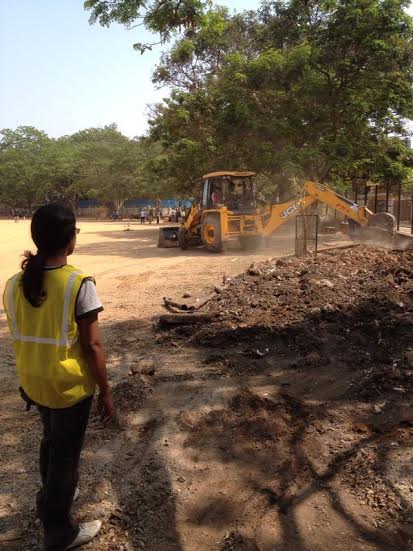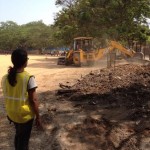 When Shailaja saw that the problem at the Memorial Church Spot Fix was not fully resolved, she put on her detective hat and went looking for the source. In that search, she found a gem of a community around the Whitefield Inner Circle Park and quickly made friends. Whitefield's only park and originally conceived by Mr White himself  is surrounded by old bungalows some of which have given way to newer buildings. As new and old residents adjusted to the changes, the park was found to be slowly deteriorating. So Shailaja, now joined by Rajesh decided to do something about it. And within just days, the change has been dramatic. At first they went door to door and got people to segregate their waste while fine tuning the BBMP process of waste pickup alongside. Then they initiated a "spot fix"!  In that process, new friends were made and it was discovered that folks like Ramya were independently thinking of what to do and had infact got a proposal in mind to rejuvenate the park! Now we had a team!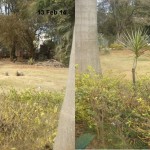 As step 1, the STP water from Pavani Parkwest was nicely diverted from drain to the park which had recently lost the functioning of its water tank. This was a coup considering water is a precious resource and recycling your own building's waste water to keep your own park clean is as much of a win win as you can get.  See this spectacular photo to observe the changes to the plants in the park between 13th and 21st feb.
On Feb 22, many local residents around Inner circle and elsewhere came together to fix some areas in and around the park. Along with many residents a whole group of youth from TCS and another group of staff from the famed ECC (Ecumenical Christian Center) showed up! A JCB, a truck, many trees, compost from Balaji Pristine (a star example of a community managing its waste), a sugar cane juice vendor and some good attitude made the morning a roaring success. See some photos here!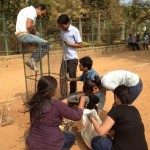 This fix demonstrated so many things just like some of our previous fixes.
The reason you see piles of garbage on the road are: Folks nearby are not segregation and/or The BBMP pickup is absent or ineffective
One or two people can make massive differences
You do your bit and folks will come out to support you just seeing your own enthusiasm
BBMP is supportive and collaborative!
The two residents just went forward committing their own funds but those around them decided that would not be allowed and supported them all by contributing their bits. (Not so much money is involved in these fixes!)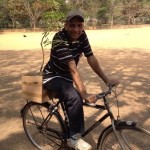 Now our aspirations for the park include:
100% segregation across the communities/residents nearby
100% managing of waste water from nearby communities
A community composting center within the park to manage local organic waste and repurpose as organic fertilizer for the plants.
Build a new tank & if needed, a new bore well.
Repair the plumbing in the park area
Construct a public toilet outside the park.
Cover drainages around the park
Improve seating inside the park
Provide parking facilities
Replace play equipment in common play area in the park as it is now run- down and unsafe and doesn't meet today's playground standards.
A Corporate opportunity to adopt this park and sponsor the above efforts in collaboration with citizens will soon be available. See more photos of the fix here.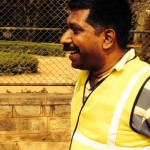 If Shailaja and Rajesh could do all this and gather so much support, what could you and I do?
To do your own spotfix, write to spotfix@whitefieldrising.org
For any other questions or suggestions, please write to whitefieldrising@yahoo.com