We do not want heavy trucks through Whitefield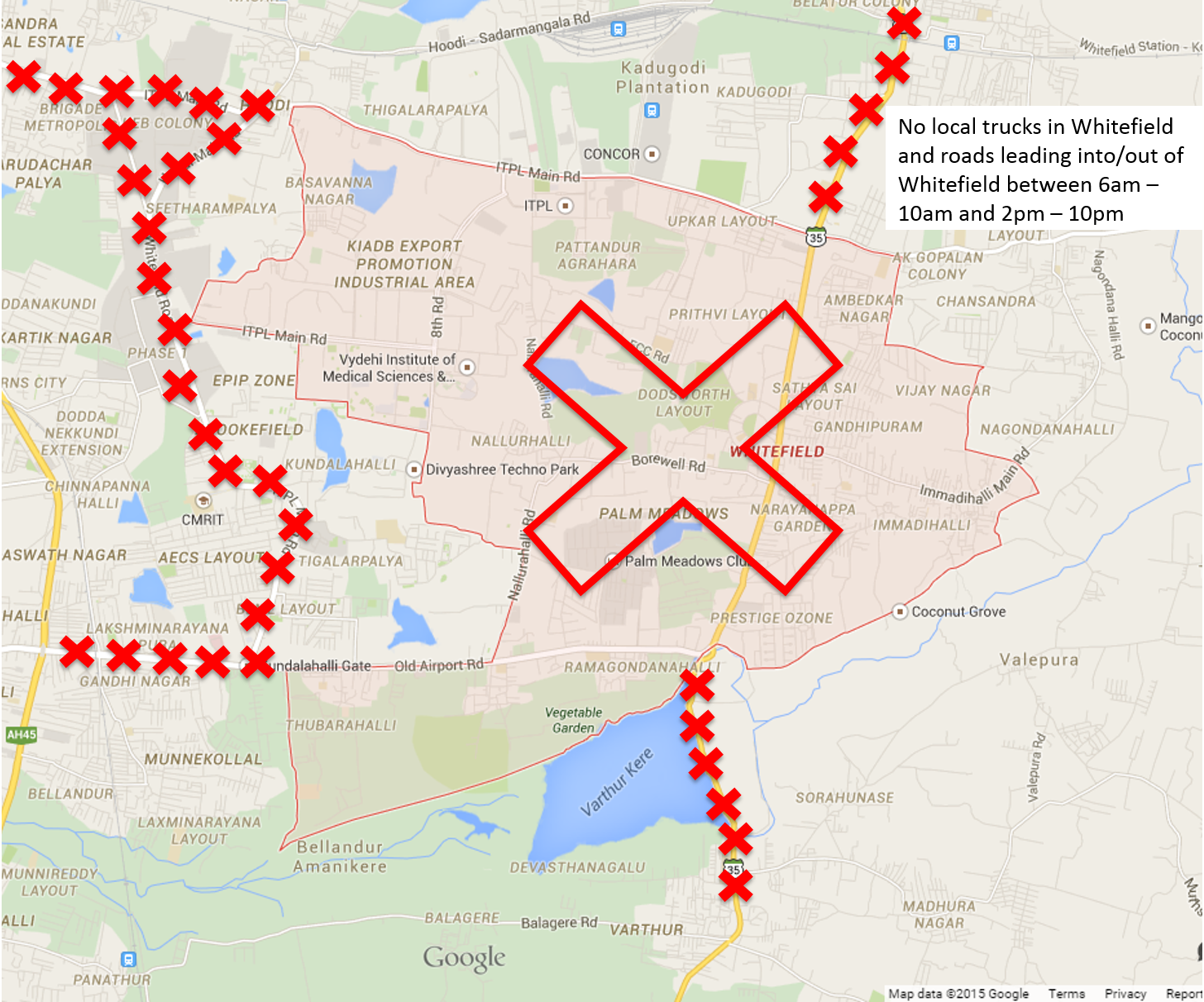 SHOW UP
Come and make your voice heard loud and clear – Feb 7, Saturday at 9:00 am at Varthur Kodi (Varthur circle). You will be helping reduce preventable truck traffic  on our very congested roads.
We are asking for:
NO LONG DISTANCE TRUCKS  ON SH 35  School Village Road- Sarjapur to Old Madras Road  – use NH 207! 

CONTROLLED HOURS ON OTHER TRUCK TRAFFIC TO AVOID PEAK HOURS
MORE DETAILS
Our children are affected by massive traffic on the commonly called Varthur Road (SH 235) all the way from Sarjapur –Past Varthur–Past Hope Farm. This road SH 235 is simply too narrow to handle such traffic not to mention the Varthur bridge that was never built for such a load. We are getting together as Whitefield Rising to request action. Long distance trucks which currently frequent these roads can very well use National Highway 207 but don't due to it being a bit longer as well as requiring Toll. This is not reason enough to affect our traffic so badly.
Many states in india as well as central parts of Bangalore, do not allow trucks all day long through its congested roads. We would like the same here. For large trucks carrying non-essential services within the area, they should use non-peak hours to travel these roads. This will greatly reduce impacts we face from these trucks.
IN SHORT
Interstate Long Distance Trucks to use NH 207 (toll road) instead of this narrow SH 235 (40 feet wide) bypass through small villages and schools.
Restricted hours for Non Essential trucks (eg construction trucks) across Whitefield (No movement from 6:00 am to 10:00 am and again from 2:00 pm to 10:00 pm)
See the map visuals below that clearly depict the ask. This is not ACROSS Bangalore. Just in key areas of Whitefield which is currently under extreme traffic stress.
COMMON QUESTIONS
But Trucks have to go to CONCOR or Cement Factory.
Yes – they can access them via Channasandra–Hope–Farm and return back the same way – ie no forwrad movement to ITPL or sidemovements onto SH 35.
But so much development is happenning here. We have to bring materials to construct.
Yes this can be done within the hours allocated. These trucks cannot compete with School buses and peak hour residential traffic.
But Water tankers are causing havoc.
Yes – they are considered essential services and cannot be stopped. Best is to try to get self reliant via careful use, rain water harvesting and cauvery water.
EVENTS LEADING UP TO THIS PROTEST
August-September 2014- Online Petition Launch, 1500 signatures collected from parents
September 7, 2014, MN Reddi, Comm of Police visits us at Jagriti Theatre and accepts the petition and assures action especially since the ban was already being worked on across Bangalore
January  2015:  2 weeks of ban in place across Bangalore and a palpable relief felt in Whitefield. Only to be revoked.
SCHOOLS AFFECTED
Here is a list though it is by no means exhaustive:
Bangalore Steiner School
Chrysalis School
DPS (Sarjapur Road)
Greenwood High School
Global Indian International School
Indus International
Inventure Academy
Oakridge School
The International School, Bangalore
Vagdevi Vilas School
Foundation School
Ryan International
Vibgyor
Neev
Indus ELC
Greenwood ELC