Green Bazaar is back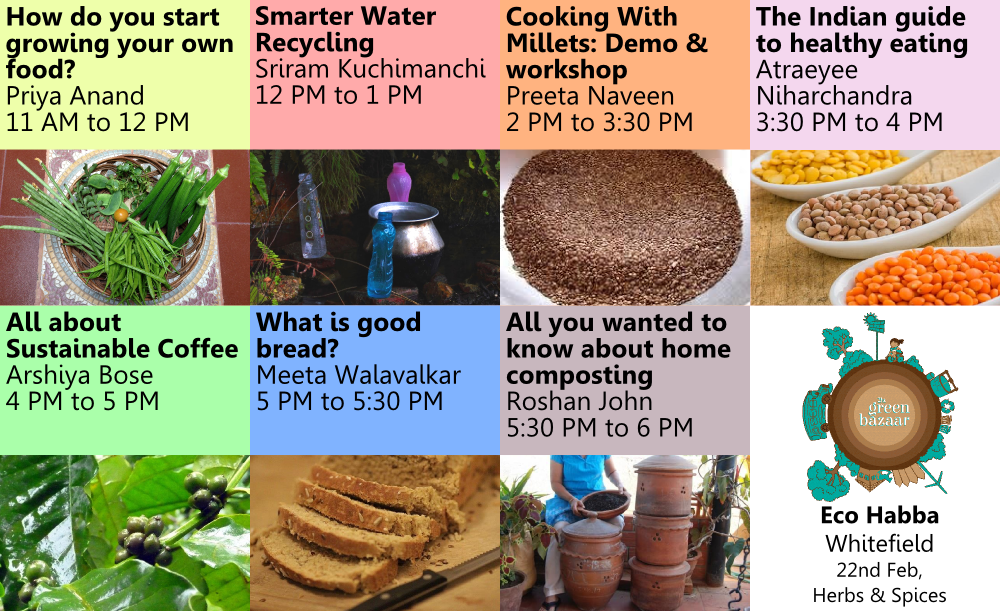 Highlights at The Green Bazaar: 9, Whitefield Eco Habba
SUSTAINABILITY LAB
Click here to register for the workshops. Click here for more details and a schedule for each workshop.
Mighty Millets, Cooking Demo: Get a new superpower by learning to cooking with healthy but underrated millets. Preeta demos rice dishes, south indian breakfast snacks and more.
Fruits, Shoots, and Leaves: Priya Anand one of Bangalore's most passionate kitchen gardeners shares her tips for starting your own terrace garden
2 X H2O: Smarter Dharma gives you an intro into smarter solutions for Water Recycling in your community
I ♥  Kaapi: Arshiya Bose of Gaia's Cup gives us the fascinating lowdown on sustainable coffee
Flour Power: What goes into bread and how to make it healthy? Meeta Walavalkar of Soul Bakers gives us an insight into the process of baking bread.
Black Gold: Wouldn't mind some rich manure for your garden but hesitant to compost?Daily Dump has an interactive course on home composting for you.
WALKS AND RIDES
 Bi-Pedal Bangalore: Go for a fun Sunday morning ride with Zest Pedal, an enthusiastic bunch of cyclists in Whitefield and get some lessons on bike maintenance and sustainable commute.
Whitefield Heritage Walk: Longtime resident Deepa Peck tells you all about the little known history of Whitefield, its famous residents, its forgotten churches and its rapidly-changing geography.
If Trees Could Talk: Whitefield Resident Unnikrishnan tells you stories about trees in Bangalore
LOCAL HEROES SHOWCASE
In an age when we barely know who our next door neighbour is, imagine a wonderful opportunity to meet people from your community who are making a difference. The Community Champions corner will bring waste segregation experts, sustainable mobility supporters, environmentally conscious students and other cool citizens all under one roof.
CHILDREN'S NATURE CARNIVAL
 Click here for more details and a schedule for each activity. Registration for all activities is a must. Please register here.
Tetrapak Up!: Devika Krishnan teaches kids to repurpose those terrible tetrapaks into something more beautiful.
Drama Queens and Kings: Deepti Sharma guides children on expressing themselves through drama and speech.
Little Green Thumbs: A gardening workshop for young ones.
Kinetic Kiddies: An activity designed to teach life skills through movement.
Active Tots: A little gym for kids to keep them occupied and in high spirits.
World in a Flower: Storytelling and nature walk to help your children fall in love with nature, and learn to wonder about the world.
GQ, Green Quiz: An activity to turn those grey cells green.
Sidewalk Games: A gaming corner with street games for children.
Tales Everywhere: Storytelling session for children.
Nature's Canvas: Sketch trees and the natural environment with charcoal and take your artwork home.
LENS FOR CHANGE
Change your perspective of the world around you through art and photography exhibitions. Watch short films curated by The Alternative, and enjoy a live performance by Whitefield students of Taaqademy.
Grand finale with an energetic music performance by the students of TAAQ Academy of Music, 6 pm
ECO BAZAAR
The Green Bazaar will feature the best of sustainable goodies. Organic, preservative-free food, recycled and upcycled home and lifestyle products, children's books and educational kits, handspun fabric and apparel, waste management solutions for the home, certified organic agro products, chemical-free skin and body care goodies, products for sustainable menstruation, natural products with the goodness of fruits and berries and more.
A few stalls at the Bazaar: Soul Bakers, Maduban Natural Products, Ultimate Cocos,BEAD,  Eco Femme, Chalk Boutique, Shumee, Tulika Publishers, stitched2save9, blue made green, Rista, Daily Dump, Skin Sense, Martha's Preserves, Ashel organic bakes, Belly and Soul, Lluvia Bakery, Orchard Fresh, Cellulose Jewellery, Organic Garten, Cocosutra, Mitte Se, Tech Mali, My Sunny Balcony, Daily Dump, Black Roots, Rista Handicrafts, Skin Sense, Squiggle, Joy at work, and Aromeds.
Join the event page to get the latest updates on stalls, workshops, activities and fabulous deals! www.facebook.com/thegreenbazaar