Commuter trains in Whitefield- A solution to all your traffic woes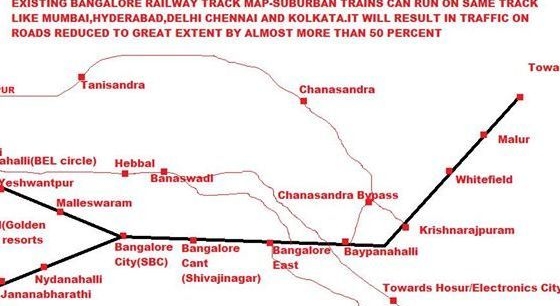 Update Jan 30! 
For the first time in our country an MP has funded the complete construction of a railway station. Today, under the MPLADS funds for the year 2014-15 a sum of 99 Lakh Rupees has been released for the construction of a completely new ITPL HALT STATION between Kishnarajapuram and Whitefield Railway stations.
This was earlier a halt place used by the railway staff alone. But, with the increasing number of commuters after the growth of surrounding areas like Whitefield, MP decided to put a full stop to this plight of about 8,000-10,000 people using this station without a platform and basic amenities. Thank you PC Mohan!
Dec 16 Original Post
As Bangaloreans, we are no strangers to traffic; however the traffic in Whitefield is a special kind of nightmare! Every-day about 3-4 lakh people commute between Whitefield and other parts of Bengaluru city daily. The traffic situation is getting worse day by day. People spend about 2-3 hrs every day, just to commute to their workplace, school/college, business and factories.
Without a regular mass transit system, Bengaluru City is at a very disadvantaged position, compared to other cities like Mumbai, Chennai, Hyderabad etc. The Government of Karnataka has placed a proposal before the Railway Board for the introduction of a 'Suburban Rail Service' in Bengaluru. We do hope that this will be given a priority in coming days. However such projects take time.
In the meantime, some immediate relief can be provided by the South Western Railways (SWR) by running some skeletal services to some of the most congested parts of Bengaluru City. Ramangaram to Bengaluru City and Bengaluru City to Whitefield are the corridors that urgently require help with additional modes of daily travel.
It is reported that SWR is soon introducing a train service from Ramanagaram to SBC Bengaluru. Therefore our organisation Citizens4betterbangalore wants to request that this service instead of ending its journey at SBC, be extended to WHITEFIELD on the SBC-Bangarpet route. Fortunately the section from Ramangaram to Bengaluru City and Bengaluru City to Whitefield is both a double line and electrified.
There can be daily train services from Ramanagaram to Whitefield during morning hours (7 am to 10 am) and evening Hours (6 pm to 9 pm) in both directions.
This solution is much cheaper, cost about 20-30 Rs/journey than the current BMTC services which costs Rs 115/journey. The time taken will dramatically reduce from 2-3 hours, to just 45 minutes. The project can use infrastructure, ensuring that project implementation takes very less time. Additionally, this will be a more eco-friendly solution as it uses electricity, and not fossil fuels.
Please do give us your support, by signing the petition online on our facebook page citizens4betterbangalore
Sign this petition.