Spot fix + Traffic Fix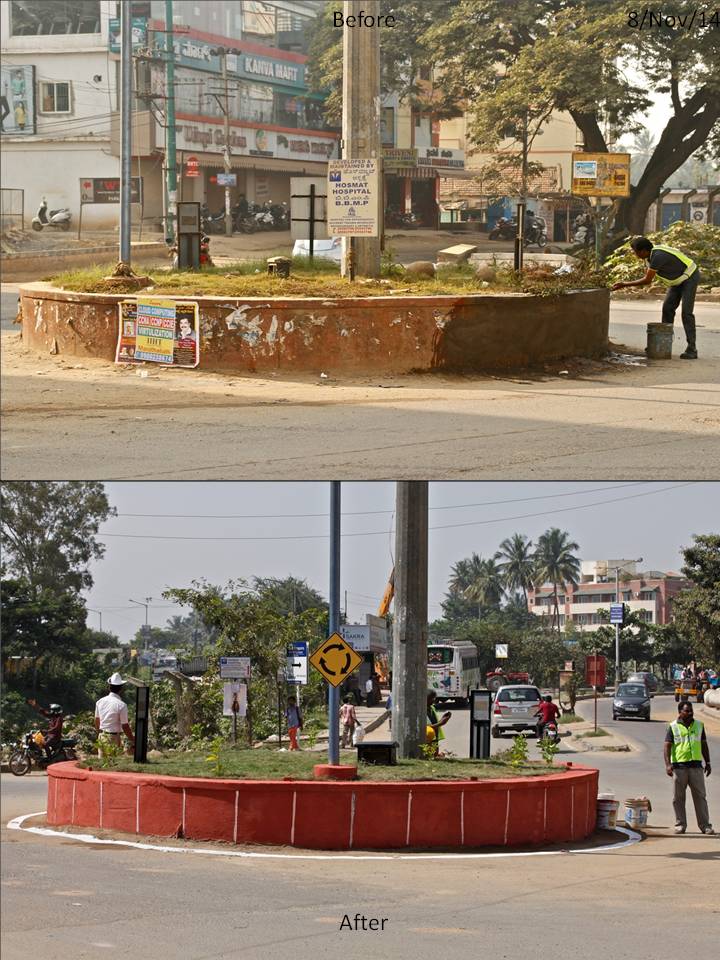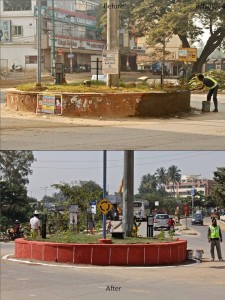 Value Design Build (VDB) approached Whitefield Rising to participate in one of their spot fix programs.
We were shown multiple locations where we could participate in the spot fix program, VDB was clear from the start, that if they ever participated in a spot fix program, we needed all our employees to participate and make a difference. We did not want to just sponsor a spot fix or have few of our team members do something, just to get mileage out of the CSR activity, instead we wanted our staff to feel that they need to be responsible for a better tomorrow. We were shown the area around Varthur Kodi, and this looked like a challenging spot to fix and make a difference. This was not only going to be a spot fix, but an attempt at being a traffic fix. We decided that Saturday the 8th of November, would be a good day to have all our staff assemble at 8.00 AM to do the spot fix, we had to do some prior planning before the planned spot fix day. Since the circle was damaged on one side, we had to make sure that we completed the concrete work on the 7th evening. Our engineering team worked late and completed the concrete work on the 7th night. Our team assembled at 8.00 AM on the 8th of November with their safety jackets, face masks & gloves ready to take on the challenge. We had organized brooms, scrubbing brushes, paints,paint brushes, etc.
It was a great pleasure to see the keen interest in which the VDB staff went about getting the place cleaned and painted. We had staff who were pregnant, who showed that they would like to make a difference. Everyone put their hands in from the Managing Director downwards.
We would like to thank the management of Virginia Malls who supplied us with breakfast during the spot fix exercise. We also received assistance from the local police. It was just not enough to clean and paint the place and go, we wanted to make the place look good and add greenery to the circle. It would be a continuous process in seeing to it that the plants are watered and kept in healthy condition. VDB will ensure that this is done.
It gave us a great amount of satisfaction to see the final outcome of the spot fix exercise. We did not want this to be the last of our efforts, we also decided that one of the other spot fix areas
which required immediate attention was the Ramagondanahalli school grounds, we have deployed a JCB and tractors to have the ground surrounding cleaned of garbage and wild plants and weeds.
https://drive.google.com/a/whitefieldrising.org/file/d/0BxljeuEJRPiaZ05ZREZvQXQxQ1E/view?usp=sharing