Is Varthur Bridge safe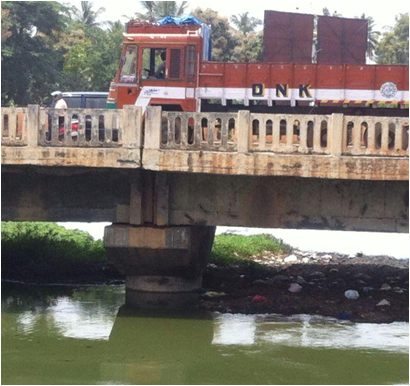 Update: Jan 2015!
The report is here!
Quoting from the report, "The existing Varthur Bridge, as it stands, is free from major distress … " although " … appropriate restoration measures …" are needed " … to render the distressed regions normal and serviceable."
Thus, as per the testing company's report, you shouldn't unduly worry about the vibrations of the bridge. As per our interview with the test engineers , a certain amount of vibration is normal for any bridge and indeed desirable, as too-rigid a structure is prone to failure. (Watch the interview here and here.)
In the case of Varthur Bridge, the vibrations do not pose any danger.
The report does recommend replacing the neoprene pads between the piers and the girder, and certain other steps intended to improve the life-span of the bridge. The next step is to get the government to do just that
(Contributors: Ritu, Arvind, Anu)
Nov 13 writeup
This story only shows that citizen empowerment is the only way forward. Read on!
When Ritu Saini worried that the Varthur Bridge was feeling shaky, she was only echoing what many parents have worried about as bus after bus packed with school kids goes over the bridge and onwards into the very congested Varthur Road to school and back. So she decided to do something about it. Being an integral part of Whitefield Rising which is nothing but a citizen movement packed with people who feel empowered, she decided to do whatever it takes to make sure she could rest in peace that her kids would be safe over that bridge. But where does one begin? Who knows anything about bridges? Well, those were exactly the questions to be answered.
When was the bridge built
What was the capacity of the bridge
Who tests bridges and what does a maintenance schedule look like
How do we assure ourselves now that the bridge is safe?
It is surprising how when you are determined and Google is around, you can get all this and more answered and everyone comes out to help you.  Anu and Arvind, our usual suspects jump right in to help Ritu with the right liaisons with the government. When it looked like there was needless delay, numerous residents responded to a call to action and called up the engineer concerned until he pleaded for phone silence. And before you know it, scaffolding is up and bridge test is underway by "the" agency that can conduct such tests. Citizens kept a close watch to make sure tests were really done as well as to be informed on what exactly was being done. Col Handa, well over 70 was there at a moment's notice to greet the workers and be the citizen rep. As were numerous others.
Watch these two videos and be informed!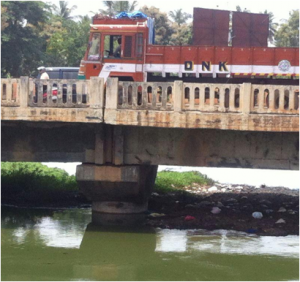 And now, we all await the results of the testing! tick tick tick tick