In partnership for a "Swachh Bharat"!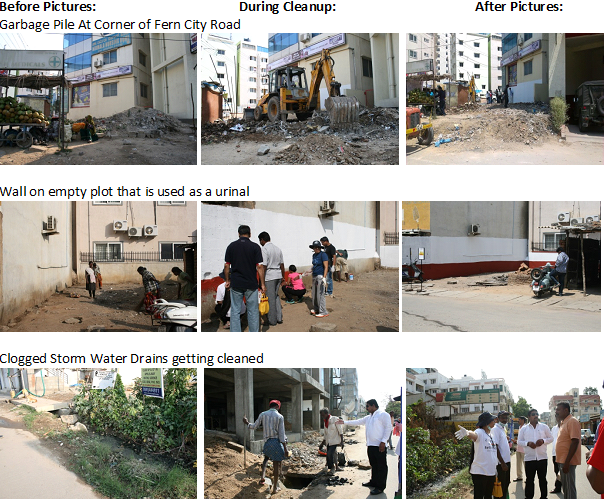 International Women's Day was quite a momentous occasion for Whitefielder's. FIVE spot fixes were coordinated by the Whitefield Rising team in association with Rotary IT Corridor Bangalore  in and around the area.
Fern City Road : Ward 85 got presents really early in the year! Fern City Road had been picked for a major round of "spot-fixing" by B-PAC, Rotary Bangalore- IT Corridor and Whitefield Rising as part of a Swachh Bharat Abhiyaan event. FC Road had the singular honour of having not one, but 4 spots approved; for clearing of garbage piles and sewage clogged storm water drains, amongst other things . In the past 4 months, the Swachh Doddanekundi Initiative has been working toward cleaning roads, and spreading awareness about waste segregation and management in the Doddanekundi area. It appears that our efforts have been noticed by people around Bangalore. The SDI was joined by members of B-PAC and by local corporator , and was amply supported by BBMP pourakarmikas.
A large garbage heap at the beginning of FC Road was cleared out by a JCB. Additionally, walls were painted in a few locations to prevent people from urinating in these stretches. Work also began on cleaning out dirty storm water drains. In the next few weeks, the sludge will be sucked out and concrete slabs will be procured to cover open stretches of drain, to recover footpaths for walkers on the street.
Borewell Road:  The two different spots that were perennial eyesores were tackled by residents and volunteers . Even a JCB had to be deployed to clean and dig through the garbage that had piled up over the years. Drains were unclogged and fresh coat of paint was put on the granite walls.   Children, men and women came together to contribute with precious art and their time to put the final touches.
Rotary Club IT Corridor provided the materials for the spot fixes and residents along the area, both adults and children, came armed with gloves and masks to transform their surroundings.