Habba beckons you!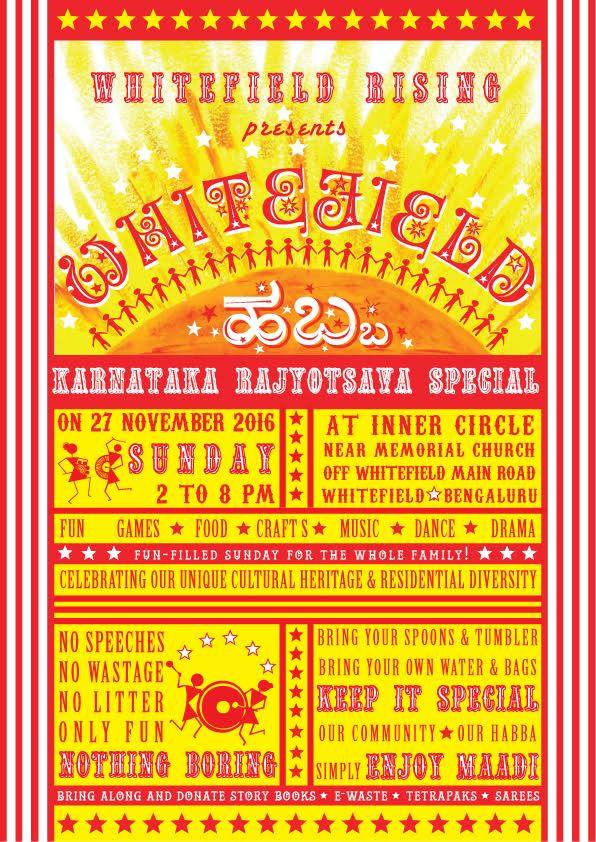 Whitefield Habba is an initiative to bring together people belonging to diverse backgrounds and residing in different parts of BBMP's Mahadevapura Zone. To be held at Whitefield's oldest spot – Inner Circle ground – the fest is 'by the people, of the people and for the people' of the locality.
Organized by citizens' group Whitefield Rising on the occasion of Karnataka Rajyotsava, the six-hour event will   rich culture, crafts and cuisines of the state. As the attached poster mentions, a variety of stalls, skits, songs, dances and games promise to make it a memorable event for the entire family. It is an opportunity to experience traditional entertainment like Dollu Kunita, Mallakhamba and Gardua Gumbe, alongside music by our Anglo-Indian settlers and art by recent migrants to the neighbourhood.
So, be there at Inner Circle from 2 to 8 p.m. on Sunday 27 Nov. – the Habba beckons you!