An award for No Consent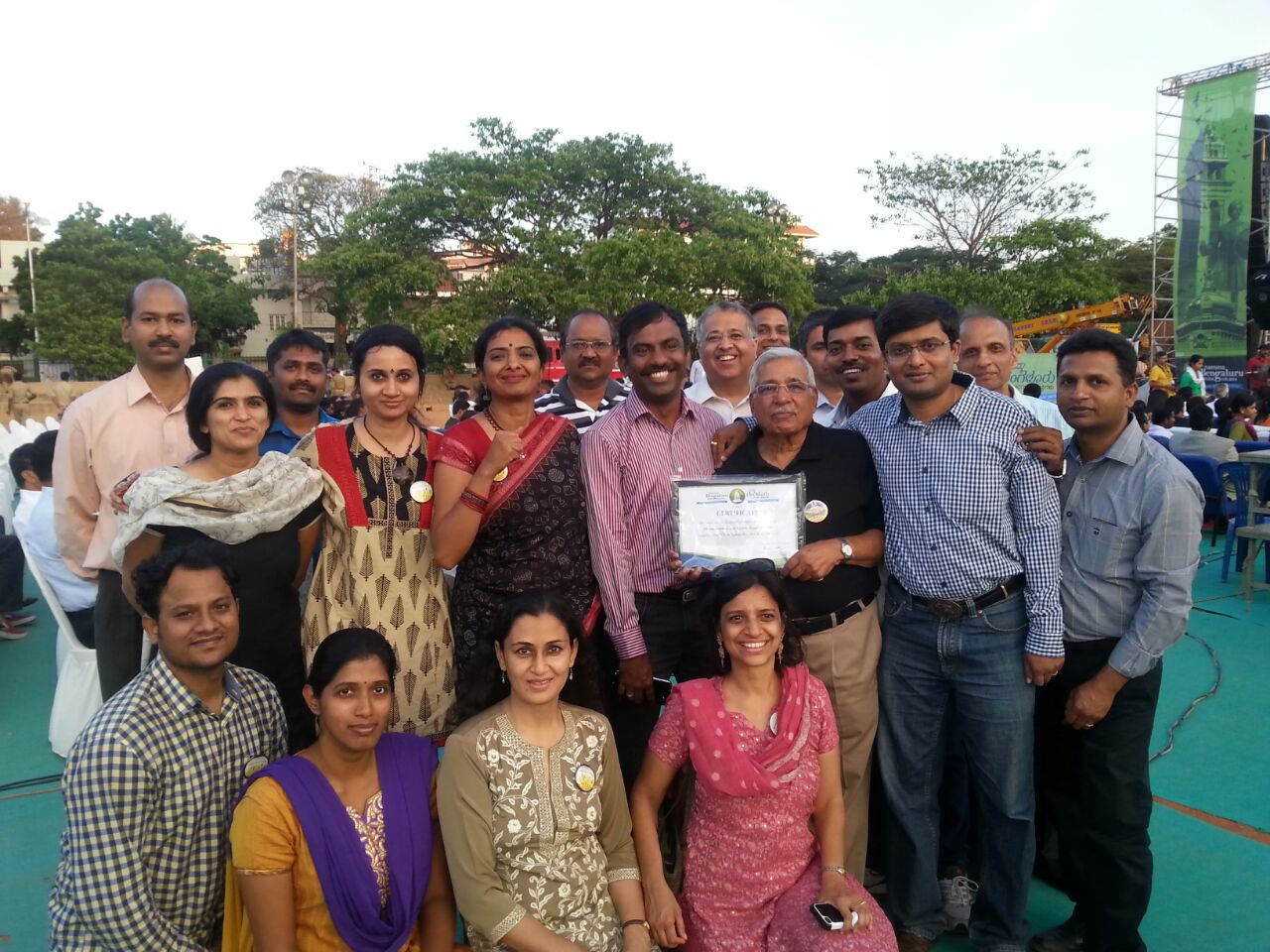 We gave no consent and we even got awarded for that! You read that right. Last night we got awarded the Namma Bengaluru Foundation award for disagreeing and sometimes being disagreeable! Strange isn't it? Only till you read on and find out why.
We all agree that the state of affairs around us is not good, putting it mildly. Child rape, Sewage in lake, Garbage on the street, inequality in our society and many more issues civic and humanitarian. As Ela Bhatt says, this is violence to our own with the consent of state and society. Ouch. WE ARE THAT SOCIETY! And by watching on and not acting, WE ARE GIVING OUR CONSENT.
Not anymore. Whitefield Rising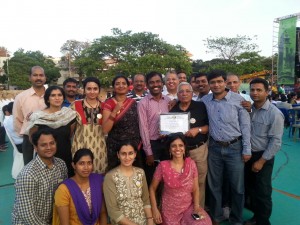 provides that platform by which all those that don't give such consent engage and find strength in working with others like them. In short, we demonstrate that we "CARE". Because the line between inaction and indifference is a thin one. Read this article by a respected holocaust survivor and see what he agonizes about the most. Clue: Its not the time at the camps that was the worst! We realize we are not just automatically entitled to what we have, be it a roof over our heads, food in our stomachs or money to send our children to school. We realize we have a responsibility that goes with this privilege. And we heed it so we can sleep at night.
You may very well ask. So, what change have you made?  We don't see massive impact?
Its what our eyes want to see :). We see impact and all over the place! We see a sea of people that have come together to demand change. Ask the father of a victim of circumstances what it feels like to have his entire neighborhood stand by him. That we care, matters.
We look around and support all those that do amazing work for those that have become invisible around us.

A sea of volunteers agonize over the circumstances of those children you see running around in rags instead of being in school and do something about it.
Another group worries over all the stray dogs that society wishes away. They labour over every dog making it safe as well as spayed so the next round of puppies does not show up.
A group encourages our disilluisioned, ignored school dropouts and gives them 3 months of rigorous training on unconventional topics. Ethics, NLP (Yes!), Time management, Hope, Persistence besides useful practical skills and guarantees employment.
Yet another takes our empty juice cartons, employs local women and converts them into products of pride while bringing self esteem to them.
Still another goes community to community to encourage them to be responsible with their waste sending as little as possible to the landfill.
Some have managed to find a breakthrough into the world of corruption and thanks to them we no longer need to pay a bribe for khata registration or bescom meter transfer
Another group has slowly started gaining strength in numbers as citizen traffic wardens.
And yet another chose to build a safety app connecting all of us in Whitefield so that we look out for ourselves.
A school is trying to bring "Khan Academy" to our government schools
And some builders for no visible benefit to themselves are bringing their capabilities to fix local civic problems.

This is a hundredth of our list.
Still, we must explain the lack of "visible" difference
What is visible is the infrastructure (or lack thereof) around us. And its true that there isn't visible impact yet. People are laboring over understanding the problem, the way the government works, utilizing all the collaboration tools possible and occasionally straying into non-collaborative tools such as protests. But the truth is that we have an uneven return on investment. MASSIVE citizen effort, with tiny movements on the government side.
There is 110 crores allocated to the main road project they call Signal Free Corridor – but the contractor isn't paid yet so he won't work.
A whole group is working hard to rejuvenate Varthur Lake. But months after Upalokayukta demands for some action from a government official, there is no change.
Another group labors over trying to get BMTC buses to stop at bus stops but until the private buses are acted upon by the RTO, this problem doesn't seem to go away.
We are promised increased traffic police staff as well as consideration for truck ban in our arterial roads that are causing havoc to school children and others. But no, there isn't any response yet.
And a zillion more like the above. But the good news is that our efforts aren't entirely wasted. There appear to be some people in the government that do want to help and have the "capability" to help. Many that want to are simply unable to because of the system in which they are mired. That deep change is not something that is easy. It can only come when the majority of the citizens, wake up and realize their own responsibility to the state of affairs we are in and bring their own creative solution to the table. This is our society and we have to step up to it.
Like moths to a light many of you have come forward to contribute your bit. We don't have all the answers and you are accepting of that.
So if you havent already, write into hello@whitefieldrising.org and share what your inclination is besides the time available. We have something for everyone. The busiest amongst you can still do something.
In privilege.
Whitefield Rising