Schools books donation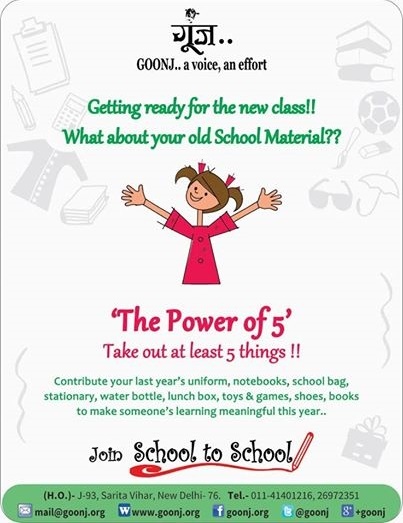 Whitefield Rising is conducting a School books, Stationery and Uniform drive for Goonj as part of their "School to School Initiative". Goonj has handled the Kashmir and Assam Relief drives for us earlier. We are undertaking this drive across many gated communities in Whitefield.
As the school year comes to a close, we request you to kindly donate the following items :
Used School Text Books
Unused Note Books
School Uniforms
Kids Clothes
Stationery
School Bags
Lunch Boxes
Water Bottles
Toys
Games
Goonj's "School to School Initiative" will reach out these essentials to kids in remote parts of the country.  So here's a chance to encourage your child to donate and make a significant contribution to another child's learning and needs.
Whatever you decide to contribute, please hand over your individual contribution to your community representative in cardboard carton/s, sealed and labelled "Whitefield Rising Books Donation for Goonj". Please DO NOT give donations in plastic bags.
We are NOT providing large cartons.  You can pick up small cartons at your nearby grocery store or pool in with your neighbor when packing your contribution.
The last date for collection is April 12th (Sunday) after which a truck will be arranged to pick up the cartons from each community.
For any questions, please email hello@whitefieldrising.org or contact your community representative.
Thanks in advance for your help and generosity.