Whitefield Rising meet ministers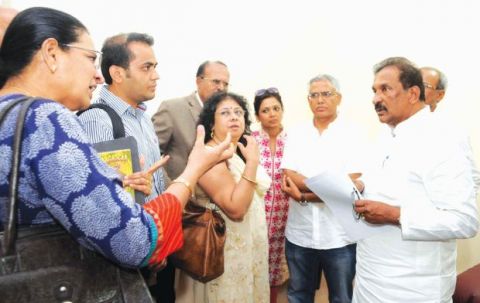 The Vibgyor case has taken the city, country and the world by storm. Bangalore city has not seen such outcry in a long time. The Vibgyor parent support group along with members of the voluntary group Whitefield Rising met both Home Minister Mr KJ George and Education Minister Mr Kimmane Ratnakar in two separate, but back to back meetings yesterday afternoon.
Vibgyor parents gave the Home Minister the letter which they had given to Bangalore Police Commissioner a few days back. He assured that Goonda Act will be applicable to the culprit, which means that for 1 year he will not be out on bail. They will put this case under Fast Track and also take action against Vibgyor School management. It is also a need of the hour to make stringent guidelines for all schools. As has been reported in the news, Vibgyor School Management has outsourced extra circular activities to the company which is owned by Vibgyor School founder Mr.Rustom Kerawalla. The protesting group want this outsourcing business to be stopped and strict action against the school management. The children love school and are more than happy to go back to school.
There are many questions left unanswered :
If the perpetrator Mustafa had advance warning of the protests, why he did not delete the porn sites from his laptop.
If his monthly income is Rs.18,000+ approximately Rs12,000 from extra coaching, how he can afford 5-6 laptops and 5-6 mobile phones, as has been discovered during interrogation?
The name of the folder on his laptop is 'School children raped in School', so how many other episodes are not out in public?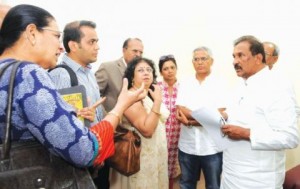 Discussion with Education minister and Police Commissioner
More than 30 people along with Principal of Vibgyor School met the Education Minister near Vidhana Soudha and were given a chance to express their thoughts. They want school to start immediately, with counselling session for students and teachers. The Education Minister wanted to meet each teachers and staff before starting the school. Parents have requested to stop agitation by political parties immediately and remove all media and police from school premises. The Police Commissioner agreed to deploy 2-3 policemen in civil clothes. Parents have requested for checking of staff before recruiting and it the school's responsibility once child is in bus till he/she comes out of the bus back home. No declaration to be signed by parents about non responsibility of school and parent association to be allowed, harsh punishment to culprit and strict action against management.
The Education Minister is planning to conduct a meeting with his secretariat and other staff in making guidelines for all schools.