Whitefield's Lakes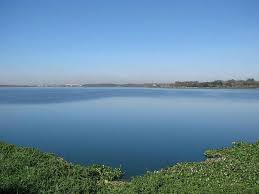 WR works with local residents around the lakes to assist in rejuvenating the lake. Rejuvenating a lake generally means stopping sewage flow, allowing in storm run-off, building revetments, embankments, planting trees etc. A description of the steps involved in lake revival is available here. WR has worked with the BBMP (Lakes Dept.) to give direction to the DPR for lakes. We have worked with the Tehsildar to determine and enforce boundaries of lakes. Along with our partners United Way, we have worked with corporates to fund capital improvements. We have organized citizens around events like tree-planting, lake clean-ups etc.
In recent months, WR has argued for situating small STPs on lake territories. This is to supplant the existing practice of diverting sewage from a lake, which amounts to "kicking the can down the street", since sewage inevitably terminates at Varthur Lake. Rather than a gigantic STP at Varthur Lake, we have argued for smaller, eco-friendly (i.e., zero-electric power) STPs upstream. Use of these STPs not only prevents movement of raw sewage into upstream lakes, but also maintains the water level (and hence ground water table as well) at the lake. In a sign of success, the DPR for Kundalahalli Lake actually does incorporate an STP — a first time in Bangalore that lake rejuvenation has included an STP.
WR has developed a knowledge clearing-house  for revival of lakes. Many ordinary citizens who worry about lakes near their houses have contacted us, and having been directed to the knowledge clearing-house, try to jump-start their own efforts. In this way, we hope that community ownership of lakes becomes viral.
In partnership with United Way, WR is also setting up a consortium of companies to fund
lake
rejuvenation activities for
lakes
of the Whitefield area.
Most of our current focus is on Kundalahalli
Lake
, Munnekolalu
Lake, Varthur Lake 
and Sheelavantakere
Lakes
, but we are constantly looking for local champions who can spearhead the protection of
lakes
in their localities
Arvind Keerthi