Whitefielders unite for Nepal. Did you miss out?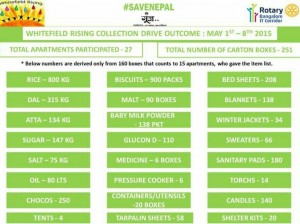 When Karthikeyan signed up as our lead to run a relief collection drive,  he didnt really know how  many accolades he would get for his effort. The reality was that people wanted to help. So 27 community champions signed up to help Karthik and collect the necessary items as officially required in Nepal. Saturday May 9th saw Karthik bright and early, arrive at one community after another and fill up his truck with the collections. Along the way, he met neighbors he would never have met. Made friends, got food, surprise flowers and more. Spent, spoilt and satisfied is what he felt as he returned back from the delivery at Goonj by 8pm.
See some pictures of the collection and enjoy the poster made by his supportive wife. We thank the amazing champions from 27 communities and Rotary Bangalore IT Corridor (RBITC) for sponsoring the truck costs.
You can still do your bit and donate via our very very credible partners Rotary Bangalore IT Corridor here.