Is Varthur Bridge safe?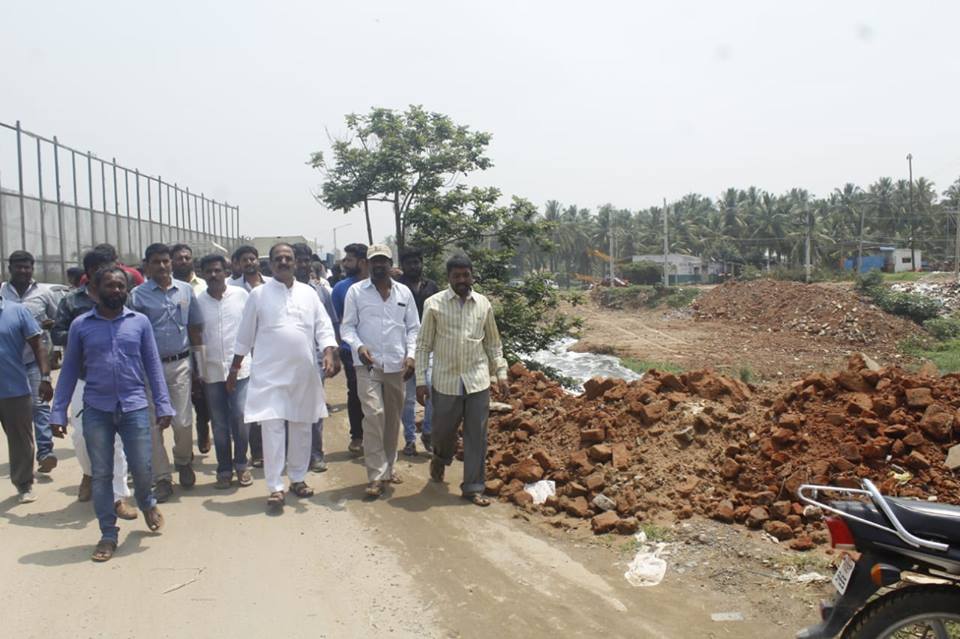 Report by Shri Arvind Limbavali, MLA, Mahadevapura
Today i inspected the Varthur bridge which has been damaged,along with the team of concerned Engineers. A detailed examination and report by a senior Engineer on the state of the bridge would be done in the coming days, necessary action to be taken and safety measures are being contemplated in the best interests of the general public. I would assure that prompt action would be taken in consultation with the Engineers.Heavy Traffic Vehicles are not allowed to use the Varthur b
ridge until the renovation works are complete and the dilapidated structure is restored completely and certified and safety check/audit carried out by the concerned engineers and agency. In view of the bad condition of the road, we have informed the concerned engineer to take up asphalting immediately.
Further, the jurisdictional DCP and ACP traffic have been informed to provide an alternate route to the motorists taking this route and ensure there is no inconvenience caused to the general public. This decision is taken to prevent untoward incidents in general and public safety in particular. Users of this bridge and general public are requested to co-operate till the renovation work is undertaken by concerned agencies.
ಇಂದು ಶಿಥಿಲಾವಸ್ಥೆಯಲ್ಲಿರುವ ವರ್ತೂರು ಬ್ರಿಡ್ಜ್ಅನ್ನು ಸಂಬಂಧಪಟ್ಟ ಇಂಜಿನಿಯರ್ ಗಳೊಂದಿಗೆ ಭೇಟಿ ನೀಡಿ,ಬ್ರಿಡ್ಜ್ ಗೆ ಸಂಬಂಧಪಟ್ಟ ದುರಸ್ತಿ ಕಾರ್ಯದ ಬಗ್ಗೆ ಸಮಾಲೋಚಿಸಲಾಯಿತು. ಸಾರ್ವಜನಿಕರ ಸುರಕ್ಷತೆ ದೃಷ್ಟಿಯಲ್ಲಿಆದಷ್ಟು ಬೇಗ ದುರಸ್ತಿ ಕಾರ್ಯ ಕೈಗೊಳ್ಳಲಾಗುವುದು.ಬ್ರಿಡ್ಜ್ ದುರಸ್ತಿ ಕಾಮಗಾರಿಯು ಸಂಪೂರ್ಣವಾಗಿ ಮುಗಿಯುವವರೆಗೂ ಮತ್ತು ಇದರ ಗುಣಮಟ್ಟವನ್ನು ಸೂಕ್ತ ಇಂಜಿನಿಯರ್ ಗಳಿಂದ ಪ್ರಮಾಣೀಕರಿಸುವವರೆಗೂ, ವರ್ತೂರು ಬ್ರಿಜ್ ನಲ್ಲಿ ಭಾರಿ ಸಂಚಾರ ವಾಹನಗಳ (Heavy Traffic Vehicle) ಸಂಚಾರದ ನಿರ್ಬಂಧನೆಯನ್ನು ಹೇರಲಾಗಿರುತ್ತದೆ. ಸುರಕ್ಷತೆಯ ದೃಷ್ಟಿಯಿಂದ ಸದರಿ ಕ್ರಮವನ್ನು ಕೈಗೊಳ್ಳಲಾ
ಗಿದೆ. ಸಾರ್ವಜನಿಕರು ದಯವಿಟ್ಟು ಸಹಕರಿಸಬೇಕಾಗಿ ಈ ಮೂಲಕ ನಾನು ಕೋರಿಕೊಳ್ಳುತೇನೆ. 
ಸ್ಥಳೀಯ ಟ್ರಾಫಿಕ್ ಪೊಲೀಸ್ ಅಧಿಕಾರಿಕಳಿಗೆ ಬದಲಿ ಮಾರ್ಗವನ್ನು ಸೂಚಿಸಲು ನಿರ್ದೇಶಿಸಲಾಗಿದೆ. ವರ್ತೂರು ಬ್ರಿಜ್ ನಲ್ಲಿರುವ ಗುಂಡಿಗಳನ್ನು ಮುಚ್ಚಲು ಸೂಕ್ತ ಕ್ರಮ ಮತ್ತು ಸುಗಮ ಸಂಚಾರಕ್ಕಾಗಿ ಸಂಪೂರ್ಣವಾಗಿ ಡಾಂಬರೀಕರಣ ಮಾಡಲು ಸ್ಥಳೀಯ ಇಂಜಿನಿಯರ್ ಗಳಿಗೆ ಸೂಚಿಸಲಾಗಿದೆ..
Report by Mr Somashekar, Chief Engineer, Road Infrastructure, BBMP
May 29th – No progress yet, from what we can see. Condition remains the same . As per the report by Mr. Somasekhara – Chief Engineer BBMP, the Load Bearing Test and Repairs need to happen soon.
https://www.deccanherald.com/city/bbmp-yet-begin-repair-work-varthur-bridge-672207.html
May 29th 12.45 p.m. Varthur Bridge progress UPDATE~
– Testing of the bridge is going on. Some tests were done yesterday and remaining tests happening today
– Non destructive testing (NDT) is completed. Testing samples are in the laboratory. After analysis, suitable rehabilitation process will be initiated.
– Analysis & reports will take 4-5 days
– Actual repair work will start in 15 days
We are waiting for the complete Official Report from BBMP!