Eco Ganesha – help save the environment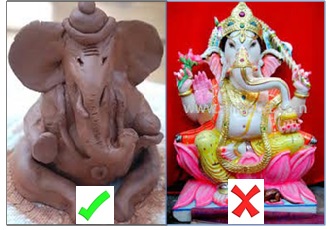 ECO GANESHA Step up and help Whitefield get ready for an Eco Friendly Ganesha festival this year. If you recollect we lost two BBMP workers at Varthur Lake last year as they helped immerse one massive Ganesha idol. Why Eco?
Promote eco-friendly behaviour and reduce pollution by using clay idols
Even if you aren't celebrating, spread the word in your neighbourhood to immerse idols properly
To be able to choose the most appropriate eco-sensitive solution it is important that we understand the environmental impacts of Ganesh Chaturthi. These can be summarised to be the following:
The water pollution caused by the immersion of Plaster of Paris idols into natural water bodies.
The water pollution caused by chemical paints used on these idols.
For some years now we have been observing a growing awareness about the water pollution caused by the immersion of Ganesh idols made out of Plaster of Paris, in natural water bodies such as lakes, rivers and the sea. While idols made out of naturally occurring clay ( shaadu in Marathi) dissolve within hours of immersion in water, PoP idols may take anywhere between several months to years to fully dissolve. In addition, when chemical paints are used to decorate the idols, these paints contain heavy metals such as mercury and lead, which seep into the water as the idol dissolves.
Red, blue, orange and green colours are known to have higher content of mercury, zinc oxide, chromium and lead. Even a single drop of mercury on a person's skin can be fatal. One drop in a 20-acre lake can make the fish poisonous to the birds, animals, and people that eat them.
 What can you do to celebrate Ganesh Chaturthi without harming environment much? Since the main issue around water pollution has got to do with the POP idol immersion ritual, several people are now suggesting a slight variation of this ritual to avoid water pollution. These include:
Using only a natural clay idol and immersing it either in the tank. Don't use Plaster of Paris or painted idols.
Immersing the idol in a water tan constructed by the government, instead of directly into natural water bodies.
Immersing a 'betel nut' which symbolizes the idol and reusing the same idol every year.
| | | |
| --- | --- | --- |
| | | |
| A Hundred Hands | No 4 Ashley road, Behind Ajanta Hotel, Off Brunton Road, Behind MG Road, Bangalore 560 025 | Mala Dhawan 080 25583292 / 98450 08482 |
| | Flat No. 305, Sharda Tulip" Apartment, 1st Main After 3F Cross, Near Jalakanteshwar Mallesh palya Bus stop, Mallesh palya Main Road | |
| Ecoexist | | 9049146644/ ganeshecoexist@gmail.com |
| The Living Store | Tatana Mane Compound, 3rd Main Road, Chamarajpet, Chickpet, Bangalore | Vijayalakshmi S 91 9901303390 |
| Seshadri | No.3, Near BMS College Of Women, West Anjaneya Temple Road, Gandhi Bazar, Bangalore | 9342303247 |
| Mother Earth | Shop No.12, 2nd Floor, Royal Meenakshi Mall, Hulimavu, Bannerghatta Road, Bangalore | (080) 25125131 |
| Shree Enterprises | No.32, Sweet Homes Layout, Srinivasapura, Kengeri Main Road, Uttarahalli, Bangalore | 9036605321 |
| Kamalini | No.37, Sri Bhooma Building, Ground Floor, 17th Cross, Malleswaram, Bangalore | (080) 23567470 |
| Sujatha | Hal Market, HAL 2nd Stage-Indira Nagar, Bangalore | 9886888117 |
| TMAD | | Kamal: 9886642073/8861586679, Sukumar: 7259239472, Srinivas: 9902941823 |
| Vani | Next to SBI Padmanabhnagar Branch, Near Carmel school, Bangalore | 9886247299  |
| MES College | 15th Cross Malleswaram |   |
| Mavalli | | Somasekar      93428914739448671742 |
| Basaveswaranagar | | Chandramma        080-23230210 |
| Ulsoor | | Manjunath   9845343665Babu      9341434998 |
| Madiwala And Koramangala | | Muniraj   080-25631498 |
| Yediyur | JAYANAGAR 7th BLOCK, KR ROAD | Prakash         9342866721 Laksmipaathy         9844196868 Laksmipathy        9844372290 Keshav murthy        9844773185 |
| Ramamurthinagar | KR Puram, Devasandra | Gopi  – 9343214622 |
| Veena Kalamandir | Tata Silk Farm Circle, K R Road, Bangalore | 9241715008 & 9901303390 |
|   | 10th Main, Srinivasnagar, Near Ayappa temple,Bsk 1st Stage ,B'lore | |
| Kari Basappa | Nagarajappa 10th Main, Srinivasnagar, Near Ayappa temple,Bsk 1st Stage ,B'lore | 9886748371 |
ECO GANESHA What is eco-Ganesha? An eco- friendly Ganesha is made of raw earth (Sadhu clay, Jedi mannu) or plain clay which is not mixed with chemicals. It is just mud and water. These when immersed in water or let to nature, just get dissolved without releasing any toxic materials. Why Eco?
promote eco-friendly behaviour by using clay idols
reduce pollution caused by no-biodegrade  material
idols should be properly immersed
Even if you aren't celebrating, spread the word in your neighbourhood
Make your OWN Ganesha KSPCB -master craftsman Handicraft institute in Nandinilayout contact 080-23194969 / 9449243285 Watch this video on How to make your own clay Ganesha Follow these steps to make your clay Ganesha     Apparatus:
Natural Clay
Mould for the idol (Front and Back).
Talcum Powder/Ash/Chalk Powder
A Knife
The Process:
The Natural Clay is mixed with water to form Dough, such that water constitutes only 40% of the entire homogeneous mixture.
Now, Take the required mould of POP, and sprinkle its inner surface with Talcum powder/Ash/Chalk powder, for the purpose of lubrication.
Fill the front mould with the Clay Dough, simultaneously applying uniform pressure at all points. This ensures Precision in the features of the idol.
Repeat the above step for the Back Mould as well.
Now, put the two moulds together and fill any visible void with the clay.
Press the two Moulds against each for a small amount of time. Be Gentle in doing so, as Excess pressure can weaken the strength of the idol.
Now, remove the top Mould CAREFULLY and any excess Clay visible to you with a knife.
Your Eco Friendly Ganesha is now READY.
NOTE:
The Idol takes at least a day or two to dry, depending on its size.
The Natural Clay used here is easily available in any POTTERS COLONY.
Painting your Ganesha:
Make Sure you have Brushes of all sizes. You can use the ones, we normally use on our canvas. (Smaller the idol, Finer should be the brush.)
Colors and their ingredients:
China Clay(diluted) –> used as a primer coat.
Natural Blue–> Extracted from Indigo Plant/Kalappa.
Natural Yellow–> Extracted from Turmeric/Marigold(Chand huva).
Orange/Red–>Extracted from Anato seeds / Marigold (Chand huva) (Orange)./Brick Powder(Red).
Gum Arabic–> used as a BINDER.
Green–>Extracted from Thumbe Soppu.
Brown–> Extracted form Katha.
Black–> Extracted from Charcoal.
Violet–>Extracted from Jamoon.
Gold–>Extracted from Mica bearing Clay(Powder form)
1. If Ingredients are:
a)      Plants/Flowers/Seeds: Then squish it in a using a small stone,so that it becomes a paste. b)      Powders: These can be used as it is, but can be ground finer if needed.
Take the Paste/Powder in a vessel and boil it till it gives out the color.
NOTE:
Before using the colors, mix some GUM(used for paper) with it. The addition of gum helps the paint to adhere to the idol.
Creating Shades:
Different Shades of the same color can created by adding intuitive amount of CHINA CLAY(diluted) to it.
CHINA CLAY can also be used to make the dilute paint, a little more concentrated (thicker).
Examples: Katha + LIME(Calcium Compound) results in  Dark Brown. Yellow + China clay results in  SKIN color.  Price Rs 100 (for an uncoloured one) – Rs 5000 (for a big coloured Ganesha measuring upto 3-4 feet).The maximum height of an eco- Ganesha idol is four feet. Epic Ganesha's mother, Parvathi, prepared a clay doll, gave life to it and called it Ganesha. Make this Chaturthi memorable with clay idols of Ganesha, to retain the tradition and contribute to a non-polluting celebration. Other tips
Best way to identify a non-ecofriendly Ganesha (made of Plaster of Paris) is to check the weight. It is very light to carry and has bright colours on it.
One made with clay is heavy and will have a slight dull appearance. The eco- Ganesha would also not have a fancy appearance, they would be simple and earthy looking.