Constructing a Life—Brick by Brick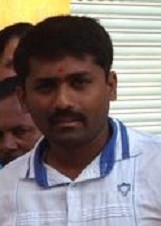 For three decades, P. Gopinath, 31, has been witness to changes in Whitefield. The small-time builder has come a long way since the days of cleaning cars and typing documents. Here are excerpts from an inspiring conversation, post Deepavali, in Hindi—the bridge language between the two of us since 1998.
 On Whitefield Rising
I was first impressed with the group during the tree plantation in January this year. I admire the activities towards a clean and green Whitefield. I like the spotfix events; I liked the plan for a machine to clean up streets. It is doing what the government should do. It should extend its activities to surrounding villages.
 For a Green Whitefield
We wanted to beautify our area, Vijayanagar, off Whitefield Main Road. On Republic Day, we planted 18 saplings. Nitya Ma'am and Mitali Ma'am helped us to get saplings, manure and tree-guards. Some 12 are surviving. The neighbours look after the trees, and I monitor them periodically.
For a Clean Whitefield
 We involved BBMP and our local MLA to complete drainage work two years ago. Now we are arranging bins outside shops. We have spoken to these shops to keep the surroundings clean. We are planning a clean-up campaign soon; the task of maintaining cleanliness on each street will be entrusted to one resident.
For a Humane Whitefield
 Some months ago, I found two sisters locked up in a house in Gandhipuram, near Vijayanagar. One was chained. The other was seeking food through the window. We bought some idlis. Neighbours told us that the parents had been locking them up, and going to work. We contacted the mother, the anganwadi (school) teacher, as well as the police. We were told that the sister was not being sent to school, so that she could look after her differently abled sister. The police intervened. The kids are back at home. One child returned to school.
For a Caring Whitefield
 A month ago, my acquaintance approached me for donating blood. His wife was fighting dengue in the ICU of Narayana Health, Whitefield. The hospital needed platelets, and my blood group did not match. When I and a friend pestered a technician at TTK Blood Bank, Indiranagar, he got Shantanu, who works in Columbia Asia, Whitefield, to donate platelets. We rushed with it to the hospital. Today, the patient is fine and has returned home.
For Skills and Employment
I first took a class for LifeDream students in Kadugudi many years ago. Tharun sir then involved me in renovating water sump and toilets in the primary school, where LifeDream classes were held. I have encouraged eight to nine students to join the current batch, which is being held on Borewell Road.
On Current Occupation
I take up contracts for building houses in and around Whitefield. Earlier, I used to take up plumbing, electrical, civil works. I entered this field ten years ago, with the help of Dr Gangadhar and Shri Sandeep Bose. For me, ExcelPrint near Brother's Bakery was a turning point, where I learned computers and was a DTP operator for five years. Before that, I used to do wash cars, tend to gardens; even deliver newspapers. I and my cousin Yogesh used to vacuum-clean a house every Sunday, and run errands.
Becoming a Graduate
Both of us started working when we were in Grade 8 in Immadihalli Govt School. There was no money to buy books. When I was in Grade 10, my father passed away in hospital after falling down from a coconut tree. I managed to pass SSLC, did job-oriented course at Varthur part-time, and completed BA through distance education. I even appeared twice for UPSC exam, which I could not pursue further due to pressure of work.
On Family and Childhood
 I live with my mother, wife, younger brother, and two kids. My son goes to Rural Development Centre, Gandhipuram, and daughter to Holy Cross School. I am happy to know that India is now polio-free. When I was born, I was not administered polio drops. I am able to do all my normal work though my left leg is polio-affected. For some months, I got govt dole of Rs 400 per month—I did not reapply when it was discontinued. I am happy that I could manage on my own, stand on my two feet… I now drive both a two-wheeler and a car.
——–Pravir Bagrodia