CITIZEN COMPLAINTS
When can WE expect Action on the ground for Borewell Road and Sathya Sai Layout (both within Hagadur Ward) to resolve the below issues which have already been highlighted many times? Citizens are frustrated and are demanding answers now as to when the work will be completed. S Uday Kumar Urs Arvind Limbavali
Here is a verbatim list of the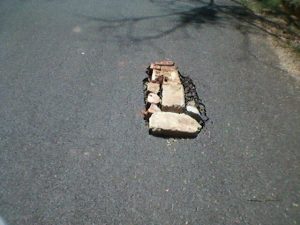 as highlighted on our Whitefield Rising Facebook Page ~
Pending Issues:
1) R Narayanapura Road (Ramagondanahalli Borewell Road)
"When will R Narayanapura (Ramagondanahalli Borewell Road) development start? It was supposed to start in January 2017 and it's March now. Instead of Road development, they have started putting Wetmix. Is this called Road Development?"
"S Uday Kumar Urs Please look into this sir and give response to our concern."
"Sir, we met you and you promised this road work to be completed by Jan end. Now it is middle of march, work has not started yet. Please , look into this matter."
"Please take up similar work on Hagadur main road as well. It is long pending demand… Good Road, covered drainage. Footpath for pedestrians..".
"Sir, what happened to the development of Ramagondanahalli- Borewell road? It never took off. Very dissatisfied n disheartened , the way this road is neglected"
2) The NEWLY LAID road in Sathya Sai Layout, behind Sai General Hospital has caved in ~
To add to citizens woes, there are No Street Lights in the Area.
"Within-10-day-patching promise hasn't been fulfilled yet (the pit was just filled with loose rocks the day after your post). It's 12 days since your post. Hoping for some sort of tarring/cementing so the new road is fully functional again."
"Another road cave-in has taken place, very close to the first cave-in, about 4 days ago, on the same newly laid road (I saw water gushing underneath the road on the day it happened, so some water pipe is damaged as a result").
"Today is 21st February 2017 and nothing has changed. Two more sinkholes ready to open up."
"Its been a month BBMP did not even visited to see the problem and Repair the road. Now there are 4 Cave-in in the 1st cross. Hope BBMP wakes up before it was too late."
"It has been 45 days where the Corporator has promised to resolve the problem and till date there is no action taken,"
"Nothing's being done yet. Somebody help, please"
The main BBMP Executive Engineer (EE) for Major Roads is Mr. Venkateshappa (+9194868379) and folks, please call him to highlight your issues and check status.