Chennai/Cuddalore Relief Drive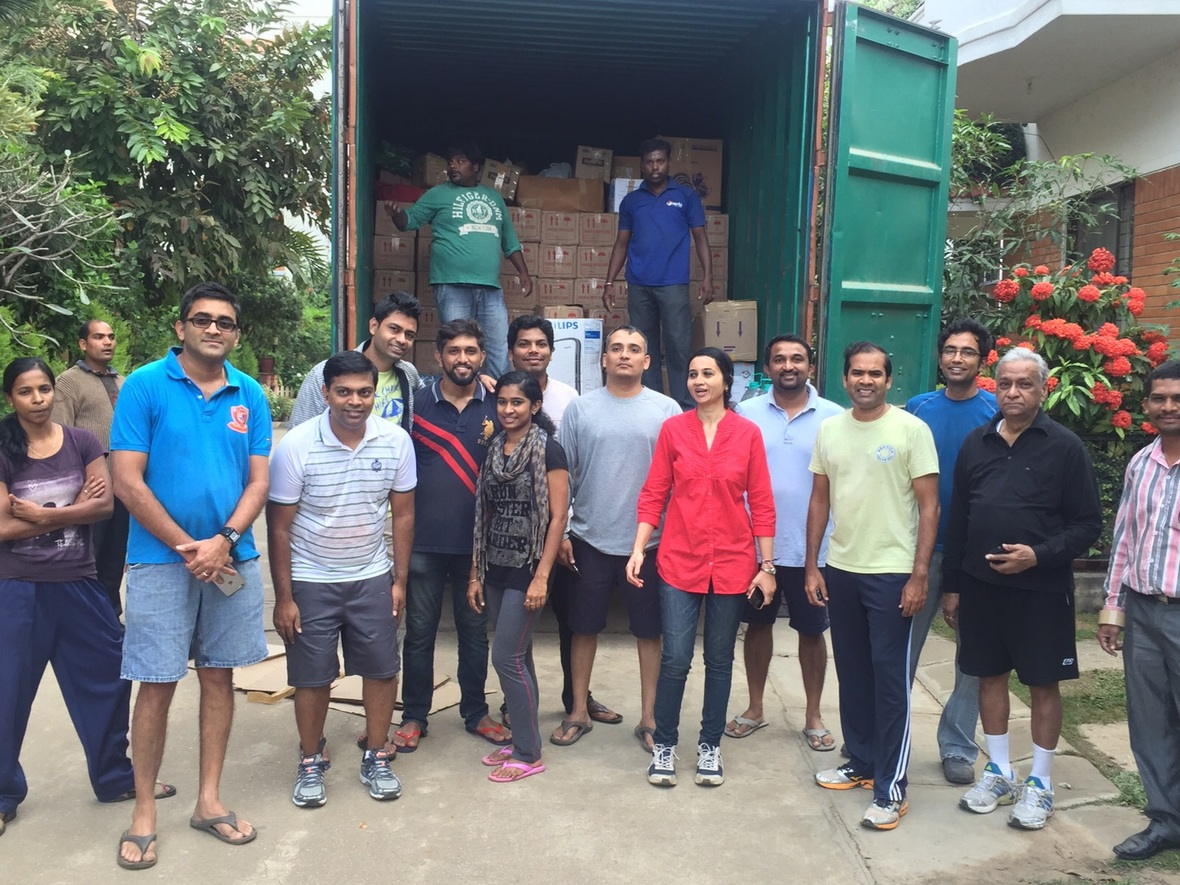 As we all know Tamil Nadu had the worst rains in a 100 years which disrupted & uprooted people's lives causing extensive damage to house/property, loss of lives and brought things to a complete standstill. The worst hit were the capital city Chennai and northern districts like Cuddalore, Chidambaram, Kanchipuram, Tiruvallur and Puducherry. Lakhs of people were stranded and faced acute shortage of basic supplies like food, water and medicines for survival. Many were trapped and perished inside their homes with water entering in and no way to get out until boats or alternative methods were used to ferry them to safety. The extent of the tragedy has been vast and recovery slow with areas like Cuddalore continuing to be submerged in water and thousands languishing in relief camps, marriage halls, cinema theaters waiting for the next phase of rehabilitation. The worry of disease outbreaks is acute and many medical camps are operational, both by government and non-governmental agencies, to treat illnesses and counsel people to deal with stress.
Whitefield Rising has been active in the relief activities over the last year with drives for Assam, Nepal, Kashmir and others. The Chennai crisis was a clarion call for us to respond very rapidly to the developing events. This touched me personally since Chennai is my birth place and I realized that we needed to respond quickly and efficiently in sending relief supplies based on reports being broadcast on media, social networks and my own family in Chennai. Shailaja took the lead announcing the relief drive in our Whitefield Rising Communities Group and the response was phenomenal since this group has always been responsive whenever there has been a crisis, this time being no different. A list of critical items was created and sent out to all the communities in the group. A champion from each community took the lead and handled collection of contributions and took responsibility for segregating, packing and sealing cartons. I volunteered to provide my place in Paradise Nest as central point of collection for Whitefield. Communities/individuals/students collected across Whitefield within 3 days of announcing the drive and we ended up with 750 plus cartons of generous contribution of relief items like medical supplies, sanitary pads, toiletries, cleaning material, blankets, bed sheets, mats, saris, rice, dhals, salt, sugar, ready to eat food items, water bottles etc. Each and every contribution was thoughtful keeping in mind the needs of the people and how to alleviate their suffering.
A truck was arrangedfor the relief supplies to be transported to anNGO, Sevalaya in Northern Chennai, who wasgoing to assist in the distribution of relief items in theneglected areas. A huge thanks to Arvind Krishnan and Anusha Shankar for helping coordinate the truck and the engagement with Sevalaya. What happened on that Sunday morning was an amazing experience for me,something I will cherish and hold dearly in memory for many years to come. We had over 20 volunteers from across Whitefield and Bellandur at our house promptly at 7am to load the packages. Many were professionals, students, maintenance people, and neighbors, young at heart, who responded to my call for help without any reservations. Their commitment and passion in speeding up the process of loading over 750 packages was visible as they formed a human chain completing the task in an hour and a half. The truck reached Sevalaya and distribution happened the next day reaching all those families in distress with every carton being distributed with care, love and affection.
We conducted our second drive the following week, this time to Cuddalore district which is still recovering from aftereffects of the floods. Similar relief items were collected with special emphasis on sheets, blankets, mats, food items, mosquito repellants, water purification tablets and cleaning material. This time we collected 250 cartons and we partnered with Adarsh Palm Retreat for a combined load of550 cartons.
Normally once the truck loads and leaves, our work is over as distribution is taken over by unknown hands who are experienced in servicing the need in affected areas. So far with all our past WR drives, we have been extremely fortunate to have tied up with reputed NGO Goonj who have helped distribute all our relief items to the needy. However, this time for both drives, we connected with people who had contacts in the remote, neglected areas, and were able to reach out especially to those who had not received relief material until our truck arrived. Distribution in Cuddalore for our second drive was undertaken by Vivek Sekaran, who is in the construction business in Pondicherry. He was introduced to us by Anupaa and with whom we had a preliminary call to understand the entire process of transferring material from a big truck to smaller vans to avoid undue attention and secure distribution. He personally supervised the unloading, segregating items into smaller packets, physically going with a team to the affected areasto ensure smooth and equitable distribution to needy families. Our WR Relief Drive to Cuddalore positively impacted many families in dire need and we have been able to alleviate their hardship due to floods. Our heartfelt thanks to Vivek for his tireless work in reaching remote neglected areas for distribution.
 Vivek says, "We couldn't believe how much you all can do….. Amazing, what an effort. We are speechless and sincerely thank you all in the chain for the kindness, and the concern on the victims and the trust you invested in our group. We thought we would supply to 300 families. Now looking at the enormous load here we are dividing items to 1000 families. Every item has been distributed. Video documentary will be sent. Thank you for placing your trust in us.Thanks again for the supplies to our Bangalore friends."
 Vivek sent us updates regularly along with pictures. Material was distributed to Srilankan Tamil Refugee Camp in Alapakkam village, Navabpettai near Chittapuram, Manalmedu village near Bhuvanagiri, (Manalmedu village has no bus transport because of poor and narrow roads. Children and adults have to walk 5 km every day to reach the bus stop. Relief materials distributed to 324 families in this village), Kullanchavdy block, Nonakuppam, Mudakuthurai village distribution for 150 families.
These 2 drives have taught us a lot …With intent, purpose, commitment and passion, anything can be achieved. Sometimes intent is all it takes, the universe and other factors conspire to make things happen!!
As a group we definitely made an impact and glad that we could be a small drop in the mighty ocean. There is still a lot to do. Relief materials are still in demand in many of the small villages that are trying to come to terms with this crisis. The job is far from finished since there are manyrequirementslikesponsoring toilets, as walls have been washed away and roofs have caved in. There is no government help and in the absence of a basic toilet, women are finding it really difficult to cope in certain villages in Cuddalore. We are trying to raise funds to support this requirement. It costs Rs 14000/- to build 1 toilet. If you would like to contribute, please reach out to me at uma.umsi@gmail.com.
I would like to thank many people who have contributed and given us immense support this past month. I may miss a few names but please do excuse me. WR platform that has always backed us solidly and thanks to Nitya Ramakrishnan, Ritu George, Shailaja Rangarajan, Elan, Sashi Rajamani and so many others for their continuous support.
Heartfelt thanks to our Whitefield communities and champs who have led and mobilized collections within communities for this drive including Paradise Nest, Palm Meadows, Prestige Ozone, Prestige Lake Vista, Prestige Shantiniketan, Gopalan Grandeur, Casa Gopalan, Rohan Vasantha, Purva Riviera, 10 Downing, Balaji Pristine, Jagriti, UKN Esperanza and other communities & individual contributors, who stepped in and provided all the materials by opening their hearts and wallets to those in need.
A special thanks to Ram Narayanan, Damodar Nawka, Pushpa Nawka, Ranga Ramanujam, Kamini Shah, Ajayan Narayanan, Dayona , Nitesh Shah and Parul Shah for their invaluable support to me.
We wish Tamil Nadu and its people a speedy return to normalcy so they can continue their lives as before.
By : Uma Narayanan, Whitefield Rising