Big day for Kundalahalli Lake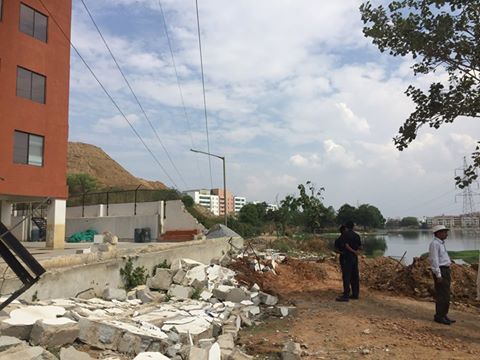 Big day for Kundalahalli Lake today!
The encroachments around the Lake, around 35 guntas, were brought down by the BBMP. Following the survey of all Bangalore lakes back in May 2015, the BBMP and the revenue office has data on Bangalore lakes (available online). And it is on the basis of this data that the Tahsildar of the Bangalore East Taluk along with the BBMP officials authorized the demolition. The BBMP will also fence the lake the week of May 9
The Kundalahalli Lake team was instrumental in these efforts. Big hat tip to Arvind Keerthi and team!
What has the team been up to till now?
– Getting an STP to process all the sewage coming in. Work started on Feb 22, 2016. Should be done within a few months
– Trenching of the lake to stop the illegal dumping of garbage & construction debris. Completed by BBMP in April 2016
The BBMP Lakes division, led by B V Satish and team has been on top of all the work done to reclaim and rejuvenate the lake. These efforts would not have been possible without their full support.