BBMP Elections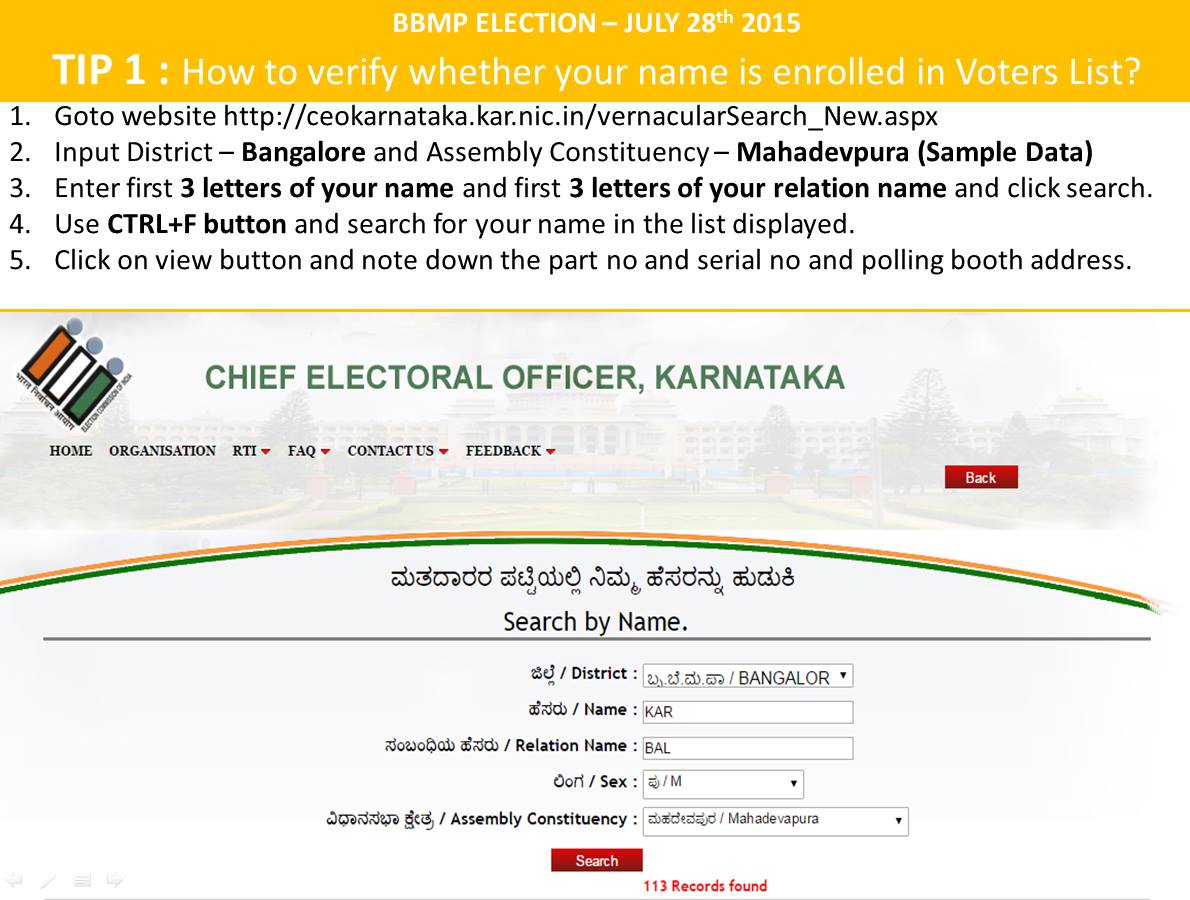 BBMP Elections are scheduled for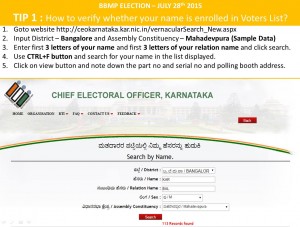 July 28th 2015 (Tuesday).
So as a first step, check and register your name in voters list before July 10th on a safer side.
Please Note:
—————–
Your name should be there in the electoral/voters list, only then you can cast your vote.
Voter Id is not required to cast your vote. Any government Photo ID Proof is enough.
Follow the below 5 steps to make sure you cast your vote in BBMP Elections.
Step 1: Please do check whether your name exists in the Electoral Roll using below link by giving correct inputs. If yes, follow Step 5.
Else follow Step 2.
http://ceokarnataka.kar.nic.in/SearchHome_New.aspx
—————————————————–
Step 2: If your name was not there, register your name[Form 6 – Inclusion, Form 7-Removal, Form 8-Modification, Form 8A-Transposition] using the below link and follow Step 3.
First create an account and you will get user id and password after 10 minutes by mail.
Keep the scanned copy of Age proof and Address Proof with you will filling it online and upload the same.
—————————————————-
Step 3: Print out the Acknowledgement Form and submit it to the ARO in BBMP Office of your ward with 2 photographs and mail the acknowledgement number tovote@whitefieldrising.org
Use below link for ARO address details.
http://asbpa.bbmp.gov.in/newpid/AroDetails/arolist.pdf
—————————————————-
Step 4: Check the status of your application after 10 days.
http://ceokarnataka.kar.nic.in/SearchHome_New.aspx
—————————————————-
Step 5: Exercise your Vote on the election day in the assigned polling booth for you.
—————————————————–