BBMP ELECTIONS–JULY 2015:VOTE FORCORPORATOR RESPONSIBLY..!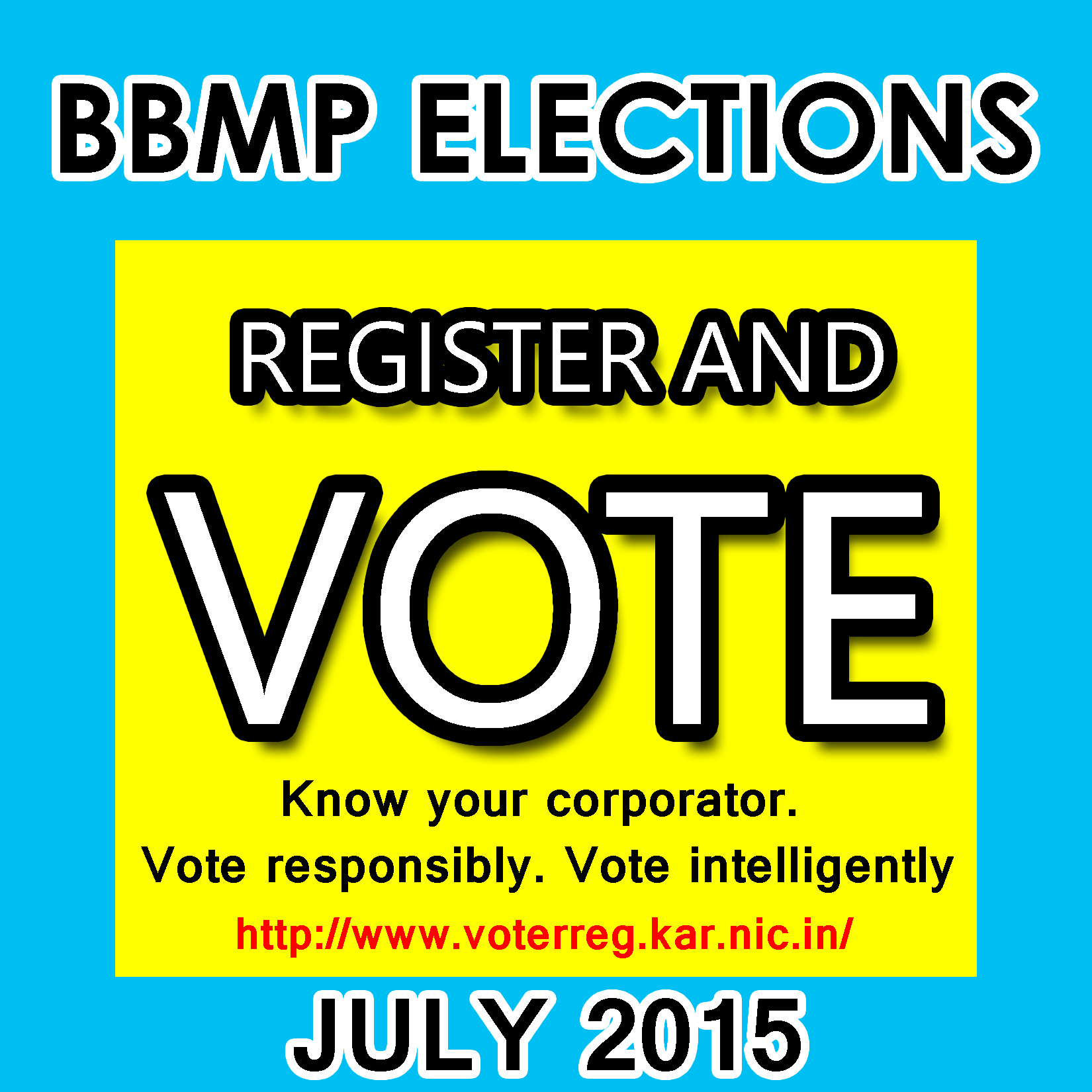 Yes folks – that's the pathetic truth – a recent Whitefield area Panchayat election, we saw a good candidate lose by just FIVEvotes! In the last BBMP Election, the corporators won by margins of as low as 227 votes! Check the details here. You can also check the Quality of Life Index here.Mahadevapura is at the bottom of the heap.
So, its wake up time – BBMP ELECTIONS are around the corner and if you are not out there getting counted, you may as well hand over your pay check to your Corporator directly to fund his next SUV or trip to the Maldives.
Whitefield Rising, an award winning citizen group is putting pressure on ALL Political Parties to field good candidates for this election – by using our voting power in our area. If we have the votes, we can swing this election – EVERY VOTE COUNTS!!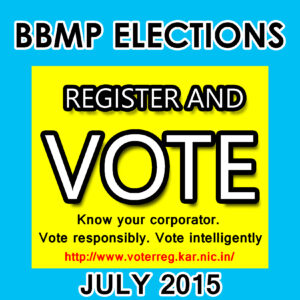 In short, this is more important than electing a Prime Minister because this Corporator effects our daily lives – Roads, Garbage, Sanitation, Drains, Parking, Enforcement, Encroachments etc. in "OUR" AREA.Whatever we see after we step outside our community in "OUR" area i.e. Potholed roads, Garbage, Encroachments, Lack of Enforcements, Water Mafia, Cable Mafia, Flooding, Drainage, Street Lights and other civic issues are within the scope of this Corporator.
PLEASE: Kindly take 2 minutes of your time and fill this Google form to get you help in getting a new voter id card or transfer from another location to Bengaluru.http://goo.gl/forms/YrOmyssbxY
So,please get off those couches and peel yourselves away from your iPads, iPods and TVs and take these 2 SIMPLE STEPS:
GET yourself & family REGISTERED TO VOTE(If you are already registered make sure you are ON THIS LIST)
GET yourself & family OUT THERE AND VOTE (And please make sure your neighbours also does the same.)
Detailed instructions are attached but the summary is you need to Apply Voter Id online – LESS THAN 15 MINUTES:
Register as a user on the Karnataka website http://voterreg.kar.nic.in/– 1 minute (You will get a password)
Log in and Get to Form 6 – fill it out – 8 minutes
Upload the supporting documents – 5 minutes

ANY ONE DOCUMENT for Age proof – (EXAMPLE – PAN/Driver's license/Passport /Birth certificate/Aadhaar card. See form attached for more options)
ANY ONE DOCUMENT for Address Proof – (EXAMPLE – Electricity bill/Land Line phone bill/Driver's license/Rent agreement/(more options)
Your Passport Photos

Click save and submit
Generate Acknowledgement number – PRINT THE FORM AND SIGN IT, Attach 2 photos and copy of documents above, submit to BBMP Office and share the Acknowledgement number with vote@whitefieldrising.org so that they will keep checking the status of your application and ensure your name is on the final list of voters.
YOU CAN ALSO JUST DO A MANUAL APPLICATION:
Fill out the form attached and simply print and attach the supporting documents and submit to Asst. Revenue Officer (ARO)at your nearest BBMP Office. You can just print it out or fill it out in hand.
Useful Information/Links:
DISTRICT is Bangalore and ASSEMBLY CONSTITUENCY (AC) is Mahadevapura
IMPORTANT – You can fill up to 4 forms for a single log in – you can include your household staff etc. Simply log in and START a NEW FORM 6.
If you are already registered -Search for Voter Id here: http://www.bpac.in/bpac_frame.htm (User Friendly)
Send the Acknowledgement number to vote@whitefieldrising.org to ensure your name is actually listed in Voter Id database because by merely having a Voter Id doesn't ensure that you can actually vote.)

For Online application, you need to have soft copy of an acceptable Age Proof, Residence Proof. Once done, print and submit the application along with photocopy of supported documents and 2 Passport photos to ARO. Whitefield people can meet Linganna at BBMP office behind Brothers Bakery near Whitefield bus stop.)
In case of any questions, please contact the sender of this email or write to vote@whitefieldrising.org