An Oasis of Tranquility
An Oasis of Tranquility
By Pravir Bagrodia
Yesterday, through my blog in Citizen Matters, this forum had to suffer a treatise on the woes of commuting to and from Whitefield. Today morning brought cheers, when Bangalore Mirror reported
the reclamation of a huge tract of forest land. It kindled hope for a Lal Bagh or Cubbon Park right here in Kadugudi. So this evening, let us turn the spotlight on a place not far from this plot. A site that got only a passing mention in the first post of this series! Let us celebrate a 52-year-old campus where time has almost stood still. Let us tour the green, verdant surroundings that survive amid the brown, concrete jungle, with just the Nallurahalli Lake separating it from the plexi-glass highrises of ITPB and EPIP. Located on a road named after it and built partially on land gifted by it, but left ruined and wrecked by the powers-that-be! Where the head of the institution picked up the broom 14 years ahead of the head of the Indian government! Where every yard naturally echoes Swachha Bengaluru Green India! We take a tour of Ecumenical Christian Centre (ECC) through two stories in The Times of India: (1) A feature of 08 May 2000 and (2) A report
of 21 Oct. 2010.
Kadugodi plantation on road to be officially restored as a forest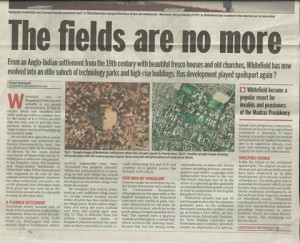 In 2006, the joint Legislature committee set up to look into the encroachment of government land, headed by A T Ramaswamy, had surveyed this area and reported
that Kadugodi Plantation Reserve Forest had been encroached upon by the Railways, KIADB, police department, animal husbandry department etc. The KIADB had allotted several hundred acres of this land to industries which are mostly defunct now. Digging into the old records, assistant commissioner, Bengaluru North, N Mahesh Babu, traced out the 1896 copy of the notification and put in place the layers of records, to finally prove that the land belongs to government and is a forest land.
http://www.bangaloremirror.com/bangalore/others/Kadugodi-plantation-on-road-to-be-officially-restored-as-a-forest/articleshow/48060054.cms