An Appeal to the Union Railways Minister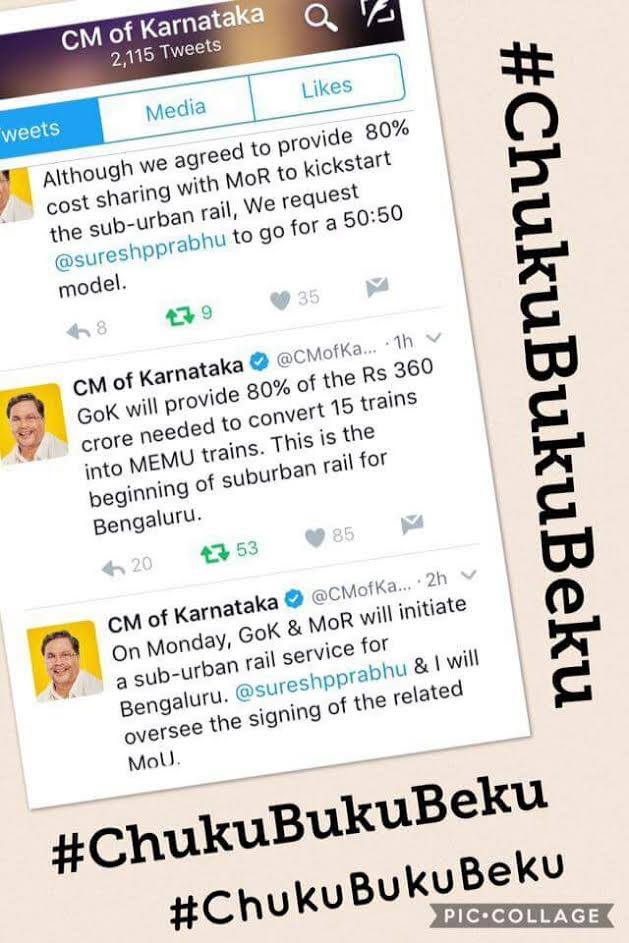 The Union Railway Minister, Mr Suresh Prabhu will be coming to Bengaluru on 16th January, Monday to launch the new MEMU (Ramanagaram to Whitefield).
The detailed letter which Citizens for Bengaluru (CfB) is planning to present to him is available here http://tinyurl.com/letter-to-sureshprabhu
Please sign the petition, share the link widely and get your friends to sign it too.
On this occasion, Citizens for Bengaluru (CfB) is making a representation to him with demands as follows
1. Connect the top 10 key economic hubs via suburban rail to service the large numbers of daily commuters
2. Allocate budget for each of these so as to provision entirely in the next 2 years.
3. Work with the Karnataka State Government with clear time frames for commissioning these.
We are hoping to get at least 10,000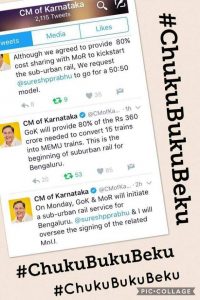 people to sign this petition. Please show your support by signing this letter and getting all your friends to do it ASAP!
———————————————–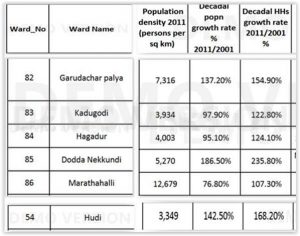 Letter to Hon. Minister of Railways, Shri. Suresh Prabhu from Whitefield Rising Citizen Group Regarding Suburban Rail ~
January 14, 2016
To:
Hon'bl Minister of Railways
Mr. Suresh Prabhu
New Delhi
Dear Mr. Suresh Prabhu,
We are a citizen group from Whitefield (Mahadevpura Constituency), an area with almost 7 lac people in the following Wards :
Ward Estimated Population
54-Hoodi 83,819
82-Garudachar Palya 82,884
83-Kadugodi 73,383
84-Hagaduru 84,429
85-Doddanekkundi 105,349
86-Maratha halli 66,413
149-Varthuru 91,224
150-Bellanduru 133,901
TOTAL 721,400
We are extremely pleased to know that you will be in our cherished city on 16th January, 2017 to launch the new MEMU (Ramanagaram to Whitefield). We thank you and everyone in Railways that made this possible – this will greatly relieve the plight of commuters in Whitefield.
As you know, Bengaluru is one of the fastest growing cities and Indians from all states aspire to build their careers and families in this city. Whitefield wards population growth has exceeded 100%.
That puts tremendous pressure on infrastructure. As a result, we suffer daily from extreme congestion and extreme pollution. Never ending traffic jams cause make us waste 600 million man hours every in traffic, as per BDA's Revised Master Plan (RMP) 2031 report. We are suffering from poor health and asthma; our children are already paying the price and the future looks even worse.
** Sir, Whitefield has the worst air pollution in the city due to the number of cars and this can be rectified by having train services. **
Given this, you will surely agree that it would be remiss of us not to implement a suburban rail facility and that:
• Suburban rail is the only sustainable, affordable, scalable and environment friendly transportation option for our rapidly growing suburban areas
• It will optimally utilize the existing railway tracks and provide revenue and ROI for the railways
• Request you to scale up the suburban railways fast so that it can emerge as the first choice option.
The demand for a suburban train system in Bengaluru is 3 decades old and unfortunately due to lack of strong political will, it never materialized. A full-fledged suburban train system can take out 50% of cars and motorcycles off the streets and have a tremendous positive impact on us and our children.
While railway tracks are already available to Whitefield and Outer ring Road where most of the IT Companies function, the State Govt. nor railways has progressed any services.
** Immediate relief can be provided in these high traffic areas in less than 18 months which would help over 7 lac commuters immediately. **
** Please note there is immense urgency to our request as METRO construction work has commenced in Whitefield which will require further blocking of roads leaving trains as the only way in and out of this very critical employment and income producer of the Nation – Whitefield. **
In conclusion, we join all other citizen groups of Bengaluru for a suburban train service at the earliest, it will help reduce pollution and improve quality of life for residents.
We look forward to a positive response and action from you.
Thanking you,
Sincerely,
Whitefield Rising Citizen group