12 Leaf and Flower Composters Installed Across Whitefield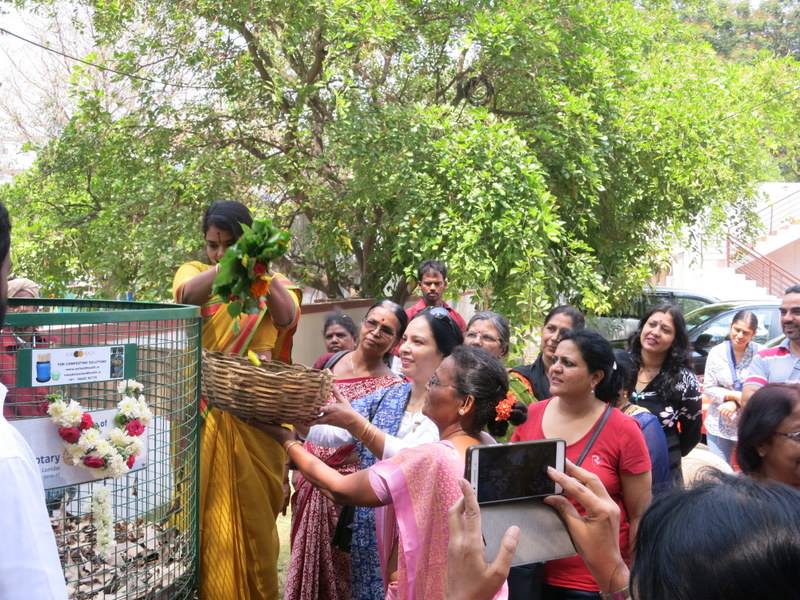 Inner Wheel Club of Bangalore, IT Corridor and Rotary Bangalore, IT Corridor collaborated to install 12 Leaf Composters in Whitefield, covering 5 government schools, 2 temples, 2 parks, 2 playgrounds, and a Ward office. IWCBITC President Sushma Singh and Editor Babita Johri Saxena worked hard to get this project off the ground.
Each site was assigned volunteers, who were then trained to monitor the composting process.This will prevent leaves from being burnt or mixed up with other waste in a landfill.
On April 15th, the project was formally inaugurated by Ward 85 Corporator Mrs. Shweta Vijaykumar. The ceremony was attended by various BBMP officials and PKs, residents and
volunteers of AECS layout, and IWCBITC members.
Vasuki Iyengar, service provider explained the entire process to the keenly interested residents and showed how the cocopeat,leaves etc had to be layered.
We sincerely thank all the tireless volunteers who made this project possible. Thanks to the Core Volunteers Rekha Aravind and also the extended team of Sudhansu Mohanty, Rishita, Satyaranjan, Acharya Group Naveen and Harsha, Biswanath and others, and Muruga from Nellurhalli. Babita Johri Saxena
Locations:
1. Govt Primary School, Pattandur Agarahara Near ITPL Back Gate
2. Govt Primary School, Ambedkar Nagar, Whitefield
3. Govt High School, Hoodi
4. AKG Colony Primary School, Near Hope Farm
5. Thubarahalli Govt School
6. Thubarahalli Balaji Temple
7. Ganesha Temple, Hoodi
8. Nellurhalli Park, near Temple
9. AECS Layout B Block Park
10. AECS Layout Ward office
11. AECS Layout Block A and
12. AECS Layout D Block Playgrounds.