Vodafone creates Havoc in Whitefield!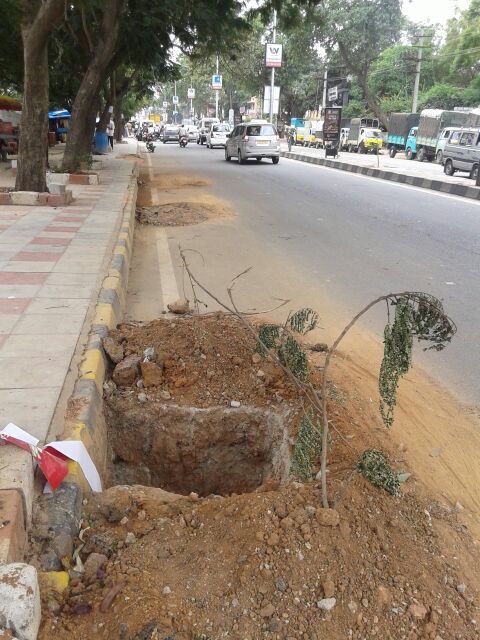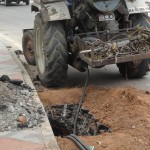 July 4, 2014 Update; Soon after the below incident, Mr Saisiva of RanCon the contractor for Vodafone executing this work called us and assured us that they would quickly comply. We did see barricades and some signs pop up and were appreciative of the effort.
Citizens are now quickly showing up everytime they are asphalting to ensure that their work is as it should be. The first time they tried to asphalt, they were asked to stop and resume only when they would do quality work.  Need I say more..
Original Post
Top of mind for everyone in the area is the nightmarish massive holes dug deep every few feet all along the main roads of the greater Whitefield. This time, its Vodafone.  As we have seen before with OFCs, they dig, leave large mounds of mud all over, eventually many months later once, the cables are pulled, they loosely cover it and disappear. People have fallen into these holes and the traffic nightmare it causes is unimaginable. One look at the contract and you realize there is a blatant breach of so many clauses in there.
So we reached out to Vodafone via telephone and got a weak apologetic email.  Can Vodafone get away with writing this same email in their home country? Would the attached pictures and breaches be acceptable there? We were forced to take a strong stance and reply with clear facts!
Our reply to Vodafone was as below.  How will Vodafone react? Will they defend themselves or actually reach out and correct their wrong to the very customers they expect to get business from.
Dear Mr. Saisava:
Thank you for  taking the time to respond to us. While your intentions seem to be good, we wish to bring to your attention that you are in serious breach of your contract with BBMP the terms of which you most unfortunately seem to be unaware of. Therefore before responding to us kindly take a moment to go through the terms and conditions of the contract as attached.
Here are the actions you need to take: Pls refer to Paras 6,7,8 and 9 of your contract reproduced below for your convenience: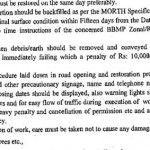 BEFORE YOU START A PIT – we need the following in place: (PARA 9 of your contract)

SAFETY BARRICADE WITH WARNING LIGHTS AND REFLECTOR CAUTION SIGNAGE
CLEAR Signage "VODAFONE OFC WORK IN PROGRESS – INCONVENIENCE REGRETTED"
OPENING AND CLOSING DATES TO BE DISPLAYED

AFTER DIGGING – EXCESS DEBRIS AROUND THE AREA TO BE CLEARED IMMEDIATELY ON SAME DAY (Para 8 of your contract)
What restoration you have done is NOT to original surface condition – YOU HAVE TO ASPHALT to smooth finish – this mean you have to run your asphalt over a much larger area than just the pit – there should be NO BUMP in the ROAD – We trust Vodafone is capable enough to understand international standards and the meaning of "original".
PAVEMENTS MUST be restored with ORIGINAL TILE – no bumps allowed – see picture attached.
We are recording all the delays that you are taking and all violations of the contract.
PLEASE BE ON NOTICE that the residents and citizens of WHITEFIELD are fully aware of their rights and any continued violation of the contract terms will result in a POLICE CASE and criminal complaint filed against the MANAGING DIRECTOR and BOARD OF DIRECTORS of VODAFONE INDIA for gross negligence and intentional violation leading to hazard and danger to life and limb of Indian Citizens which can result in imprisonment of your officers.
A copy of this email with the contract is being delivered to the VODAFONE OFC VICE PRESIDENT and copy to BBMP Commissioner and Chief Minister of Karnataka, Hon Siddharamiah and a copy to the Prime Ministers Office – this is because VODAFONE is a large corporation that is FULLY AWARE of international standards of doing work and is fully capable of understanding and executing works in India. Any shortcomings in its execution amounts to simply willful negligence and wrongdoing.
Please note that any attempt to bribe or pay off officials of BBMP or otherwise is a punishable offence under the Indian Penal Code.
We trust you have understood our message here but if not feel free to call any of us for any clarifications. We are 25,000 of us. Please note that we expect FULL COMPLIANCE by international standards immediately.  Our numbers are: 9741351304, 9845790106, 9845010414 , 9886053043, 9972300405
Thanking you for your cooperation. Please do update us as this dialogue will be followed on a blog across Whitefield. Blog is at www.whitefieldrising.org
Sincerely,
Anjali Saini , Nitya Ramakrishnan
Whitefield Rising – Streets
 1st Email from Mr Saisiva on June 18, 2014 in response to our phone call.
It has been brought to our notice that there has been inconvenience caused due to the ongoing Vodafone projects in and around Whitefield area. At the outset, sorry for the inconvenience that this work might have caused to the local residents. We have sincerely tried to avoid any inconvenience to the public during executing the projects.
I would like to bring to your kind attention the following:
This is 4G rollout that is being done to start provide the fiber to home services in and around whitefield area as there are lot of potential customers in this locality and eventually provide seamless services to local residents of Whitefield area.
1. Work has been carried by Vodafone in this area. Prior and currently there have been lot of other operators too who have worked in this locality.
2. We sincerely do not want to create any inconvenience to the local residents, we have sincerely tried our best to do this work in a smooth manner.
3. We have been doing restorations to the pits on a regular basis.
4. Asphalting the pits will happen once the cable pulling is completed.
5. Firstly HDD activity will be done. Once HDD is done, pits are restored temporarily with wetmix. Once the cable pulling is done, later we go ahead do the asphalting which is the permanent restoration. You can observe that lot of restorations have happened in and around ITPL, Bigbazzar Road, Partially on the Kundanahalli to Ofarm Junction road.
6. Safety is the primary concern of Vodafone and we sincerely adhere to this requirement. Safety precautions have been taken especially to avoid any public inconvenience. Pls note that sometimes there have been instances that people have used the Vodafone permission to do other works. Unfortunately these are leaks in the system which will have to checked by the authorities on a regular basis.
7. Most importantly please note that BBMP has only opened up giving permission after a long period of well over 15 months. Hence the development projects to enable better telecom services in the whitefield area were over due. Hence you are seeing lot of work being carried out in Whitefield area.
8. Restorations between Mahadevpura – Hoodi Circle – Brigade TechPark – ITPL (KIADB Area) – Mayura Bakery – Kundanahalli Gate have started in full swing as the OFC cable pulling is completed. Entire restorations between this area shall be completed by end of this week 

June 22nd

.
9. Please note that fresh work shall be commenced between Mayura Bakery – OFarm Junction – Saibaba Ashram – HP Petrol Bunk within 2 days. We shall take utmost precautions during this work also.
While I completely understand the inconvenience that this development project might have created, we shall assure you that the restorations shall happen at the earliest. Only the Road between Kundanahalli towards SAF signal, project is going on and it shall be completed in 15 Days. Meanwhile we shall ensure that temporary restorations are done on a regular basis to avoid any inconvenience.
Our project Manager Mr.Raghu shall be available for any further support that you might require for the Vodafone projects respectively:
Thanks