The New Mess on the Block, now no longer!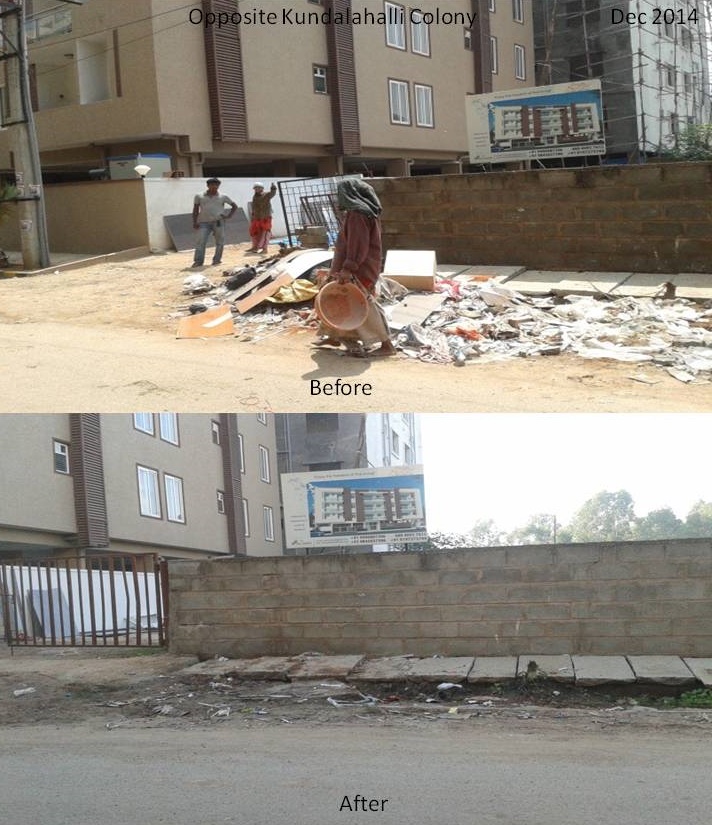 Just opposite Kundalahalli Colony is a road that houses four residential communities, and is therefore a much frequented one.
For the last six years the road has been lucky to have good Samaritans plant lovely bougainvillea, and various trees that provide some shade to the passerby. While it has also witnessed vehicular traffic, potholes and a trail of construction activity, it has never been used as a garbage dumping site- until now! In the last few weeks, this road has become a mess, thanks to the new construction coming up- the Shri Sai Leela Aster. Plastic bags, construction material and other waste lies strewn along the length and breadth of the road, making it a total mess!!! Many residents have tried various means to stop this occurrence, but unfortunately, each has got a limited impact only.  We, the residents of the locality who use this road frequently would like to put a FULL STOP to this mess.
And then last month, a group of us (around 20 people)- residents of Sterling Shalom, Sai Platinum and Blue Sky apartments got together and stormed the office of the builder. Though the group initially maintained a polite voice, the builder seemed to be intimidated by the sudden gathering of people and that too in his own office. He threw questions at us-"why should you tell me what to do?", "why should I listen to you people?" etc. A heated argument ensued. The citizen group then decided that in everyone's best interest, the builder required to be pacified. This seemed to work, and the builder shared the efforts he is putting in, like speaking to the BBMP etc. He committed to clearing up the garbage within four days' time and also an assurance that there would never be a mess on the road.
We have be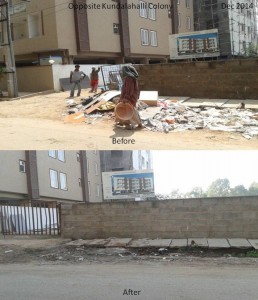 en watching for the last one month, and we are pleasantly surprised that the builder has kept his word! Citizen power works yet again!!
If you have any spots to fix, write to waste@whitefieldrising.org.
Spot Fix Template to guide you.