Life Insurance, Medical Insurance & Pension for Domestic Workers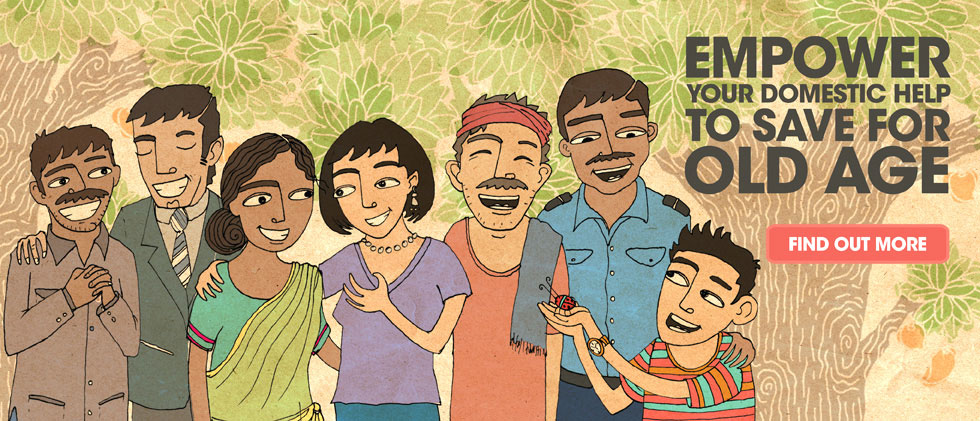 We present various options below as they seem very good but make your own informed choices.
Life Insurance
PRADHAN MANTRI JEEVAN JYOTI BIMA YOJANA
(Group Life Insurance Scheme for
Savings Bank Account Holders of Banks)
•Scheme announced in the Union Budget by the Hon. finance
Minister to be implemented from 01.06.2015
•This is a One year renewable group insurance cover with date of commencement 1st of June 2015
•Benefits:- Rs. 2 lakhs Life insurance cover on member's death due to any reason, payable to nominee
•Annual renewal is on 1st of June every Year
•The scheme will be administered by LIC
•Master Policy Holder
•Bank will be the master policyholder, there will be no individual policy holder
•All Aadhar linked savings bank account holders of banks can be covered under the scheme.
•New enrolment is for age group 18 years(completed) to 50 years (nearer birthday) in to the scheme.
•After enrollment, Coverage will be available up to age 55 (nearer birthday) for existing members
•One individual is entitled for a coverage of 2 lacs Sum assured only through ONE Aadhar linked SB Account
•Premium per member is Rs.330/- for the year 2015-2016 which is reviewable annually.
•The premium will be deducted from the SB account holders through auto debit facility on or before 31st of May every year.
•Appropriation of Premium
–Out of the Rs.330/- bank will transfer Rs.289/- to LIC, Rs.30/- is payable to the BC/Agent and Rs.11/- to the bank as reimbursement of expenses. The bank will remit only Rs.289 to LIC
•Service tax, if any, will be payable extra.
Termination of assurance
•Account holder on attaining age 55 years
•Closure of account with the Bank or insufficiency of balance for debiting premium
•In case a member is covered through more than one account and premium is received inadvertently,  insurance cover will be restricted to Rs. 2 lakhs and other insurance covers are terminated and premium shall be forfeited
Medical Insurance
The details of the scheme are as below.
Families:
The Health Insurance Scheme will cover 5 members of a family as enumerated and photographed on the BPL card. The name/ photograph indicated in the BPL card will be taken as proof of identity of the beneficiary.
Enrolment:
Department of Food and Civil Supplies, Govt. of Karnataka will provide the details of each BPL family covered under the scheme through the BPL card. This BPL card will be a part of enrolment/ identification for availing the health insurance facility.
Payment of Premium:
Government of Karnataka/ Trust will pay the premium on behalf of the BPL beneficiaries for the insurance.
Benefit Package:
This will cover tertiary care for catastrophic diseases. Sum assured will be Rs.1,50,000/- on a family floater basis per year. Additional buffer of Rs.50,000/- per year for the entire family on a case to case basis (if the total expenditure exceeds more than Rs.1,50,000/-) will be provided. The benefit availed by the family will be on a floater basis for a total reimbursement of Rs.1, 50,000/- which can be availed individually or collectively by members of the family.
Cashless Transaction:
It is envisaged that during each hospitalization the transaction shall be cashless for procedures covered under this scheme. Enrolled BPL beneficiary can go to a network hospital and obtain treatment without making any payment to the hospital for procedures provided under the scheme.
Pre-Existing Diseases:
All diseases proposed under the scheme shall be covered under the scheme from day one. A person suffering from any of the identified diseases prior to the inception of the policy shall also be covered.
Types of Services:
•   Cardiovascular diseases
•   Cancer Treatment
a) Surgery
b) Chemotherapy
c) Radiotherapy
•    Neurological diseases
•    Renal diseases
•    Burns
•    Poly trauma cases (Not covered by Motor vehicle insurance)
•    Neo-natal cases
Tests & medicines for ailments mentioned below are also covered under this scheme.
Services not included :
Kidney related problem, dialysis, transplant accidents excluding motor vehicle, ortho.For more information on the scheme, visit http://www.sast.gov.in/home/
For list of hospitals http://www.sast.gov.in/home/Details/Empanelled%20Private%20Hospital.pdf
Pension
Giftapension.com is an online platform launched by Delhi-based non-profit Micro Pension Foundation, which enables domestic workers—cooks, maids, drivers and nannies—plan for their lives after 60. Ideally, the role of the employer is to just enrol, which has a one time convenience fee of Rs300.
The employee can make monthly contributions through the Micro Pension prepaid card provided in the welcome kit, or use their bank accounts, if they have active accounts that they are willing to use. Giftapension also enables access to an SBI Life life insurance plan that costs just Rs135 to Rs345 annually. It covers life and accident, but not health.
Swavalamban Yojana, valid till the financial year 2016-17, is a special scheme offered by the Government of India, where the central government contributes Rs1,000 for contributions between Rs1,000 and Rs12,000 in a financial year. The money one saves in NPS Lite isINVESTED
and grows over time, earning an interest rate of around 8 percent. A 25-year-old maid who makes a monthly contribution of Rs1,000 a month would get an estimated pension of Rs15,292 monthly at retirement, and accumulate a corpus amount of nearly 23 lakh rupees.
Since September 2014, roughly 1,200 employers have registered on Giftapension.com, and 450 domestic help have been gifted a pension already
Details available at http://www.giftapension.com/Home