BESCOM TRIMS ELECTRIC POLES THROGHTUT WHITEFIELD TO PREVENT COLLISIONS WITH PEDESTRIANS.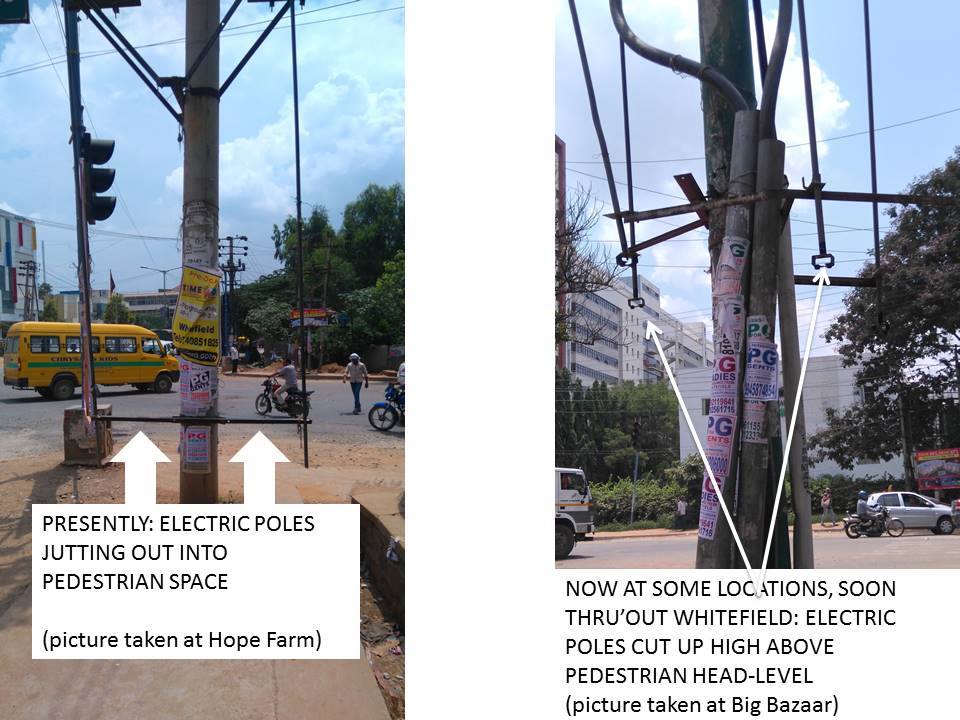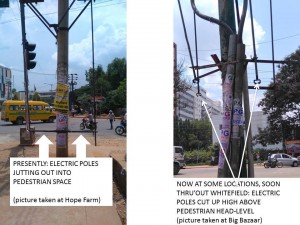 The electrical pole ("GoS" in BESCOM parlance) jutting into the footpath at shoulder-height (or lower) is all too common a sight in Bangalore. This is usually a minor irritation, but can be downright life-threatening, for sometimes the pole juts right into the road, as though it is baiting a passing cyclist or scooterist.
It took a long time, it took an enlightened BESCOM chief, it took a design competition, but mostly it took one dogged citizen, to get those poles cut to size (they still serve their electrical function). Throughout Bangalore soon, but starting with Whitefield, you will now see jutting-out electric poles being trimmed, so that they hang at least eight feet above the ground.
No prizes for guessing the name of that one dogged citizen, it is our dear Anu Parekh.
Let's not miss the larger repercussions of this success: Thru' all these years, each agency has worked in silos. BWSSB will care only about sewage, dug-up roads be damned. BESCOM will only care about electric-delivery, danger to pedestrians be damned. OFC will only care about data-delivery, asphalted road be damned. BBMP, the official keeper of footpaths and roads is a spectator staring in helpless bankruptcy.
This `silo-mentality' continues unabated, yes, but I think we may have dented it just a bit. Today the engineers we speak to — starting with the kind ones that agreed to this trimming-of-electric-poles — acknowledge the holistic needs of citizens.