Abhash takes a stand at the Auto Stand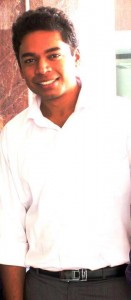 When a changemaker shows up, he stands out! Abhash is one of them. What he did is no ordinary deed though its a really ordinary activity. He took a rickshaw but decided he had had enough fleecing and would only pay the Rickshaw if it went by the meter. But what he did next sets him apart. He reported those Rickshaws that refused to go "by the meter". Like most of us, he could have just moved on, irritated but in acceptance of "This is India". But he didnt. He took details of the Rickshawallas who with audacity co-operated and encouraged him to "go-report".
What happenned next however, really restores our faith in the system and brings new hope. The Traffic cop showed up and fined the errant Rickshaw wallahs! Did we hear that right? We dont have to go the "wrong route"! We can do the right thing and it can work! All it took was for one man to show us that it does work.
But here is the thing. Abhash's efforts will be in vain unless we now follow the lead he has set. All we need to collectively do is only take a Rickshaw if it will "Go by the meter". Whats your downside? You might have to wait a while until one shows up. But wait, there is a solution now even for that. A new solution called "mGaadi" is taking Bangalore by storm. Like Call Taxies, you can now "Call an Auto". These autos are those that have chosen to register and commit to "Going by the meter".  The more "Autos" that register, the faster we are all going to get these autos. So in our interest, we should add to the repository of this group of autos by submitting the name and Phone number of the autos that "go by the meter" to mGaadi.
To call an mGaadi auto, call: 080 6768 4983
To enroll a good auto driver, call: 5star@indiadrivers.net
(Have you added the number and email id to your "contacts" on the phone? Good)
Read the original post by Abhash on FB
If you want to know more and have questions and answers, check this out.