A 2nd life for textbooks
School terms end and the year's text books quickly gather dust. Until recently, text books found a second life when schools that could not quite afford them, took them and made good use of them. Not anymore. Atleast not in our vicinity as we found out last year. Unwilling to consign them as recyclable waste, Sampa Chakraborty persisted and eventually found that Goonj in a timely fashion just announced that they would take them and redistribute them in some interior areas away from cities where such books are more valued.  Off Sampa went to run the most successful of our collection drives to date.
1)Announcements for request for school material were made over Facebook and email.
2)Those people that responded took charge for placing carton boxes in their areas for such collection. They agreed to seal and label their boxes.
3)A date was set for pickup and a truck was contracted and a path for pickup was planned for the truck.
4))A Whatsapp group was created where each community's point of contact updated with a picture the collection progress. This way the next community was on alert.
5))A good problem on hand was that the truck was too full and had to do a second round the following day! All the volunteers patiently made arrangements to have someone available the following day.
6)Goonj folks seeing the sincerity of this group of people stayed overtime to welcome the truck and helped unload.
7)All truck expenses were borne by Rotary Bangalore IT Corridor. Rotary office at Lake View Farms served as a temporary holding area for those few people that could not be available on the day of collection and needed a place for drop off.
At the end, 30+ communities participated and 330 boxes of items that would have otherwise been part of recyclable waste found second use. And here is the beauty. NONE OF THE VOLUNTEERS MET EACH OTHER AT ALL!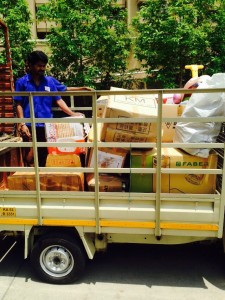 This is the spirit of Whitefield and the beauty of technology.