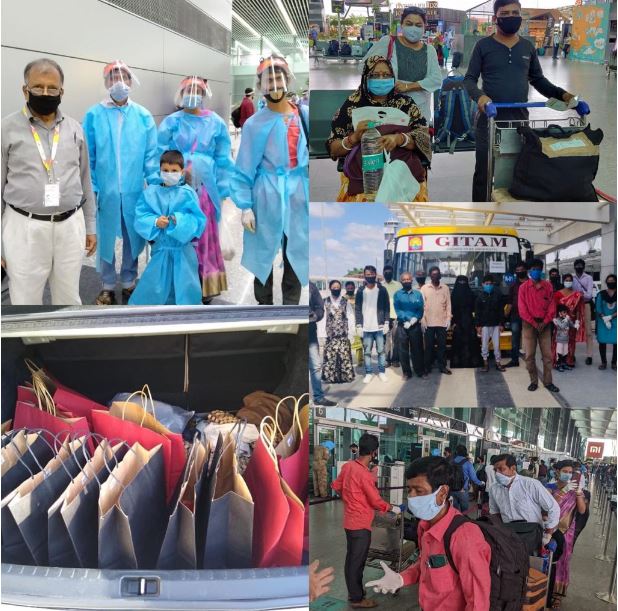 Community support through
Relief drives.
Whitefield Rising (WR) has been in the forefront whenever the community has required help, extending its reach beyond Whitefield for relief for Corona pandemic or natural disasters.  The relief is normally in kind with clothes and other necessary material sent to the affected areas (Covid was an exception).
Over the years, various relief activities have been carried out with community wide support, in some cases partnering with Goonj. Some of the relief drives carried out are the following
Covid Relief (2020) : During the lockdown, WR supplied approx 90 thousand hot meal packets and 8000 ration bags to slum dwellers/ migrant labourers. In addition, WR also assisted the Whitefield Police organize and coordinate the travel arrangements of the migrant labourers from across Mahadevapura. In addition, WR worked with NGOs across the city to supplement the meals provided to migrant labourers on their train journey. About 1.5 lakh food packets were packed and distributed. 
In March 2020, WR announced a relief drive for migrant workers living in slums in Mahadevapura Zone. For this project, WR collaborated with two organizations: Whitefield Ready and Samridhdhi Trust.
The project involved raising funds, sourcing groceries and household items (soap, toothpaste, etc.), packing them, ascertaining requirements, and distributing them. A coordination group was set up and volunteers were assigned responsibilities. "Our mission is need-based food and water delivery to hundreds of families," said Sumedha Rao, the project lead. "We are working with the police and several organisations to ensure supplies are reaching the right places."
To raise funds, a poster was designed and circulated in a jiffy. An e-newsletter went out to over 3,000 subscribers. Describing the initiative, Nitya Ramakrishnan wrote in the newsletter, "We are currently overwhelmed at the separate crisis unfolding because of the lockdown—thirst and hunger among daily-wage workers. Let's all do our best to help in these tough times!"
Money came into the bank accounts of WR Trust and Samridhdhi Trust from far and near.
What began as grocery supply quickly grew into a larger programme of distributing ready-to-eat food to those who did not have the facility to cook. This expansion became possible when Asad Ali, a Good Samaritan, came on board on March 29. Asad and his partners run Food Crates, a chain of kitchens.
On April 5, a WR blog mentioned that Asad's team of volunteers were working round-the-clock to supply 3,000-plus food packets per day. The update on the WR website referred to an IVRS that was set up (by WR volunteers) to cater to the incessant calls. The word spread rapidly and the drive went beyond Mahadevapura Zone. In a heart-warming gesture, 25 children without food near Hebbal were delivered dinner on April 4 and would get groceries on the following day.
Out of State residents who had come to Bangalore for medical treatment had a tough time. Many were unable to take the train journey. WR worked with Rotary Bangalore, Fuel A Dream and volunteers from Mumbai to arrange journeys via flight. Close to 30 flight tickets were arranged to the North East and West Bengal.
"WR's core objective is to make a difference to the neighbourhood," pointed out Devyani Trivedi, another volunteer. "In these times of global crisis, we are doing our bit by acting locally," she concluded.
TN (Cuddalore) : WR Relief Drive to Cuddalore in Dec 2015
Kerala floods : Using the WR platform, mobilized funds to support the relief drive and provide Uniservice serviced Kerala food affected in Aug 2018
Nepal : Whitefielders united for Nepal in May 2015
Kashmir