Our Nallurhalli women are getting empowered! Need your help.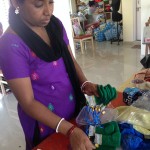 Gudiya as she is still called though she is a mother of two is happy her daughter can stay in school though she was close to pulling her out. This was because her younger son was now school going age and she can only afford to send one kid to school on her husband's salary. The total including fees, bus, books etc comes to 45,000 per annum. The reason she could keep the daughter in school is because she is newly empowered and makes between Rs 4500 and 6000 per month. And all this thanks to the trash you and I generate.
In a small house that Anuj & Malvika helped their maid purchase, Devika repeats what she has done numerous times around the country. She has convinced many to send to her those tetrapacks of milk/juices. Then these women weave magic out of that trash. They make strong bags, pouches, jewellery & ornaments!  Initially the women come to get trained. Then they just take the supplies home and make the product at their time and pace. Whatever they deliver, they get paid for. Over the 2 years of operation more and more women joined and the stories of personal transformation is to be seen to be believed. They stand up taller at home. They are firm with their spouses. They make purchase decisions. They send their daughters to school!
Now what happens if there are no supplies or no purchasers for their products? Devika quietly funds it. She keeps her word to them and pays them per unit of product. She doesn't have time to go around and market herself but somehow friends show up at the annual sale and ends do get met. The reason? Not just because they want to help but because they LOVE the products! How much more win win can this be? Trash to treasure, great product and women empowerment.
Quiet, unassuming, smiling – who is Devika? Our very own Whitefielder who got globally recognized. And we haven't recongized her yet! She has been instrumental in empowering numerous such units around the country and especially many now with Ranthambore Dastkar. Similar setups in Kashmir and we soon lose count of how many women this lady has helped empower.  Closer to home, it has been the Anu unit. She was a recent keynote speaker at a major Fashion Gathering in Belgium where she spoke about empowering those that are skilled rather than subsidizing. As is typical of stars that one unearths, she quickly dismisses her role and says she is just a facilitator. (Hey, thats my term!). She says, she does this to stay happy and that means making others happy.
Wow. This is the story we want to read. Not what corruption is going with public funds. This is the initiative we want to support. Because these are our women and they are our  kids that will go to school with dignity .
What can you do? Here is what they need.
Give them all your tetrapacks. The more they get, the more they can do.  Write in to hello@whitefieldrising.org and we will give you a bin to keep in your community
Every time you want to purchase a gift, think of this as an option.
Volunteers for spoken/ written english teaching (Tuesdays and Thursdays between 11 am and 2 pm)
Volunteers to hold sales in their neighbourhoods (these work best as we have only interested buyers who come with the sole intent of supporting the project by buying quality products that they need)
Corporates who can get their gifting needs taken care of by us. We can customise design to suit the company's requirements. Folders, bins, bags whatever. They just need to tell us 6 weeks in advance for a quantity of 200 pcs. or less time for less numbers.
Volunteers for sales at other venues like malls and clubs etc.
A chartered accountant who can come and explain the business of taxation in simple terms to the women and how to keep books.
A bank where they can open individual accounts and a collective Self Help Group one. Again, if a rep can come and speak to them initially would be great as we don't want them to depend on Devika for their banking needs.
A volunteer doctor who can hold a clinic once a week maybe for all the people there. We are witnessing appalling treatment by Vydehi Hospital and by quacks these women go to on a regular basis. He/ she could use the unit for that or the verandah downstairs. Anuj has a vacant room downstairs which he'd mentioned as being earmarked for such activity so we could ask if need be. We can make the women pay a nominal amount of fee as nothing is value if it comes for free.