COVID TIMES:  RISING TO THE CHALLENGE AS ONE
COVID TIMES:  RISING TO THE CHALLENGE AS ONE
Anandi Iyer (anandiviyer@gmail.com)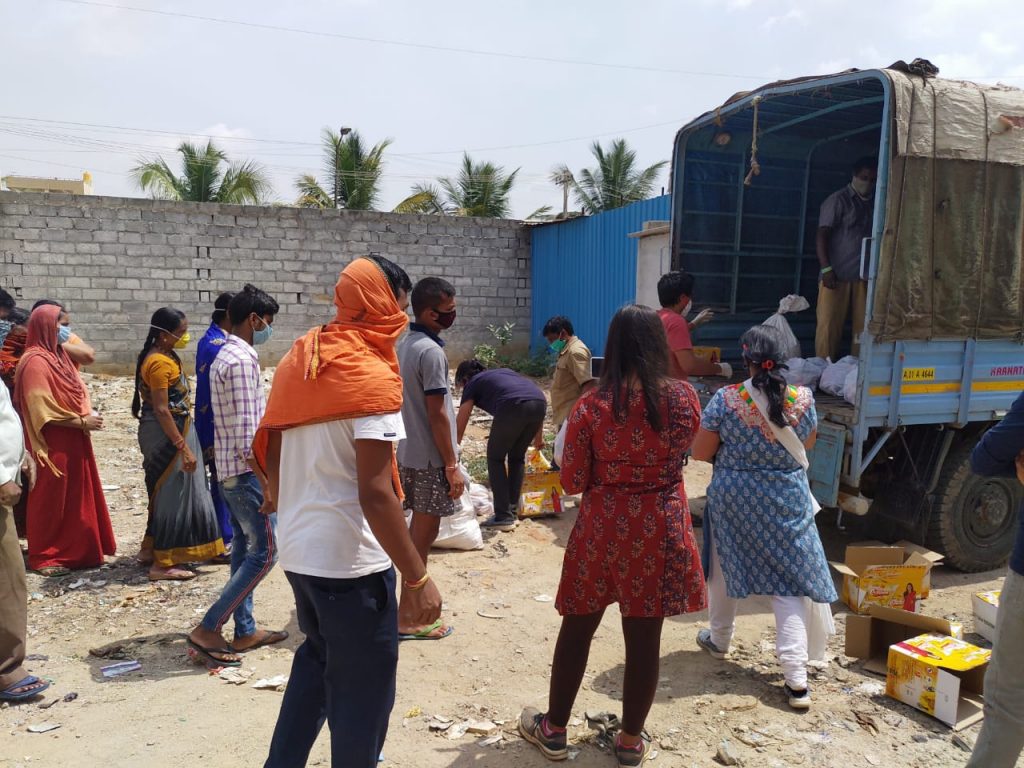 These are indeed extraordinary times. On the one hand a terrible unknown Virus has crippled the world, and on the other hand we have experienced some amazing stories of positivity, empathy and solidarity emerging from every part of the same globe.
Fraunhofer in India has been, like others on a "work from home" mode ever since the lockdown has been declared in India. We are using this time to reach out to our clients and partners through digital and online tools. We have developed a series of communique around new technologies which we share with relevant client constituencies, and also conduct webinars and online meetings with our experts and researchers.  We are also using this time to reassess our internal process and relook at our strategy and goals so that we are prepared to adapt to the new normal in the most effective manner.
On the personal front, it has been the most fulfilling time of my life. On March 28th, just as Covid hit Bangalore and India was being watched by the world with bated breath, a group of committed volunteers under the banner of Whitefield Rising, Bangalore, took up the onerous task of feeding the hungry and making sure that no one went without food in Whitefield. A young restaurateur, M D Asad Ali, who owns a chain of restaurants by the name of Food Crate Brands Pvt Ltd, initiated the drive through his kitchen with his team of cooks to serve hot meals free of charge for poor people. He inspired George Menomparampil a real estate professional building a large Golf settlement near Bangalore,  Shinoj Nambiar , a young interior designs and coworking space owner, and me to join him and create much larger canvas and outreach.  An IVR was setup as Hunger Helpline manned by volunteers as young as the age of 16 and upwards, from 6.30 am to 1030 pm. Requests were collated every evening, food was cooked early morning, packing volunteers from all walks of like diligently packed hot meals of mixed veg rice, curd, curries, biscuits and milk for the kids, and distribution volunteers served this food every day to all those who had no access to work, money or food. Over the last few days nearly 80,000 meals have been served. Additionally, vegetables and no- perishable rations for 15 days/ 1 month have been packaged and distributed to more than 25,700 people through huge support from Azim Premji Foundation and the voluntary contributions from citizens. The bags contained Rice, wheat flour, Lentils spices, sugar, oil, tea, peanuts, soaps and detergents as well as toothpaste! Gopalan enterprises allowed its school premises to be used for storing the rations and produce. It's incredible how people who never knew each other before, came together so swiftly and efficiently to share resources, time and efforts to help others so selflessly. The Bangalore Police too helped us immensely, accompanied us during distributions, and helped control the crowd.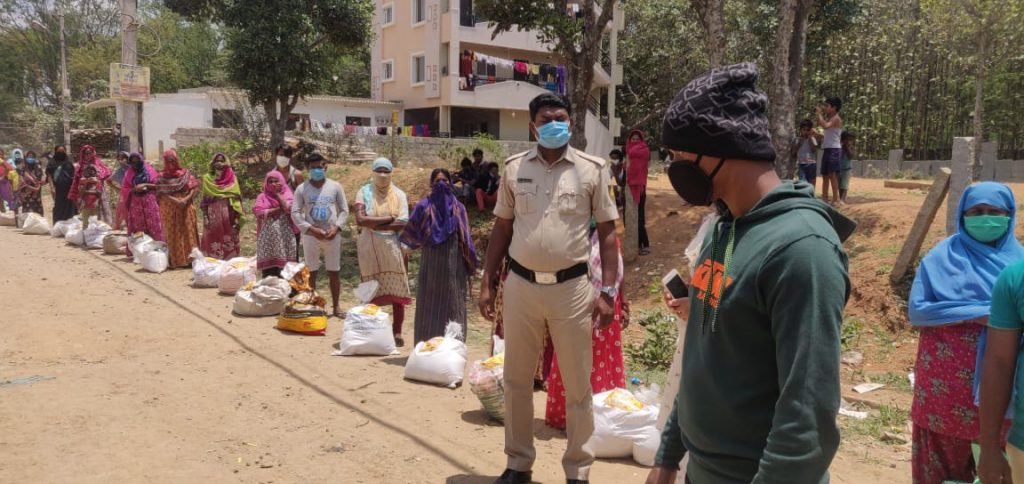 The challenge in this entire exercise has been to identify, verify and collate data about the poor and migrant populations spread across many settlements in and around Whitefield but even other parts of Bangalore. Distributing staples to these people with the social distancing norms and making sure that the needy and deserving people get it at their homes has been a really exacting exercise. Over 50 active volunteers, all dedicated to a cause, setting aside their own challenges posed by this terrible situation and stepped up to help those who need it most.  The action is still on and we hope that as long as the Covid situation is not under wraps, we will be able to address and cover the needs of the underprivileged and the most affected. The complete efforts are being collated and documented under https://stophunger.mapshalli.org .The big spinoff is the huge repository of life lessons that I have learnt in the process, that equip me for every walk of life  !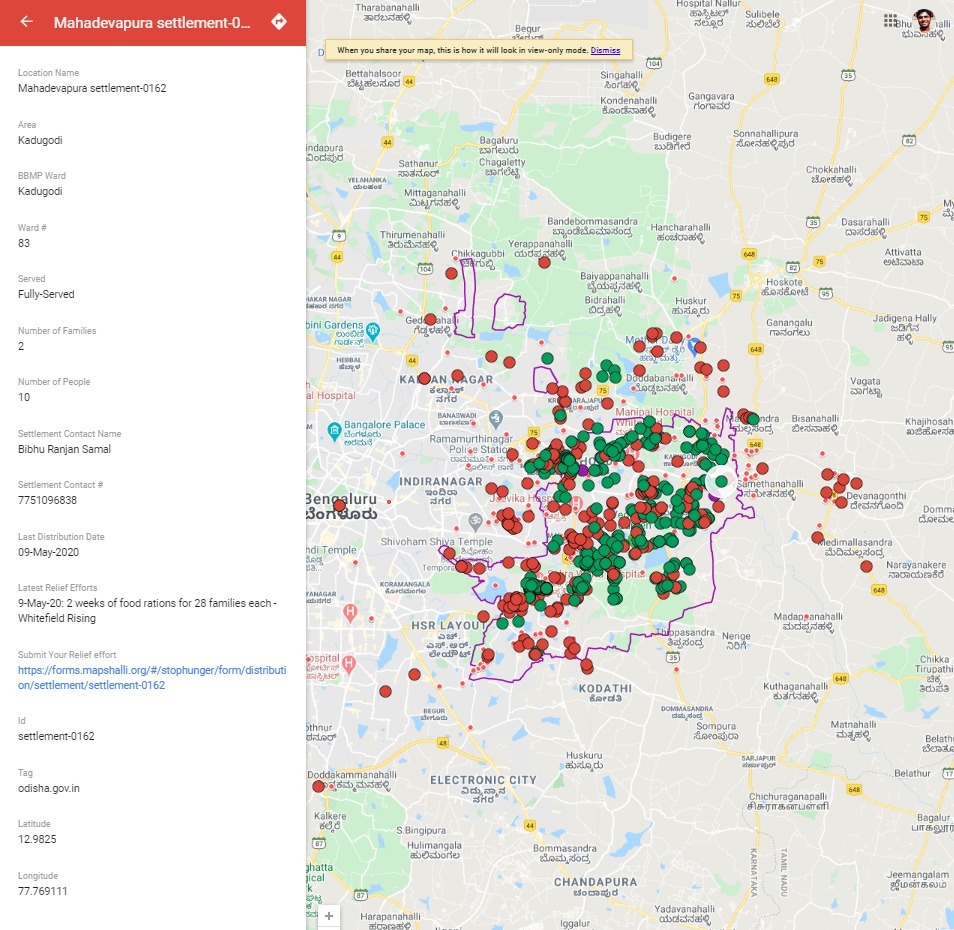 There is no greater joy than that of selfless giving. It gives one a sense of higher purpose in life, and also a deep sense of gratitude for all that one already has. Feel blessed that I could contribute one drop in this large ocean.